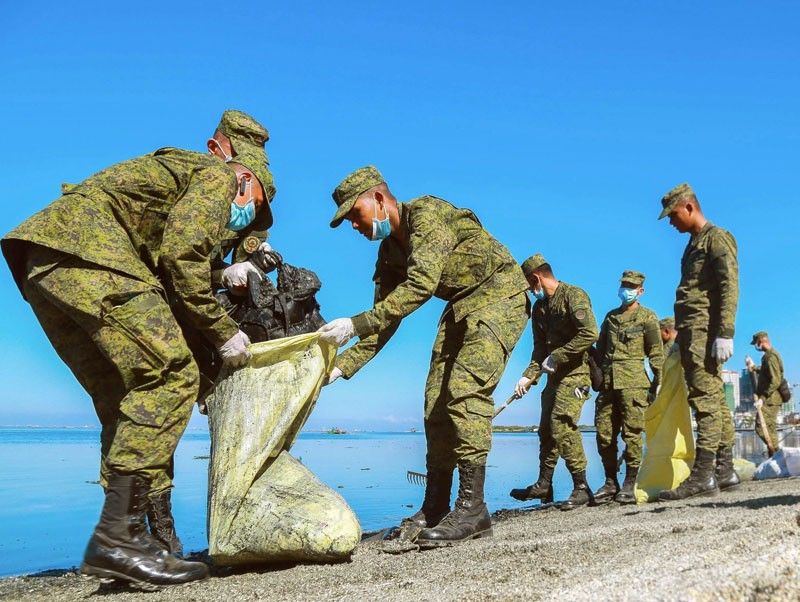 More than 1,000 Army soldiers gather garbage from the shoreline of Manila Bay in Parañaque City yesterday to support the government program to rehabilitate the bay.
5 million kilos of trash removed from Manila Bay – DILG
MANILA, Philippines — At least five million kilos of trash have been removed from Manila Bay since the start of the rehabilitation program on Jan. 27, the Department of Interior and Local Government (DILG) said yesterday.
While the bay is cleaner, it is still not safe for swimming, DILG Secretary Eduardo Año said.
He added that they are now focusing on cleaning canals leading to the bay.
"We need to shut down the companies discharging waste" into the canals to prevent the waste from polluting the bay, Año said.
He said they are also threshing out details in the relocation of informal settler families (ISFs), whom he said are largely to blame for the garbage in Manila Bay.
"There are funds and relocation sites allocated," Año said.
The DILG earlier directed barangays to conduct an inventory of the ISFs living along Manila Bay's shoreline and the bay's tributaries.
The 178 local government units around Manila Bay have also been directed to conduct their own weekly cleanup drives to contribute to the rehabilitation.