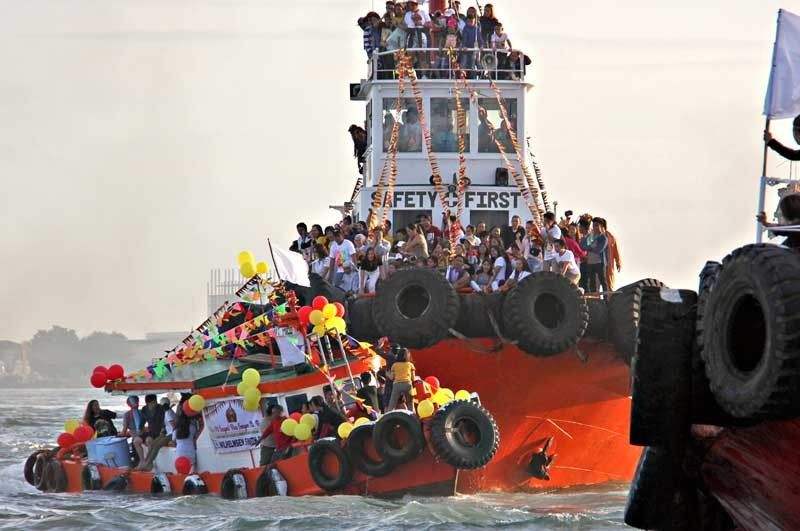 Boats loaded with devotees of the image of the Child Jesus join a fluvial procession marking the Feast of the Señor Sto. Niño in Cebu City yesterday.
Joy Torrejos/The Freeman
Cebu readies mobile jail for unruly Sinulog revelers
MANILA, Philippines — Revelers and spectators who will misbehave during and after the 39th Sinulog Grand Parade today will be locked up in a bus that was converted into a mobile jail, Cebu City Mayor Tomas Osmeña warned yesterday.
On his Facebook account, Osmeña posted that the city government's Kaoshiung bus is ready to temporarily house anyone who will commit any offense during the revelry.
"To those who joined the brawl in Fuente last night, the Cebu City party bus is ready for you tomorrow," Osmeña posted in local dialect, referring to a melee that broke out on Friday night in Barangay Capitol Site.
Osmeña's post gained over 3,000 reactions, 264 comments and shared 742 times.
On Friday, the Sinulog Foundation Inc., which is chaired by Osmeña, cancelled a concert and other activities set at the Fuente Osmeña Circle for security purposes.
"In line with the security measures we have implemented for the Sinulog 2019, the Sinulog Foundation Inc. has regretfully decided to discontinue tonight's line-up of events due to unforeseen circumstances. Your safety and security is our utmost priority," the SFI said in a statement.
"We sincerely apologize for any inconvenience this may have caused everyone especially to the working committee, volunteers, our partners, and performers," it added.
Several men were seen jumping off the fence of the Fuente Osmeña Circle as they insisted to watch the concert, prompting the organizers to cancel the event.
Meanwhile, the Cebu City Disaster Risk Reduction and Management Office (CCDRRMO) advised residents and the public to plan their trip to survive today's Sinulog Parade.
CCDRRMO head Nagiel Bañacia said every member of the family should know each other's whereabouts as mobile services will be cut from 3 a.m. to 7 p.m. today.
"This is a last minute reminder so you would know where to find your relatives should you get separated amid the sea of people," Banacia said.
This is the third time that the National Telecommunication Commission granted a request of the police to shut down phone signals for security purposes.
SIF executive committee chairman Councilor David Tumulak said the organizers would use handheld radios to communicate. – The Freeman