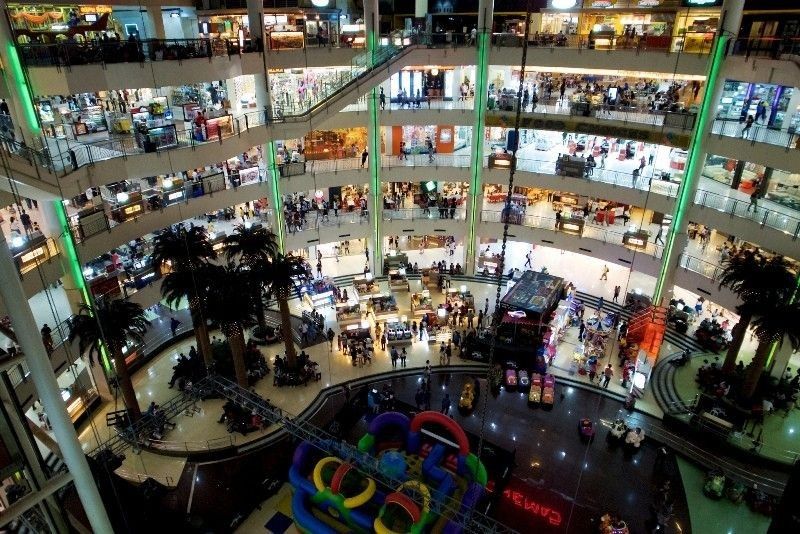 Some malls are set to adjust their operating hours for the upcoming Christmas season.
BY-NC-ND/Jurgen Proschinger
(Philstar.com) - November 5, 2018 - 9:51pm
MANILA, Philippines— Several mall chains have released their schedule for the upcoming holidays.
Most of the malls said they would implement the adjustment of schedules starting November 5 until January 2019.
Some malls are extending operating hours to accommodate holiday shopping.
View the holiday mall hours here:
Araneta Center
Ayala Malls
SM Supermalls
Eastwood City, Libis, QC
Eastwood Mall:
November 1 & 2: 11AM to 10PM
December 1-15
Monday to Thursday: 11am to 11pm
Friday and Saturday: 11am to 11pm
Sunday: 10am to 10pm
December 24: 11am to 9pm
December 25 and January 1, 2019: 11AM–10PM
Eastwood Citywalk:
November 1 & 2: 12nn to 11pm
December 1-15
Monday to Thursday: 11am to 11pm
Friday and Saturday: 11am to 12am
Sunday: 11am to 11pm
December 24: 11am to 9pm
December 25 and Jan 1: 12pm to 11pm
Eastwood Cybermall
November 1 & 2: 11AM to 10PM (no changes)
December 1-15
Monday - Sunday 11AM to 10PM (no changes)
Forbes Town, Fort Bonifacio, Taguig
Forbes Town:
November 1 & 2: 11am - 11pm
December 24: 10am to 9pm
December 25: 12nn to 11pm
December 31: 10am to 9pm
January 1, 2019: 12nn to 11pm
Uptown Bonifacio, Fort Bonifacio, Taguig
Uptown Mall and Uptown Parade:
November 1: 12nn to 10pm
November 2 - December 14: 10am to 10pm (regular mall hours)
December 15 - 23: 10am to 11pm
December 25: 12nn to 10pm
December 26 - 29: 10am to 10pm (regular mall hours)
December 20: 10am - 11pm
December 31: 9am to 7pm (non food establishments); 9am to 12mn (selected establishments)
January 1, 2019: 12nn to 10pm
Lucky Chinatown, Binondo, Manila
Nov 1: 12nn to 10pm
December 24 - 31: 9am to 7pm
All Saturdays and Sundays of November & December, November 30, December 17-21: 9am to 10pm
January 1, 2019: 12nn to 10pm
Southwoods City, Binan Laguna
Nov 1: 12nm to 9pm
Nov 30: 10am to 10pm
All weekends of December: 10am to 10pm
December 24 and 31:9am to 7pm
December 25: 10am to 10pm
January 1: 12nn to 9pm
McKinley Hill, Fort Bonifacio, Taguig
November 1 & 2: 11am to 11pm
November 5 - December 23
Monday - Friday: 11am to 11pm
Saturday and Sunday: 10am to 11pm
December 24: 11am to 9pm
December 25 - 28: 11am to 11pm
December 29: 10am to 11pm
December 31: 11am to 7pm
January 1: 11am to 11pm
Newport City, Resorts World Manila, Pasay
Newport Mall
November 1 & 2: 12pm to 12am
December 1-15
Monday - Thursday: 12nn to 12mn
Friday - Sunday: 10am to 12mn
December 16 to 23
Monday - Sunday: 10am to 12mn
December 24, Monday: 10am to 7pm
December 25 - 31
Monday - Sunday: 10am to 12mn
Twin Lakes, Tagaytay
October 31: 10am - 9pm
November 1: 12nn - 9pm
November 2: 10am - 9pm
December schedule: *To be updated
The Village Square, Makati City
November 1 & 2: 12nn - 9pm