Murder raps filed vs Sagay massacre suspects
October 28, 2018 | 12:00am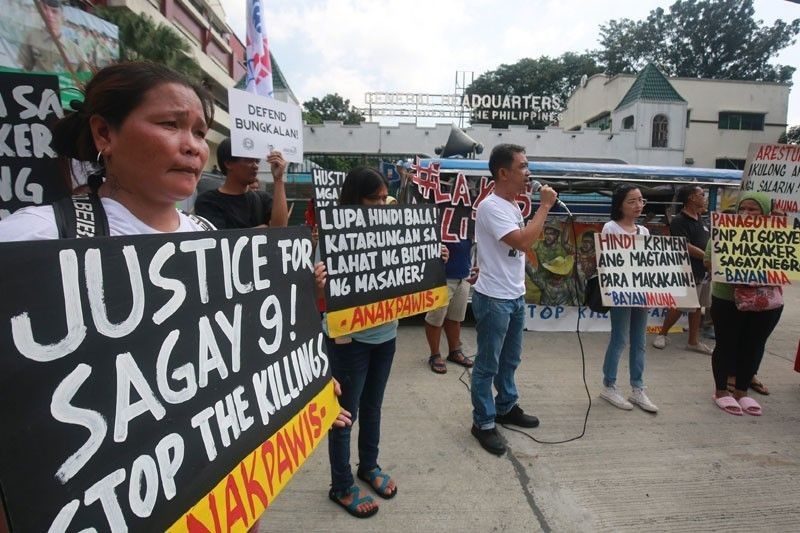 BACOLOD CITY, Philippines — Multiple murder charges were filed on Friday against nine people in connection with the killing of nine persons in Negros Occidental last week.
Charged were Rene Manlangit, alias Boy, and Rogelio Arquillo Jr., who allegedly recruited the victims to join the National Federation of Sugar Workers (NFSW) and seven other John Does.
Chief Superintendent John Bulalacao, Western Visayas police director, said Manlangit and Arquillo conspired with an armed group in planning the attack.
Bulalacao said the victims were manipulated by the Communist Party of the Philippines and New People's Army into occupying a private property as part of its Oplan Bungkalan and Okupasyon.
"Upon examination of the statements of the... witnesses... the recruiters deceived the victims and enticed them to join (NFSW) by promising them a parcel of land once their cause succeed," Bulalacao said.
He said probers relied on the testimonies of eight witnesses, including a minor, who survived the attack.
The victims were resting in a tent at privately owned sugarcane plantation in Barangay Bulanon, Sagay City when about 10 gunmen opened fire. Four survived the attack.
Senior Superintendent Rodolfo Castil, Negros Occidental police director, yesterday questioned the motive of militant groups who wanted to take custody of the minor witness.
Negros Occidental Gov. Alfredo Maranon Jr. said he ordered the creation of a task force to ensure a thorough and impartial investigation of the incident.
The Negros Occidental and Sagay city governments have offered a reward of P500,000 for information leading to the arrest of the assailants. – With Emmanuel Tupas