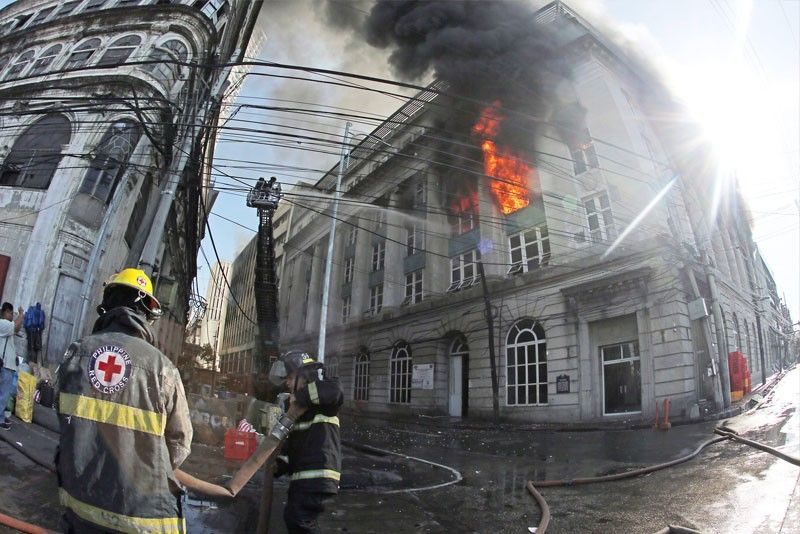 Firefighters attempt to extinguish a fire at the Juan Luna Building in Binondo Manila yesterday. The building houses the administrative offices of the National Archives of the Philippines. Three firemen were hurt in the blaze.
Krizjohn Rosales
4 buildings gutted in Binondo fire; 3 hurt
Rey Galupo
(The Philippine Star) - May 29, 2018 - 12:00am
MANILA, Philippines (Updated 9:38 a.m.) — Three firefighters were hurt in a fire that razed four buildings in Binondo, Manila yesterday.
The fire started at the Land Management Bureau (LMB) building at around 12:36 a.m. and spread to the Juan Luna building, which houses the administrative offices of the National Archives of the Philippines (NAP), Senior Superintendent Jonas Silvano said.
The fire also gutted the 150 Plaza Cervantes building and the Moraga Mansion, all located at Plaza Cervantes.
The Manila Fire District raised the alarm to Task Force Charlie at around 8:06 a.m. and declared it under control at around 4 p.m.
Two firefighters – one from the Bureau of Fire Protection, the other a volunteer – suffered lacerations on their hands while another volunteer firefighter experienced difficulty in breathing.
The LMB, an attached agency of the Department of Environment and Natural Resources (DENR), administers, surveys, manages and disposes alienable and disposable lands. It has jurisdiction over government lands that are not under other agencies.
The DENR said records at the LMB office have backup files at the DENR's regional offices.
DENR Undersecretary Benny Antiporda said at least P100 million in computers were destroyed in the fire.
He said they are trying to find a place where the LMB can temporarily hold office.
The NAP, located on the third floor of the Juan Luna building, is the agency that keeps historical documents from the Spanish and American colonial periods.
Silvano said no important archives and documents were affected in the building, which is being used solely as an administration office.
He said all the documents are stored in the National Library in Kalaw Street.
NAP staff rushed to the burning building as early as 2 a.m. upon hearing the news and saved some documents, mostly financial records. – Rhodina Villanueva
Online Editor's Note: An earlier version of this report mistakenly mentioned the Bank of the Philippine Islands building. This has been corrected to reflect 150 Plaza Cervantes Building in the latest update.