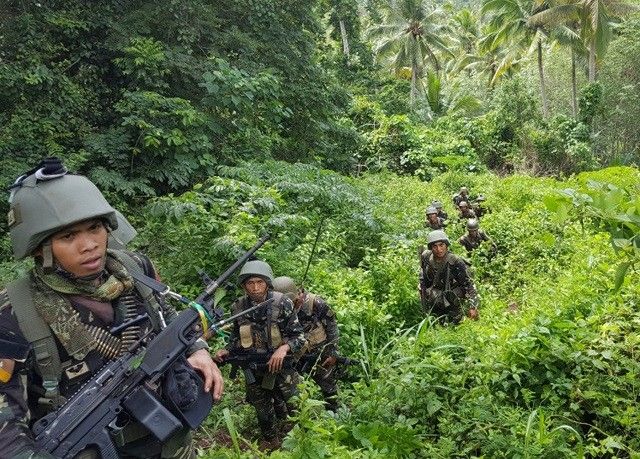 Suspected Abu Sayyaf bandits took Enrico Nee of the Department of Public Works and Highways-Autonomous Region in Muslim Mindanao- Sulu first district engineering office near his house in Barangay Kasalamatan, Jolo before 8 a.m. on Thursday. Philstar.com/File Photo
Soldier killed in clash with Abu bandits
Roel Pareño
(The Philippine Star) - February 18, 2018 - 12:00am
ZAMBOANGA CITY, Philippines — A soldier was killed in an encounter with Abu Sayyaf bandits in Patikul, Sulu on Thursday, the military reported yesterday.
Cpl. Jaycee James Rodriguez was with a group of soldiers of the 45th Infantry Battalion who were conducting search and rescue operations for a kidnapped district engineer when they encountered the bandits in Barangay Tugas.
Another soldier who has yet to be identified was wounded in the gunfight that lasted for more than an hour.
Suspected Abu Sayyaf bandits took Enrico Nee of the Department of Public Works and Highways-Autonomous Region in Muslim Mindanao- Sulu first district engineering office near his house in Barangay Kasalamatan, Jolo before 8 a.m. on Thursday.
The military said it was not immediately known if Nee was with the group of bandits that the soldiers encountered.
Senior Superintendent Mario Buyucan, Sulu police director, said the kidnappers have yet to contact the family of the victim for any ransom demand.
The Abu Sayyaf is also holding a Dutch man, a Vietnamese, three Indonesians and three other Filipinos.
Brig. Gen. Cirilito Sobejana, Joint Task Force Sulu commander, said there would be no letup in search and rescue operations for the captives.
2 bandits held
Meanwhile, joint police and intelligence units arrested two Abu Sayyaf bandits in this city on Thursday, an official said yesterday.
Sammer Lanjang, with aliases of Abu Sammer and Ziad, and a certain Askabal were standing in front of a fastfood outlet when they were arrested, Chief Superintendent Billy Beltran, Zamboanga peninsula police director, said.
Beltran said Lanjang and Askabal were charged with five counts of kidnapping and serious illegal detention before a court in Basilan in connection with the kidnapping of Golden Harvest plantation workers in Lantawan, Basilan in 2001.
Beltran said the suspects, who are followers of slain Abu Sayyaf leader Isnilon Hapilon, were positively identified by two bandit surrenderees who turned state witness.