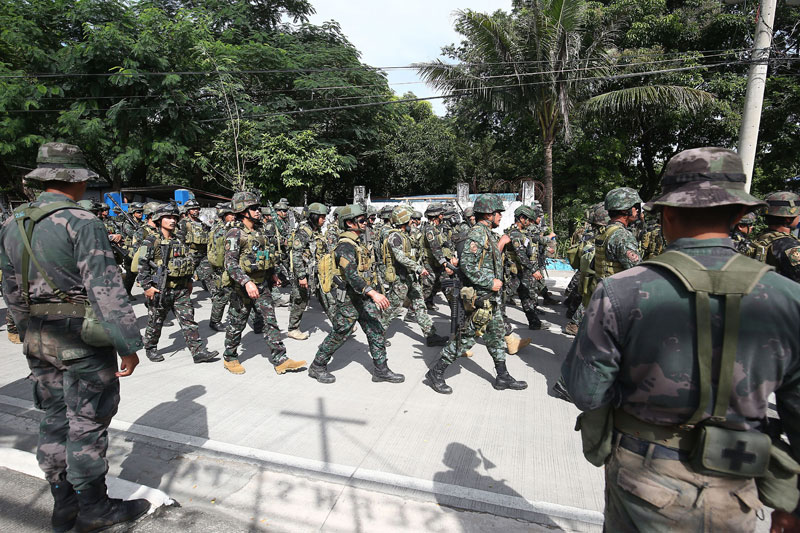 The camp will be built on a 10-hectare lot in Barangay Kapantaran where the old city hall complex is located. Michael De Guzman
Another military camp to rise in Marawi
CAGAYAN DE ORO CITY , Philippines — President Duterte has confirmed plans to put up another military camp in Marawi.
The camp will be built on a 10-hectare lot in Barangay Kapantaran where the old city hall complex is located.
"I'm planning to set up a camp here, but I will pay you," the President said during his visit to a temporary shelter for Marawi evacuees in Barangay Sagonsongan on Tuesday, referring to residents who would be displaced by the construction of the camp.
"Whatever it takes, we will pay para walang gulo (to avoid trouble)," Duterte said.
Camp Ranao, the home of the Army's 103rd Infantry Brigade, a unit of the First Infantry Division, is the only camp in Marawi.
However, Maranao ethnic groups, such as Tindeg Rano and Moro consensus group, questioned the government's plan to set up a second military camp in Marawi, saying most of the lots in the military reservation had been awarded to them.
Defense Secretary Delfin Lorenzana said his office is reviewing the proposal of former vice president Jejomar Binay to distribute a portion of the military reservation to its occupants.