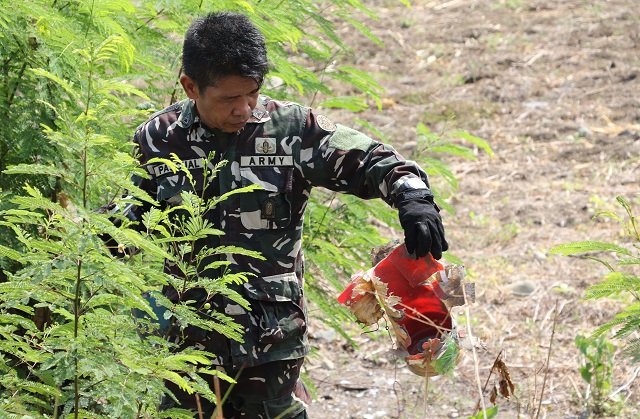 An Army bomb expert collects fragments of a roadside bomb found and safely detonayed in Datu Unsay town in Maguindanao. Philstar.com/John Unson, file
BIFF commander nabbed in North Cotabato
John Unson
(philstar.com) - September 25, 2017 - 6:23am
MANILA, Philippines — Authorities foiled an attempt to bomb selected targets in central Mindanao with the arrest of a bandit commander on Monday.
Muslimin Ladtugan, most known as "Commander Mus" in the outlawed Bangsamoro Islamic Freedom Fighters, is now in the joint custody of the police and the military, according to local officials.
He was cornered at his hideout in Barangay Nabalawag in Midsayap, North Cotabato on Monday morning by personnel of the Army's 34th Infantry Battalion and the Philippine National Police.
The raiding team recovered materials for improvised explosive devices, an M14 rifle, an M16 rifle, a rocket-propelled grenade and two .45 caliber pistols.
Lt. Col. Gerry Besana of the Army's 6th Civil-Military Operations Battalion said on Monday that residents told soldiers the location of Ladtugan's hideout.
Police and Army intelligence sources told reporters the hunt for Ladtugan was launched following reports from civilian informants that his group is planning bombings to avenge the deaths of 27 militants in encounters with members of the Moro Islamic Liberation Front.
The MILF has been fighting since August 2 a third faction in the BIFF, led by bomb maker Esmael Abdulmalik, which uses the flag of the Islamic State of Iraq and Syria as its revolutionary banner.
Ladtugan is identified with the group of Abdulmalik, a former henchman of slain Malaysian terrorist Zulkfli bin Hir, also known as Marwan.
The MILF's hunt for Abdulmalik and his men is being supported by the Army's 6th Infantry Division. Pursuing MILF guerrillas have killed 27 militants in recurring encounters that started August 2.
The MILF already lost more than a dozen members in the ensuing skirmishes.
Key members of the municipal peace and order councils in towns in the second district of Maguindanao, scenes of bloody clashes between the group of Abdulmalik and pursuing MILF guerrillas, said Ladtugan and his men were supposed to set off IEDs along highways and public places.
The MILF launched its campaign against Abdulmalik and his men in keeping with its 1997 interim truce with Malacañang that obliges both sides to cooperate in maintaining law and order in conflict-flashpoint areas in southern provinces.