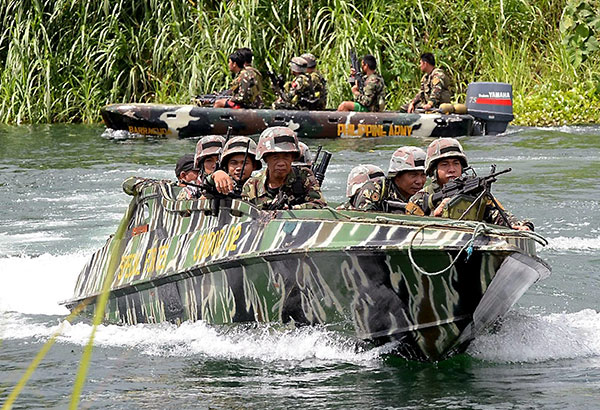 Soldiers conduct a patrol on speedboats across a lake near the frontline in Marawi City as the armed conflict between government troops and Maute terrorists entered its fourth week. AFP, file
Mautes plan to strap IEDs to captives, former hostages say
ZAMBOANGA CITY, Philippines — Maute terrorists in Marawi City plan to strap improvised bombs to their captives, three hostages who managed to escape their captors said Sunday.
The former hostages — Romar Marjalino, 39, his brother Roel, 37, and Jimmy Esperat, 43 — revealed this Sunday as they were reunited with their families at the Naval Forces Western Mindanao headquarters.
The three Zamboanga natives who escaped the the Islamic State-inspired terrorists around a week ago were formally turned over by R.Adm. Rene Medina, NFWM chief, to Mayor Maria Isabelle Climaco-Salazar and their families.
Medina said the victims had to undergo debriefing for information that the military could use against the terrorists holding parts of Marawi City since May 23.
Romar Marjalino confirmed that catholic priest Teresito "Chito" Suganob is still alive.
"We were with Father Chito. He is okay, but his task was to collect the explosive powder of piccolo, five-star and other [firecrackers] to be used for improvised bombs that will be rigged to us as suicide bombers," Marjalino said.
According to Marjalino, the Maute plan to strap the IEDs to their hostages if government forces manage to encircle their positions.
Marjalino said the terrorists have not done that yet.
He said there were 46 hostages from the Maute-held position they escapeed from.
Among the hostages were 20 women, some of them teachers and workers, and 13 minors.
He said some of the hostages, some as young as two years old, died of suffocation because of bombing and from the stench of decomposing bodies.
The escaped hostages said Suganob is ready to die at the hands of his captors, who took him and other Church workers from the St. Mary's Cathedral.
Romar Marjolino said they had asked Suganob if he wanted to try to escape with them. He said the priest is already weak from trauma.
"El de suyu, ta espera ele que cay ya lang gayot con ele grande bomba igual del maga jet fighter y alegre ya ele. Ready ele murri alla (for him, he is just waiting for a big bomb similar to those from the jet fighters will hit them there and he would be happy. He is ready to die there)," Marjalino said in Chavacano.
River crossing
The victims said they had to swim more than a kilometer to cross a section of river guarded by terrorist snipers before reaching safety.
Marjalino said they he had been planning to escape but had to wait because they were under heavy guard.
"If we will escape we will surely die," Marjalino said. He opted to stay with his brother Roel and Esperat to serve the Maute Group as cooks.
Marjalino said military operations reduced the numbers of the Maute Group, improving the hostages' chances to escape. He said airstrikes had killed around six terorrists who had been guarding them in a mosque that the Mautes had occupied.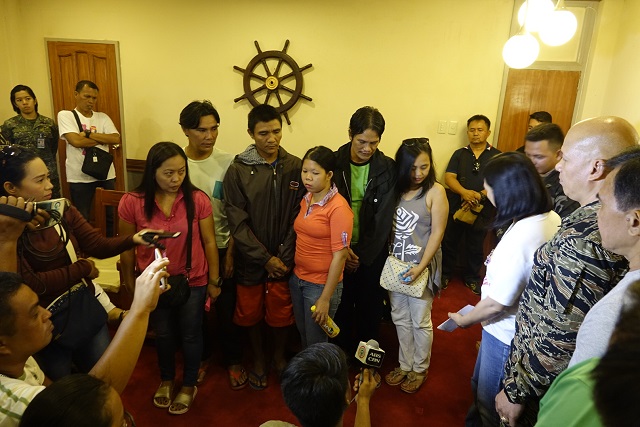 Escaped Maute hostages Romar and Roel Marjalino, and Jimmy Esperat reunite with their wives at the Naval Forces Western Mindanao in Zamboanga City. (Roel Pareño)
Coordination with Navy
Esperat said the Maute terrroists confiscated their mobile phones but that they were eventually able to recover a phone.
Marjalino said he managed to contact his wife, who coordinated with a corporal at NFWM.
The NFWM alerted its units guarding Lake Lanao and instructed Marjalino on the escape plan.
Marjalino said they would have to swim to the navy's position. NFWM would guard them against sniper fire during the escape.
The three escaped plan on the night of August 4 while their Maute guards were asleep and headed to the city's port area, which was guarded by terrorists with high-powered guns.
They swam with the help of plastic gallon jugs as floaters until they reached Navy personnel waiting for them on the other side.
"We will no longer return there (Marawi) even if the salary offer is big," the victims said when they were reunited with their families.