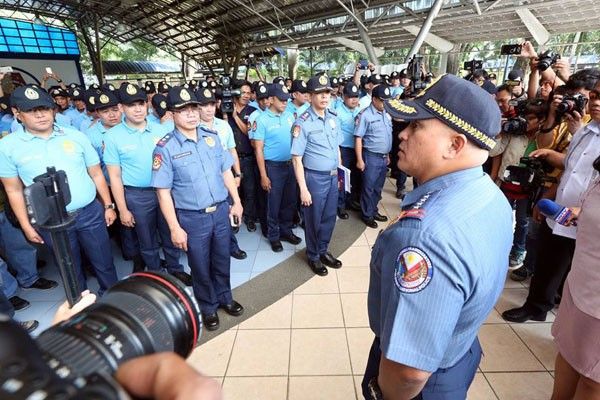 Philippine National Police Director General Ronald dela Rosa together with about 200 erring policemen in PNP headquarters in Camp Crame before meeting President Rodrigo Duterte.
Facebook/PNP, released
Cops who skipped Palace meeting not safe from transfer
(Philstar.com) - February 8, 2017 - 2:40pm
MANILA, Philippines — Skipping the meeting with President Rodrigo Duterte on Tuesday will not save rogue police from being transferred to conflict-affected areas of Mindanao as the president has threatened to.
President Duterte berated more than 200 erring members of the National Capital Region Police Office and ordered them sent to Mindanao.
He gave them 15 days to prepare for their transfer to Sulu, Basilan, Tawi-Tawi where terror groups like the Abu Sayyaf and the Maute group operate.
"Kayo lahat ngayon nandito, kasali kayo sa Task Force South. Padala ko kayo sa Basilan. Tumira kayo doon ng mga dalawang taon," Duterte told the officers ordered to appear in Malacañang.
His order came after several police officers from Pampanga were charged with robbery-extortion of three Korean nationals. Before that, rogue police officers were also accused of abducting and killing Korean businessman Jee Ick-Joo.
NAPOLCOM guidelines on transfer
Memorandum Circular (MC) 2002-007 of the National Police Commission (NAPOLCOM)—Clarifying the Concept of Reassignment, Transfer or Relief of PNP Personnel which amends section 2 of the MC 95-024 or Clarifying the Extent and Character of the Authority of the Chief, Philippine National Police in the Reassignment, Transfer or Relief of PNP Personnel—says that the reassignment, transfer, or relief of PNP personnel is not meant as a disciplinary action, but simply "a tactical/strategic movement, deployment, placement or utilization of the PNP which can be effected by the commander only when the demand of the service requires it."
It also states that the guideline for reassignment must be on the ability of the officer to perform their duties and responsibilities.
The same memorandum circular stresses that the PNP Reform and Reorganization Act of 1998 requires that "whenever practicable and consistent with the requirements of the service, PNP members shall be assigned to the city or municipality of their residence."
The MC justifies this by saying being assigned to the area they live in because fear of ostracism for unethical and illegal behavior can help keep police officers in line. Living where they work will also be economically practical and will mean police officers will be familiar with the conditions and terrain of their area of operations.
Lawyer Ferdaussi Masnar, head of the legal affairs for NAPOLCOM, however, said that is is a command prerogative or the privilege of the PNP chief, Director General Ronald Dela Roasa, to reassign rogue police officers.
He added that revisions in the provision on administrative offenses and penalties in the MC 2016-002 allows the transfer of those who have administrative cases even if they do not appear at administrative hearings. Previously, under MC 2007-001, a police officer could not be transferred if he is facing a case and must appear in hearings.
Bureau of Customs personnel bucked a Department of Finance order transferring them as part of government reforms and brought the case to court saying it was a demotion and a violation of their right to tenure. The Manila Regional Trial Court dismissed the case but the Supreme Court ruled in 2015 that Customs Personnel Order No. B-189-2013 was not validly issued.
"Indeed, we commend and support the reforms being undertaken in the different agencies of the government. However, we cannot allow department heads to take shortcuts that will undermine and disregard the basic procedures of the law," the Supreme Court ruled.
Masnar said that police officers officers are given sufficient time to prepare for their transfer. He added that the 15 days President Duterte gave the police officers "is sufficient enough."