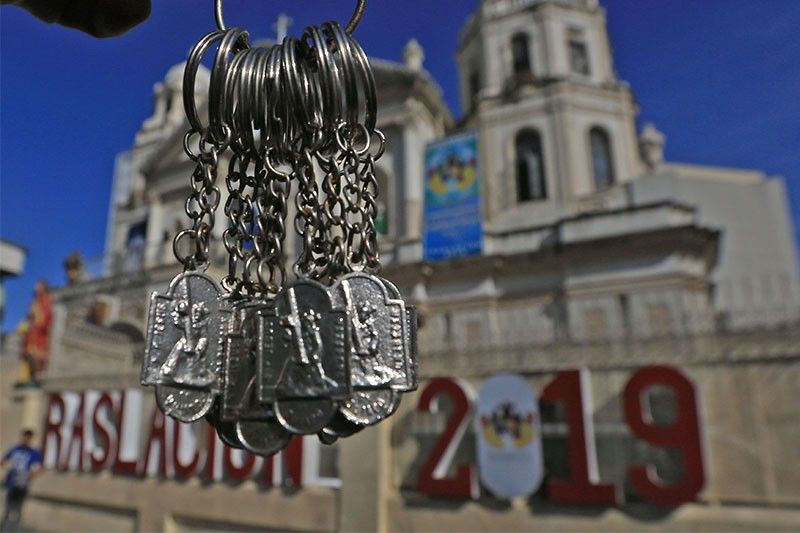 Millions of devotees are expected to join the annual procession of the venerated image of the Black Nazarene in Manila on January 9.
The STAR/Edd Gumban
Manila suspends classes on January 9 for Black Nazarene traslacion
(Philstar.com) - January 4, 2019 - 10:54am
MANILA, Philippines — Manila Mayor Joseph Estrada suspended classes in all public and private schools in the nation's capital on January 9 for the procession of the Black Nazarene.
At least five million devotees are expected to join the procession from Quirino Grandstand to Quiapo Church on the Black Nazarene's feast day.
NCRPO chief Guillermo Eleazar said the police has requested for a no-sail zone, no-fly zone and no-telecom signal zone in the area of the procession.
Officials of the Quiapo Church or the Minor Basilica of the Black Nazarene had warned the public to prioritize safety during the traditional traslacion.
While it is not prohibited, Assistant Parish Priest Fr. Douglas Badong discouraged devotees from jumping onto the carriage of the image for safety reasons.
"We are discouraging people on January from simultaneously jumping onto the carriage," Badong said in Filipino.
Last year, a former jail guard died while 450 people received medical aid during the 22-hour procession in Manila.
Church officials asked devotees not to bring any sharp objects such as ballpens during the procession. Those with hypertension or heat ailments are also discouraged to join the traslacion.
The annual event commemorates the transfer of the venerated image of Black Nazarene from its original home in Intramuros to Quiapo in 1767. — Patricia Lourdes Viray