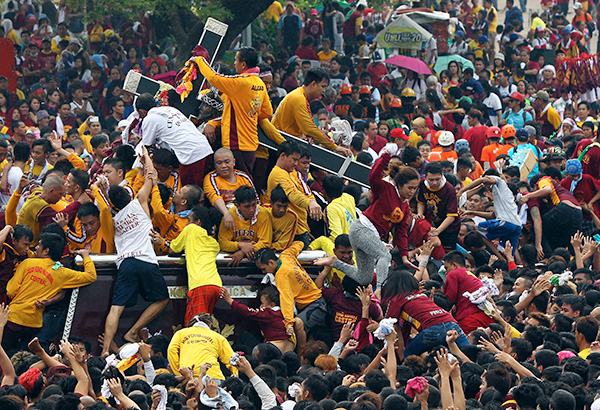 As much as 18 million people are expected to attend the traslacion, which commemorates the transfer of the 1767 cross-bearing image of Jesus Christ from Intramuros to Quiapo. File
LIST: Black Nazarene procession route, prayer stations for January 9
MANILA, Philippines — This year's Traslacion would follow a slightly different route, according to organizers of the annual Black Nazarene procession.
The organizers on Wednesday revealed the new route of the Black Nazarene procession where millions of devotees are expected to participate. They said said the route would no longer include Lagusnilad for the safety of the devotees.
The annual traslacion is being held every January 9 to commemorate the transfer of the the Black Nazarene image from its original home in Intramuros to the Minor Basilica of the Black Nazarene in Quiapo on Jan. 9, 1787.
The procession will once again begin in Quirino Grandstand where a Eucharistic Celebration is slated before the traslacion.
Below appears the traslacion route for the feast of Black Nazarene this 2018:
Quirino Grandstand (Independence Road)

Right to Katigbak Drive

Straight to P. Burgos (westbound lane)

Straight to P. Burgos (southbound lane) through Jones Bridge

Right to Dasmariñas

Right towards Plaza Sta. Cruz

Left to Palanca Street

Left to Quezon Boulevard

Right to Arlegui Street

Right to Fraternal Street

Right to Vergara Street

Left to Duque de Alba

Left to Castillejos Street

Left to Farnecio Street

Right to Arlegui Street

Left to Nepomuceno Street (counter-flow),

Left to Aguila Street

Right to Carcer Street

Right to Hidalgo

Straight though Plaza del Carmen

Left to Bilibid Viejo Street

Straight to Puyat

Left to Guzman Street

Right to Hidalgo Street

Left to Bautista Street (Barbosa)

Right to Globo de Oro

Straight through under Quezon Bridge,

Right to Palanca Street

Right to Villalobos Street

Straight through Plaza Miranda going to Quiapo Church
Aside from the route, the organizers also said there would be designated 12 prayer stations wherein communal prayers would be recited as the carriage of Black Nazarene or andas approaches.
This is the first time the traslacion would feature prayer stations. There would also be incense and holy water blessing and singing once the andas passes in every station.
Here is a list of the prayer stations:
Manila Hotel

National Museum

Pedestrian underpass in P. Burgos cor. Victoria (in front of Manila City Hall)

Pedestrian underpass in Liwasang Bonifacio

Escolta Arc

Sta. Cruz Church

Arlegui corner Quezon Boulevard

Pedestrian overpass in Arlegui St. corner P. Casal St.

Canopy of Manuel L. Quezon University

San Sebastian Church

Barangay hall in Guzman Street

Globo de Oro