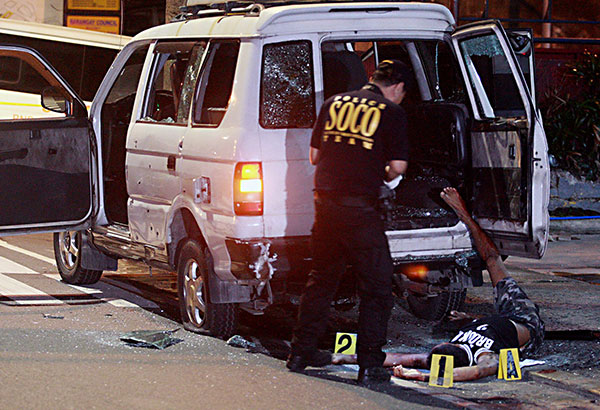 The body of a slain worker is seen next to the bullet-riddled AUV on Shaw Boulevard in Barangay Old Wack-Wack, Mandaluyong City. STAR/Joven Cagande, File
Mandaluyong cops, watchmen face homicide raps for 'misencounter'
(philstar.com) - January 1, 2018 - 4:18pm
MANILA, Philippines — The policemen and village watchmen involved in a fatal shooting believed to be a case of mistaken identity will be facing criminal charges, the Philippine National Police said Monday.
NCRPO Chief Dir. Oscar Albayalde said that cases of homicide have been filed against 10 Mandaluyong cops and three barangay watchmen before the Mandaluyong City Prosecutor's Office, according to a report from radio dzBB.
The 10 police officers have been disarmed and placed in restrictive custody following the incident on the evening of December 28. Mandaluyong Mayor Carmelita Abalos had also ordered the suspension of the barangay watchmen who fired shots against the victims.
READ: Police chief, 10 others relieved over Mandaluyong 'misencounter'
Two people were killed and two others were wounded in a shooting incident along Shaw Boulevard, where law enforces mistakenly opened fire at a vehicle bringing a gunshot victim to the hospital.
The police were deployed to assist barangay watchmen who were pursuing a white van they thought was carrying the shooter in an earlier incident.
The Mandaluyong policemen who would be charged include Senior Insp. Cristina Vasquez, Police Officer 2 Nel Songalia and PO1s Kim Tinbusay, Bryan Nicolas, Julius Livuen, Ariel Uribe, Jave Arellano, Tito Danao, Mark Castillo and Albert Buwag.
Barangay watchmen Wilmer Duron, Ernesto Fajardo and Gilbert Gulpo will also be charged for the killing of Jonalyn Ambaon and Jomar Hayawon.
Malacañang assured the public that there will be no whitewash in the investigation of the shooting incident in Mandaluyong City. — Patricia Lourdes Viray