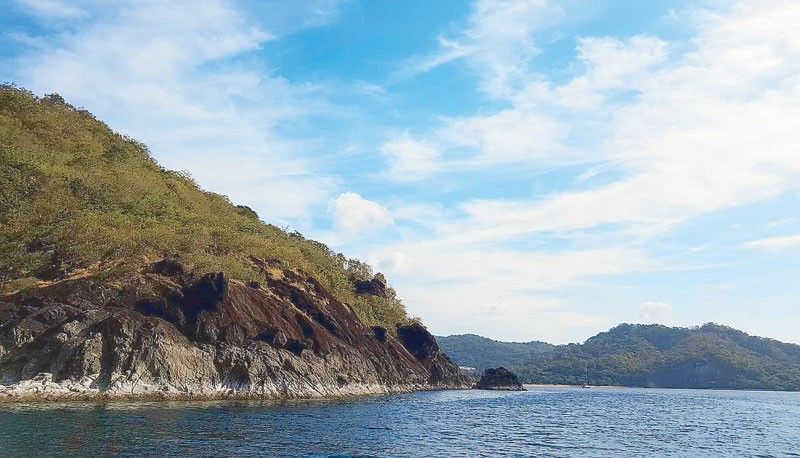 Calming vistas of mountain and sea at Pico de Loro in Nasugbu, Batangas.
Warm memories in the middle of winter
Like migratory birds fleeing the harsh Canadian winter, the delegates of the 6th Winter Escapade flocked to tropical Philippines for some fun under the sun.
MANILA, Philippines — This year's itinerary started with a wreath laying ceremony at the Rizal Monument in Manila followed by beach trips to Batangas and Palawan.
"This is the sixth year of the tour that has gained fame for bringing snowbirds to the Philippines, showcasing our country's natural beauty, rich culinary heritage and world famous Filipino hospitality," said Philippine Ambassador to Canada Petronila Garcia, speaking for the delegates from Calgary, Edmonton, Alberta, Toronto, Ottawa, Montreal, Quebec, Winnipeg, Manitoba, Halifax, Nova Scotia, Vancouver and British Colombia.
There were also delegates from the US who preferred to join the Winter Escapade rather than the Ambassador's Tour in July (catering more to US-based tourists) because of the cool late January/early February weather in the Philippines.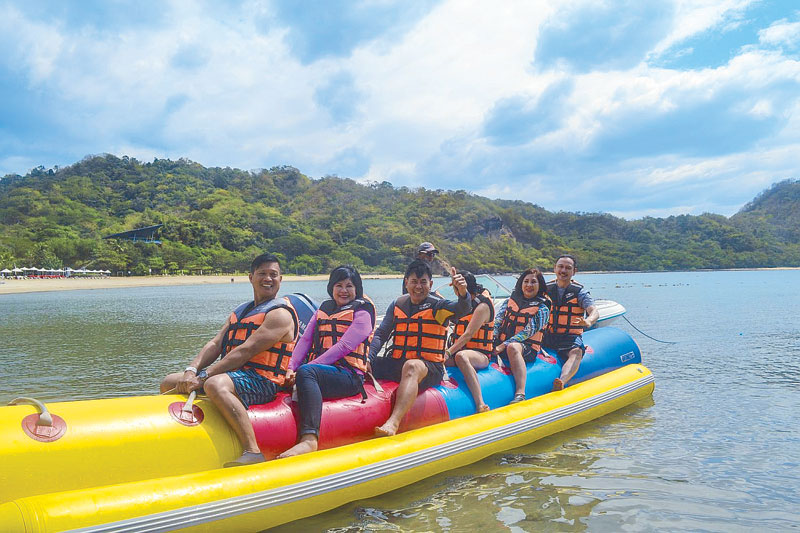 A banana boat ride is more fun with the whole gang!
The Winter Escapade is an offshoot of the Ambassadors, Consuls General and Tourism Directors Tour of the Philippines, targeting Canadians and Filipino-Canadians to travel to the Philippines to discover the new attractions and destinations of the country, as well as to explore investment opportunities.
Organized by ground operator Rajah Tours together with the Philippine embassy, the Winter Escapade's first stop in Batangas was the heritage town of Taal where they were immediately served local delicacies like suman and empanada, which was unique because of its noodle filling.
They marveled at the Minor Basilica of St. Martin of Tours, one of the biggest and oldest churches in Asia. At the plaza fronting the church, the group bought out the stocks of vendors selling what Batangas is known for: barongs and balisongs (fan knives).
"It's a real pleasure to have you here, especially in the historic city of Taal," said Gov. Dodo Mandanas as he welcomed the group to Batangas, highlighting Taal as the center of history, culture and the arts.
The governor also told the visitors to look forward to visiting Montemaria on their next trips to the Philippines.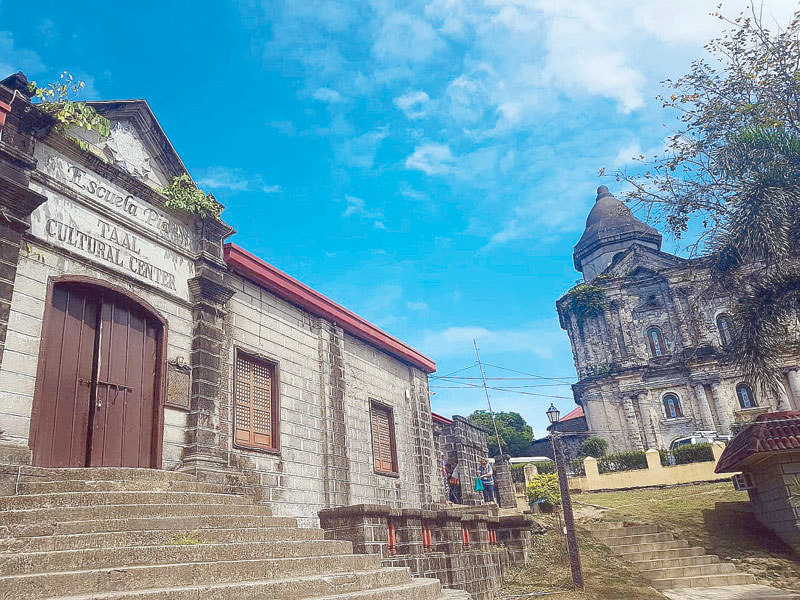 Heritage buildings in Taal.
Montemaria is a pilgrimage center located at the southernmost tip of Batangas Bay, 30 minutes away from the central district of Batangas City. The 8-hectare project will offer hotels with facilities for tourists and retreat participants, as well as developments for high-end condominiums.
The centerpiece of Montemaria is a 96-meter statue of Mary, Mother of All Asia. The massive structure with a viewing deck at its top is envisioned to join the ranks of Brazil's Christ the Redeemer and New York's Statue of Liberty.
Aside from faith tourism, cultural tourism and food tourism, Tony Meloto of Gawad Kalinga introduced the group to farm tourism with his Paraiso Village Farms that will soon be established all over Batangas.
Meloto added that speaking at the Winter Escapade luncheon in Batangas was one of his rare public appearances since retiring as chairman of Gawad Kalinga, but he took the time to meet the group because he fostered much affinity with both Batangas and Canada.
"I spent 25 years bringing Couples for Christ to Canada," said Meloto. "There are 88 villages in the poorest parts of the Philippines because of our Canadian partners."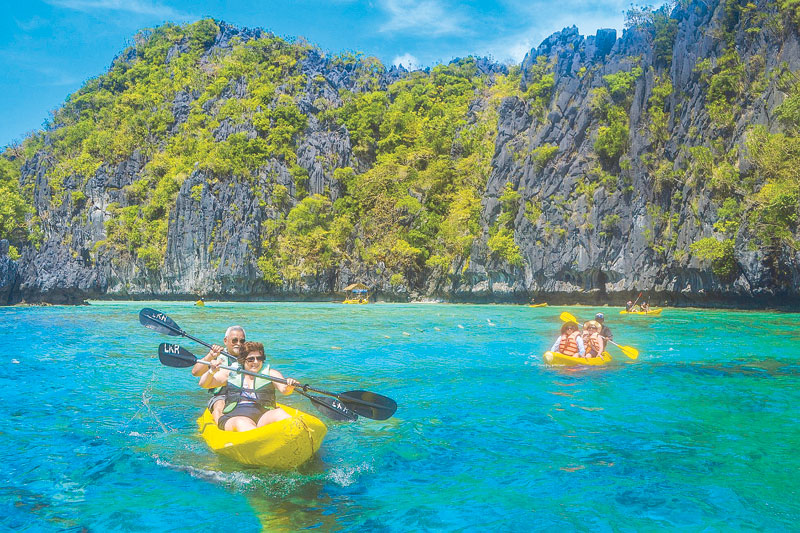 Kayaking around El Nido, Palawan's clear waters.
He added that when he was about to retire, different provinces offered him places to settle down, but he chose Batangas.
"This place is really good for Filipinos to show to the world that we can actually be a country of great excellence and also a country of great integrity," he said, noting honest governance as a major factor for choosing Batangas for his retirement home and farm.
Meloto's property in San Jose, Batangas was once an abandoned farm that is now abundant with 3,000 fruit trees. "You will add 10 years to your life if you move to Batangas," Meloto told the Winter Escapade participants, adding: "Being away doesn't mean you have to stop loving this country... If you helped me build Couples for Christ for our spiritual movement, then after ten years you helped me build Gawad Kalinga for our social movement, then let's help also with Paraiso Village Farm to build our economic movement anchored in a love for God and a love for our country."
After a long day exploring Taal, the Winter Escapade delegates made their way to Nasugbu, Batangas to enjoy a few days at the Pico de Loro Beach and Country Club.
The daily updates of snow storms and below-zero temperatures back in Canada made the guests enjoy the sunny weather even more as they frolicked in the ocean, tried banana boat rides and visited Santelmo Cove where those who went snorkeling were delighted to be greeted by colorful schools of fish.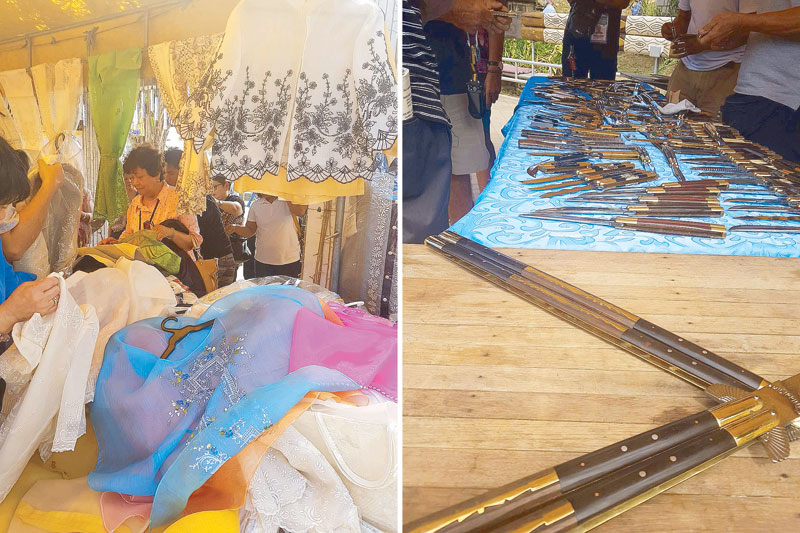 Barongs and balisongs, the pride of Batangas.
Winter seemed far away as everyone watched the sunset on the beach as Pico Sands Hotel's accommodating staff, led by general manager Maggie Garcia, set up a luau party where guests danced the night away.
The final leg of the tour let delegates experience the untouched serenity of El Nido, Palawan, one of the most beautiful destinations in the country.
Out of a population of 37 million, nearly one million are Filipino-Canadian, said Garcia. Even in the midst of the tour, she and the other consuls, together with many of the guests, were already planning their next Winter Escapade, promising to bring an even bigger delegation next year. "This is a confirmation of how successful this project has been," she added.
Over breakfast looking out onto the mountains and waters in Pico de Loro, Rajah Tour's Dading Clemente was busy dreaming up new ideas and destinations with Ambassador Garcia. "This really awakens their sense of nationalism and love for country," she said. Both look forward to enticing more Filipino-Canadian millennials to join the next Winter Escapade so that younger generations can discover their heritage and culture.
"We are raring to get some sunshine and swimming after leaving a very, very harsh winter in Canada... We're happy to be here and the warm welcome that you have extended to us has made us so at home in the heart of the Tagalog region," said Garcia.
Eventually the Winter Escapade delegates had to make their way back to wintery Canada, but they left with a healthy, glowing tan and hearts warmed by the memories made under the bright Philippine sun.