Court junks De Lima's bail plea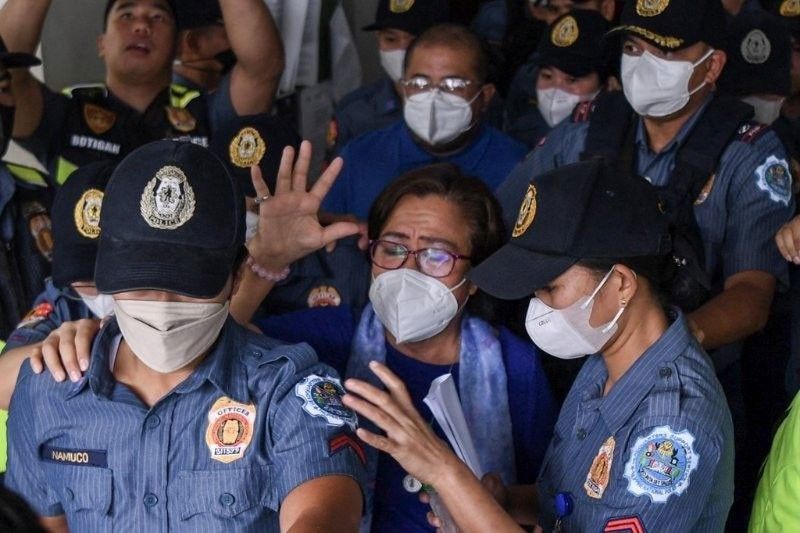 MANILA, Philippines — A Muntinlupa City regional trial court (RTC) has denied the petition for bail of detained former senator Leila de Lima.
An order by Muntinlupa City RTC Branch 256 Judge Romeo Buenaventura dated June 7 stated that the hostage-taking incident involving De Lima last year was an "isolated occurrence and a matter falling within the responsibility of the Philippine National Police Custodial Center," which did not warrant granting her bail.
It added De Lima's plea for provisional liberty on humanitarian grounds is "untenable."
"True, the Supreme Court, in some instances, allowed bail for the provisional liberty of the accused, where their continued incarceration was shown to be injurious to their health or endanger their life. However, this court does not find the circumstances in those cases as obtaining in the instant case," the order read.
The court said the grounds that the detained former senator is now a senior citizen and has several health issues that necessitate medical furlough are "not compelling."
"The accused herself admitted that though she is already a senior citizen and has several health issues, she is not suffering from any serious or life-threatening health condition. This negates the need for her to be placed in a special or alternative facility outside of her current confinement," it added.
Meanwhile, the court reiterated that it does not pre-empt judgment, and the innocence of De Lima and the other accused would be based on evidence after the merits of the case have been tackled.
"Let it be stressed that in finding the evidence of guilt strong, the court does not, in any way, prejudge what the final outcome of the case will be. The culpability or innocence of the accused will still be decided on the basis of all the evidence presented by the parties and only after trial on the merits of the case," the court said.
It added that the hearings would determine the weight of evidence for bail purposes.
In an interview with The STAR, Boni Tacardon, De Lima's legal counsel, confirmed the order.
Tacardon said De Lima's team would exhaust all legal remedies following the denial. The legal team met yesterday to discuss future possible moves.
One of the prosecutors, lawyer Darwin Canete, said the prosecution team is "thankful to the honorable court" for the decision.
The STAR reached out to the prosecutors for comment, but none was given as of press time.
The prosecution's presentation of evidence set on June 19 and 26 will proceed as scheduled.