Signals raised as Betty maintains strength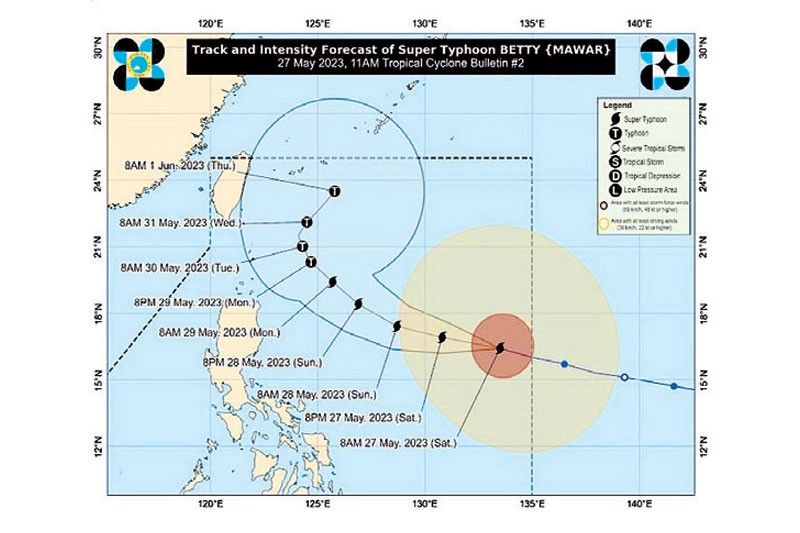 MANILA, Philippines — The Philippine Atmospheric, Geophysical and Astronomical Services Administration (PAGASA) has started to raise tropical cyclone wind signals over parts of northern Luzon as Super Typhoon Betty makes its way closer to the country.
The state weather bureau said that Betty (international name Mawar) was monitored 1,055 km east of Central Luzon, carrying maximum sustained winds of 185 kilometers per hour near the center and gustiness of up to 230 km/h.
It will remain as a super typhoon over the weekend and short-term intensification was not ruled out last night.
Signal No. 1 has been raised over Batanes, Cagayan including Babuyan Islands, Isabela, Apayao, Ilocos Norte, northern and central Abra, Kalinga, eastern and central Mountain Province and Ifugao, northern and central Aurora, Quirino and northeastern portion of Nueva Vizcaya.
Strong winds of around 39-61 km/h may be expected within 36 hours in these areas.
The southwesterly windflow and trough of Betty are already bringing scattered rainshowers over Palawan, Visayas, Zamboanga peninsula, Northern Mindanao and Caraga, while Metro Manila and the rest of the country may see isolated rainshowers.
PAGASA warned of heavy rainfall, from tomorrow morning until Tuesday with rainfall expected to be around 100-200 millimeters in Batanes, Babuyan Islands, and the northern portions of mainland Cagayan, Ilocos Norte and Apayao tomorrow.
Weather forecasters said Betty, which entered the Philippine area of responsibility yesterday at around 2 a.m., will also enhance the southwest monsoon in areas that will not be directly affected by the cyclone.
Rains due to the southwest monsoon, locally known as habagat, are possible over Mimaropa, Visayas, and Mindanao today. PAGASA warned that flooding and rain-induced landslides are likely, especially in high-hazard areas.
Betty is forecast to track generally west northwestward before turning northwestward today. It may decelerate as it moves over the waters east of extreme Northern Luzon and could become almost stationary between late Tuesday and early Wednesday when it will be closest to Batanes.
DSWD readies P2.1 B disaster fund
A disaster response fund of P2.1 billion is available to assist people in areas that will be affected by super typhoon Betty, the Department of Social Welfare and Development (DSWD) said.
DSWD spokesperson Assistant Secretary Romel Lopez said these include P598 million standby funds and P525 million quick response funds which they can use to assist local government units (LGUs) in relief efforts.
Around P528.5 million worth of food packs were also prepositioned in areas where the typhoon would be felt. Lopez said each food pack contains six kilos of rice, four canned corned beef, two canned sardines, five sachets of coffee and five sachets of cereal drinks.
The remaining funds are non-food items.
The DSWD is focusing its efforts in areas expected to experience heavy rainfall— Cordillera Administrative Region, Ilocos, Central Luzon, Mimaropa, Western Visayas, Central Visayas, Eastern Visayas and the Bangsamoro Autonomous Region.
As the typhoon is forecast to enhance the southwest monsoon resulting in heavy rains, Lopez urged the public to comply with their LGUs during pre-emptive evacuations.
Military, police on typhoon alert
Military and police have prepared their respective disaster response units in anticipation of the possible catastrophic effects of the super typhoon now barreling toward northern Luzon.
Philippine Army headquarters activated its Disaster Response Task Force last Friday.
Disaster Response units from the Army Support Command, Installation Management Command, Headquarters and support group, signal regiment, civil military operations regiment, finance center and personnel management center have gathered at the Philippine Army grandstand in Fort Bonifacio, to be deployed at their respective areas.
The Civil Military Operations regiment has also coordinated with Army stakeholders and partners for a possible donation drive for communities that will be affected by the super typhoon.
Philippine National Police chief Gen. Benjamin Acorda Jr. ordered the deployment of all regional and provincial mobile forces in Ilocos, Cagayan Valley and the Cordillera Administrative Region yesterday.
Also, national support units with disaster response capability are on standby for rapid deployment in the affected areas. Other Luzon-based police regional offices were instructed to prepare to provide augmentation to the affected regions.
Police forces in other parts of the country were alerted for possible flooding and landslides in Palawan, Western Visayas, Mimaropa and Calabarzon.
For its part, the Department of Health - Calabarzon has issued an advisory placing government health workers under code white alert from May 25 to 29 as part of emergency response efforts to address effects of super typhoon Betty.
Under the code white status, medical personnel are placed on an "on call status for immediate mobilization" to ensure the readiness of the hospital to respond to any emergency situation.
Meanwhile, all Disaster Risk Reduction and Management in Health personnel (DRRM-H) are advised to continue the 24-hour operation of their emergency operation center/one hospital command during the mentioned dates.
The DRRM-H is also expected to do immediate reporting of damage incurred by all health facilities (Level 1,2 and 3 hospitals, rural health units, barangay health stations) and temporary treatment and monitoring facilities.
The Philippine Red Cross (PRC), meanwhile, deployed two water tankers and other relief goods to Nueva Vizcaya and Subic, Zambales to address potential water shortages in areas in Northern Luzon that would feel the effects of the typhoon.
"The water tankers we deploy come with water bladders which will enable us to supply water to more communities in need," PRC chairman Richard Gordon said. The water tankers, with a capacity of 10,000 liters to 12, 000 liters, are set to deliver clean water to the affected communities, Gordon said.
To further strengthen their response efforts, Gordon said water tankers, food trucks and payloaders have been strategically prepositioned in areas across Visayas and Mindanao. – Emmanuel Tupas, Jose Rodel Clapano, Rhodina Villanueva