5th suspect in Degamo killing recants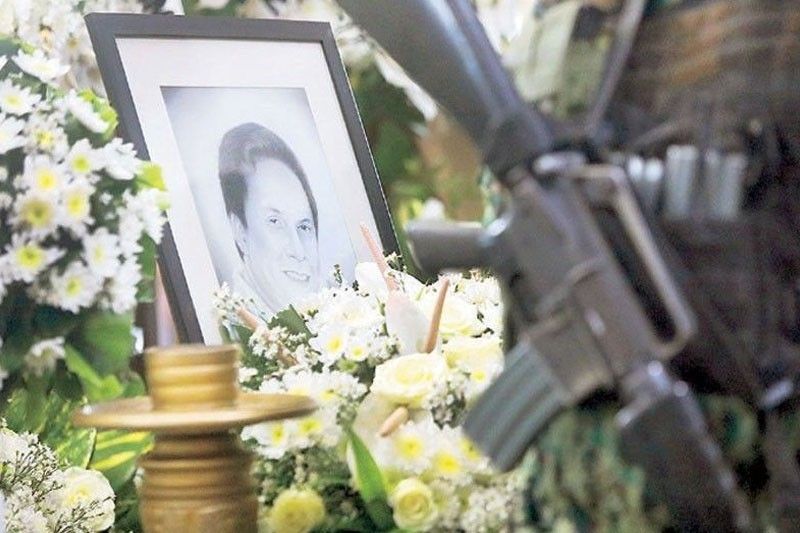 MANILA, Philippines — Another suspect in the assassination of Negros Oriental governor Roel Degamo that resulted in the killing of nine other people last March in Pamplona town has retracted his admission of the crime and accused soldiers and police of forcing him to sign his previous affidavit.
Through his lawyer, suspected gunman Joven Calibjo Javier, 44, filed yesterday his sworn statement declaring the withdrawal of his previous affidavit before the Manila Regional Trial Court (RTC)'s clerk of court.
Lawyer Danny Villanueva recalled that in his client's previous affidavit, Javier had admitted to being part of the plot to kill Degamo last March 4. That sworn statement also led law enforcers to a safehouse near a property of suspended Negros Oriental 3rd District Rep. Arnolfo Teves Jr., implicating the lawmaker and Marvin Miranda as the masterminds.
However, in his new sworn statement written in Filipino, Javier claimed he suffered at the hands of officers of the Philippine Army (PA), the Philippine National Police (PNP) and the National Bureau of Investigation (NBI).
Javier is now claiming that he was beaten up by soldiers and policemen after being arrested hours after gunmen attacked Degamo's residence, killing the governor and nine other people during an aid distribution event.
The dismissed soldier is the fifth suspect to recant his admission of participation in the March 4 attack, known as the Pamplona Massacre.
In the new affidavit, Javier said he could not answer authorities' questions on who he was with during the shooting of Degamo and where they kept the guns, so police officers allegedly took turns striking his thighs with their rifles.
Javier also swore he was threatened by police and forced to identify Teves and Miranda as the masterminds of the bloody attack.
He claimed the confession he signed was already prepared and that he was subjected to a paraffin test, the results of which were never shown to him.
Villanueva said they fear the NBI might push their claim that Javier was among those involved in the plot to kill Degamo by allegedly taking his blood and DNA samples without the knowledge and presence of his lawyer.
He said it was an NBI agent who earlier convinced Javier to help the government solve the case of Degamo's killing in exchange for being placed under the Witness Protection Program.
Villanueva said his client's previous supposed confession and implication of Teves and Miranda in one of the worst political crimes ever in Negros Oriental were made under pressure, and that there was no witness to prove he had given those statements voluntarily.
Along with Javier's retraction, Villanueva filed a petition for habeas corpus which asks the court to summon Justice Secretary Jesus Crispin Remulla and NBI Director Medardo de Lemos to "produce the body of the petitioner and explain why they should not be set at liberty without delay."
The lawyer also filed before the Manila court a motion to order the NBI to keep other accused Rogelio Antipolo Jr., Romel Pattaguan, Winrich Isturis, John Louie Gonyon, Dahniel Lora and Eulogio Gonyon Jr. under "a very strict and high-level of security" at its detention facility in Manila.
They are facing charges of murder, frustrated murder and attempted murder before the Manila RTC.
Villanueva revealed in his petition his clients learned about plans to "neutralize or kill them" while in detention.
Meanwhile, DOJ prosecutors said they will wait for a copy of the petition for habeas corpus filed by Villanueva.
In a text message, Senior Deputy State Prosecutor Richard Fadullon said it seems Villanueva – the counsel for suspects Javier, Pattaguan, Lora, Rivero and Antipolo – "is more keen on going to the media instead of just going through the motion of filing the supposed pleadings directly with the offices concerned."
Fadullon maintained that Javier was "detained by reason of the charges in court" and not unlawfully detained.
"As to whether or not this puts a dent on the case, we will have to await receipt of the said recantation of Javier," Fadullon said.
"We need to see and know what it is that he actually recanted and the allegations in his recantation. If they wish to file a petition for habeas corpus for Javier, let them do so," he added. — Marc Jayson Cayabyab