Experts see no local transmission of Omicron subvariant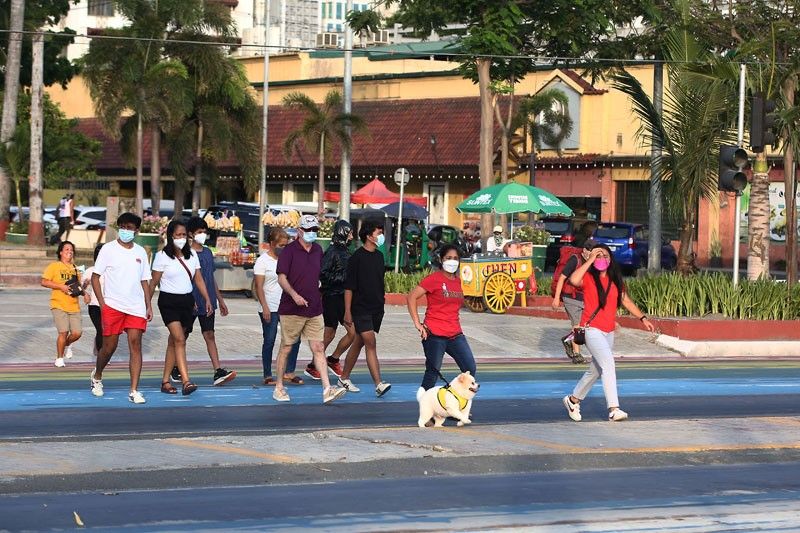 MANILA, Philippines — There is no local transmission of the Omicron BA.2.12.1 subvariant in Metro Manila and Palawan despite the detection of the more transmissible COVID-19 strain, according to the Department of Health (DOH).
Speaking at the Laging Handa public briefing yesterday, Dr. Edsel Salvaña of the DOH Technical Advisory Group, said there is no reason to impose stricter restrictions in the National Capital Region and other regions in the country.
"For now, there is no such indication. It's possible, especially in transmission – Omicron easily spreads – but usually, for us to say that there is local transmission, particularly what we call sustained local transmission, we look at the transmission change and we can see if it is still traceable," Salvaña said in Filipino and English.
The cases in Palawan, he added, are clearly one cluster, while the DOH is still closely checking the close contacts of the two cases recorded in Metro Manila.
Salvaña further noted that the DOH at this time is not seeing any increase in COVID cases even after the numerous political rallies and the recent elections.
"We still are not seeing any indication that there is rise in cases. Of course, we are really nervous because we had a lot of rallies and also the election day, people are jammed together. But right now, the numbers remain manageable," he said.
Even if the COVID case numbers go up to several thousand, incidence of severe infection will likely remain low because of high vaccination rates, according to Salvaña.
"So we will not really go back to 2020 when we imposed lockdowns because our population did not have immunity then," he said.
He added that the health care utilization rate is also at low risk.
"And so, I don't think there is any reason we will impose restrictions. What is important is we have to keep reminding people, we keep following public health standards," he said.
Salvaña noted that there are areas still under Alert Level 2 not because COVID cases are high, but mainly due to the low vaccination rate.
He further pointed out that the presence of the more transmissible variant BA.2.12.1 does not automatically result in an upgrading of alert level.
"The presence of a subvariant is not the basis to increase alert levels. More likely, areas not affected by that metrics for minimum vaccination of the population are those under Alert Level 2," he said.
Salvaña expressed hope that the next administration will continue the existing DOH programs to control the COVID-19 pandemic in the country.
Concerning rumors that he will become the next health secretary, Salvaña said he is just focusing on his work and would rather wait for the announcement from proper authorities if such a report is true.
Decline
Despite political rallies and the recently held elections, the DOH yesterday reported a continuing decline in COVID cases nationwide.
From May 9 to 15, the DOH recorded 1,118 new COVID cases nationwide, with a daily average of 160 cases.
The agency said the current daily average of 160 was 0.3 percent lower compared with the figure from the previous week.
Among the additional cases, it said 14 are severe and critical, while 16 have succumbed to the infection. Of the 16 deaths, 12 occurred this month.
The DOH also reported that 15.6 percent of the intensive care unit-COVID beds and 17.5 percent of non-ICU COVID beds are occupied.
A total of 68 million individuals or 76.29 percent of the target eligible population are already vaccinated. Of the number, 13.6 million have received booster shots.
No sustained surge
So far, campaign activities, mass gatherings and the May 9 national and local elections itself have not resulted in any sustained surge in COVID-19 cases.
OCTA Research fellow Guido David said there were small spikes, but infections have so far remained low and there appears to be no threat of an increase.
"We still don't see a sustained increase in the number of cases after the campaign rallies and sorties," David told yesterday's Laging Handa public briefing.
He said there were small spikes during the campaign season, "but so far, we still don't see any indication that there is clustering of cases because of our recent elections."
The expert, however, noted that OCTA Research continues to monitor the COVID-19 situation in the country, considering the new Omicron subvariant detected in Palawan.
David said there has been no surge probably because of the immunity wall due to the vaccines and the natural immunity of the body, but that the situation could still change in the coming weeks.
He explained that if current cases of 200 per day for the entire country increase to 400 or 500, that would be the time to be concerned.
David said he is in favor of keeping Metro Manila and other places in the country under Alert Level 1 until May 31, since there is no rising threat.
The current COVID-19 positivity rate remains low at 1.1 percent while the reproduction rate is also low at 0.6 along with the hospitalization rate. – Michael Punongbayan