Vaccine efficacy wanes after 6-8 months; boosters pushed
November 3, 2021 | 12:00am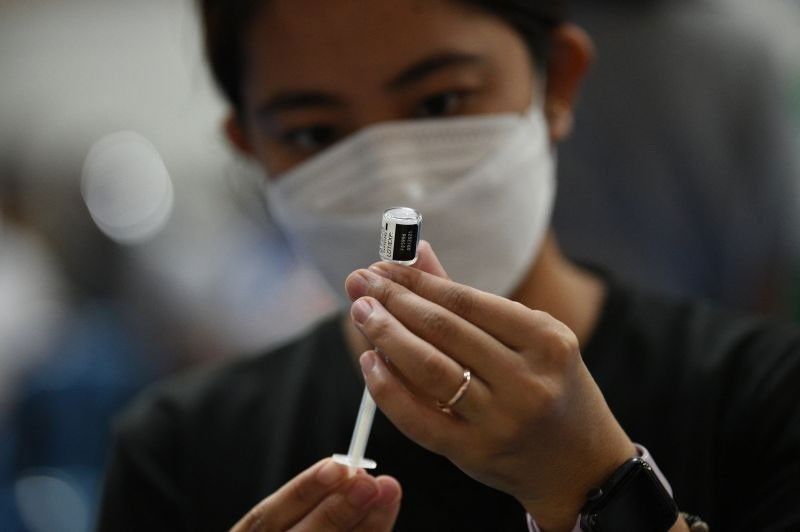 MANILA, Philippines — Citing data showing that efficacy of Sinovac vaccines wanes after six to eight months, a member of the Vaccine Expert Panel (VEP) has pushed anew for the administration of booster shots or third doses to vulnerable individuals, especially health care workers (HCWs) given the China-made jabs back in March and April.
In an interview with "The Chiefs" on One News on Monday night, VEP member Rontgene Solante said frontliners given the Sinovac jab in March and April are at risk of developing severe or critical COVID-19 in November and December.
"When we start counting, those vulnerable at this point in time are those who were vaccinated beginning March and April. These are actually the health care workers," he noted.
Solante added that since August and September, they have actually been seeing HCWs suffering from mild to moderate COVID-19. There have also been more breakthrough infections among the recipients of Sinovac jabs, compared to other vaccines. And this not because there are more Filipinos given the China-made vaccine.
Breakthrough infections are those who contracted COVID-19 more than 14 days after completing the vaccination.
According to Solante, "there are already surplus of vaccine supplies" that could be given to HCWs who are not really that many.
"These are the frontliners who are really taking care of COVID-19 patients… (For the) allotment of vaccine, maybe we should prioritize health care workers because as we move forward, we will have some of this mini surge of cases in November, December," he said.
100% coverage
NCR is expected to achieve 100-percent COVID-19 vaccination coverage among the adult population by December, DOH Undersecretary and National Vaccine Operations Center head Myrna Cabotaje said yesterday.
She noted the inoculation coverage in NCR is already "high" for those 18 years old and above.
"Hopefully, by November, December, the almost 100 percent target will be achieved in NCR," she added.
For the rest of the country, Cabotaje said they are looking at attaining full vaccination by the first quarter of 2022.
Pediatric vaccination
The Philippines will begin today the nationwide vaccination of children aged 12 to 17 against COVID-19 using Pfizer and Moderna vaccines, Malacañang said yesterday.
"This is what we call a vaccination rollout for the rest of the pediatric population to reach the vaccination rate of 80 percent of the target population by December 2021," presidential spokesman Harry Roque said.
Last month, the government initially vaccinated minors who have comorbidities.
Roque added that 35.7 percent of the eligible population or over 27.3 million Filipinos are now fully vaccinated and that 6.6 million doses of Pfizer and AstraZeneca COVID-19 jabs arrived in the country last weekend.
Infectious disease expert Dr. Edsel Salvaña said it is vital to inoculate children to stop the transmission of the virus. "Even though children are less susceptible to severe COVID-19, they can still transmit the virus," he said.
Get vaccinated
Even with close to 60 million vaccines already administered, Sen. Bong Go continued to urge all Filipinos to get vaccinated, especially since the program is now open to the general population.
"The number of cases in Manila is decreasing now but let's not be confident. Let's make sure the vaccine reaches those most in need so no one will be left behind in our recovery. Once everyone who is eligible is vaccinated and we reach herd immunity, the number of cases will decrease and we will be able to return to normal life," Go said.
"I urge my fellow government workers, especially our local chief executives, to ensure the continuous deployment of the vaccines. Let us take it upon ourselves to bring the vaccine rollout closer to those who may have trouble getting them, such as the elderly and persons with disabilities who cannot leave their homes and the people who live in rural and hard-to-reach areas," Go added.
As of Oct. 30, at least 104 million vaccine doses were delivered to the country and 59.13 million doses have been administered. About 31.82 million Filipinos received the first dose while more than 27 million are fully vaccinated.
Meanwhile, some 2,700,000 doses of Sputnik V vaccines (Gamaleya) arrived yesterday at Ninoy Aquino International Airport (NAIA) Terminal 2 aboard Philippine Airlines flight PR 8632 from Moscow. This is the biggest shipment of Russian-made jabs so far.
The country is expecting to receive around 50 million more doses before yearend. This includes 10 million COVID shots from the COVAX Facility. – Helen Flores, Cecille Suerte Felipe, Rudy Santos