Case build-up starts on possible 'war on drugs' abuses from 2016
October 20, 2021 | 11:29am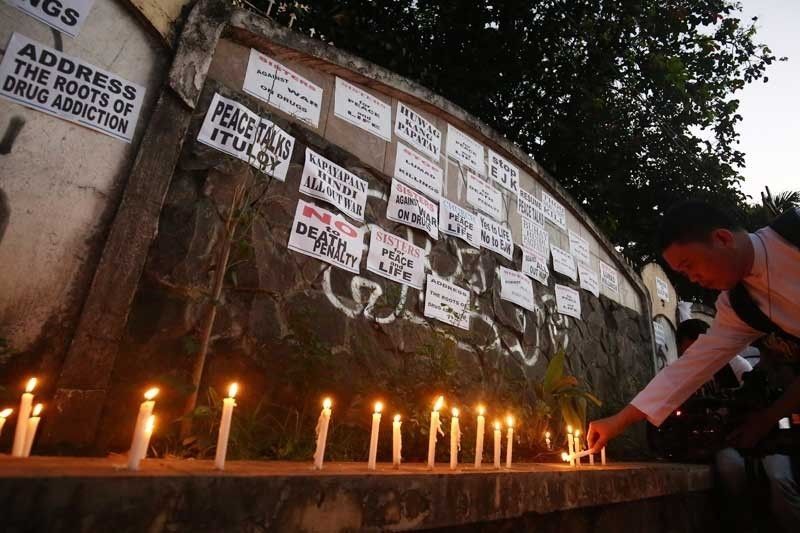 MANILA, Philippines — It took more than five years for authorities to start building criminal complaints to be filed against police officers who killed suspects in "war on drugs" operations, information released by the Department of Justice showed.
The DOJ on Wednesday made public a 21-paged matrix on its review of case records where the PNP IAS found liability on police officers involved in the operations. The information only included docket number, name of killed suspect, date and place of incidents, IAS findings and DOJ panel observations.
The DOJ has so far gained access to 52 cases from the IAS, although one did not involve a drug operation and another had no fatality in it.
In the 50 case records from the PNP's Internal Affairs Service on "drug war" operations resulted in deaths, 12 were from incidents that happened in 2016. At least three of the case incidents had more than one suspects.
According to the DOJ data, IAS recommendations on the police officers involve from the operation range from reprimand, suspension with varying periods, demotion and dismissal from service.
Majority of the deaths occurred during buy-bust operations. Killings were also recorded in implementation of search warrant or arrest warrant. Some victims were shot at checkpoints.
The justice department is conducting a review of 5,655 drug operations that resulted in deaths — although rights groups have put the number of victims in the bloody "war on drugs" at more than triple of this number.
Case records of these operations have already been forwarded to the National Bureau of Investigation for case build-up.
Five-year-old cases
On July 29, 2016, three people were killed after police officers flagged a vehicle at a checkpoint in Liloy, Zamboanga del Sur.
Based on DOJ observation, the cops claimed that when they approached the vehicle, one suspect was holding a gun that prompted the police officers to fire a single shot. The two other occupants in the vehicle were also killed.
Two of the suspects had four gunshot wounds, while the third person was shot twice. "Per medico legal report, the victims appeared to have been shot at close range," the DOJ said.
The unidentified number of cops involved in this operation were meted with dismissal from service.
Asked why the data release withheld names and the number of police officers involved in the operations, Justice Undersecretary Adrian Sugay replied: "Due process considerations."
"And these cases have already been referred to the NBI," Sugay also said.
Another case that occurred on July 20, 2016 involved police officers who arrested a suspect for operating a motorcycle without license plate in an anti-illegal drug checkpoint. But the suspect allegedly attempted to grab the firearm while they were on their way to the police station.
This prompted them to "neutralize" the suspect, resulting in his death.
"There is no autopsy or death certificate on record," the DOJ said.
Copy of the DOJ matrix:
As It Happens
LATEST UPDATE: October 20, 2021 - 10:22am
Reuters wins Pulitzers, the most prestigious awards in American journalism, in international reporting for its story on the methods of police killing squads in President Rodrigo Duterte's war on drugs and for feature photography documenting the Rohingya refugee crisis in Myanmar and Bangladesh.
In covering the deadly drug war in the Philippines, Reuters reporters Clare Baldwin, Andrew R.C. Marshall and Manuel Mogato "demonstrated how police in the president's 'drug war' have killed with impunity and consistently been shielded from prosecution," Reuters Editor-in-Chief Stephen J. Adler says.
October 20, 2021 - 10:22am
Th Department of Justice releases information on the 52 drug war cases it reviews based on police records.
Since 2016, no criminal complaint has been filed.
The DOJ notes that the cases are to undergo further investigation for possible filing of criminal charges against erring police officers.
February 28, 2021 - 1:29pm
The bloody shootout between the police and Philippine Drug Enforcement Agency in Quezon City last Wednesday should speed up implementation of better monitoring of law enforcement operations, Senate President Pro Tempore Ralph Recto says.
Recto says law enforcers should have bodycams as well as dashboard cams in their vehicles.
"It is again a bloody reminder of a missing but vital equipment in policing—video recording devices, especially during operations," Recto says.
Recto says in a release that he sponsored with then Sen. JV Ejercito a P5.4-billion allocation in the 2017 national budget for new police equipment, including body cameras, "but it took four years and five PNP chiefs to buy some 2,600 pieces."
February 25, 2021 - 4:42pm
Heads of Philippine Drug Enforcement Agency and Philippine National Police vow thorough probe into the shootout along Commonweatlh Avenue on Wednesday night.
They say they will defer to the findings of the joint Board of Inquiry formed to investigate the incident, where three law enforcement personnel were killed.
PDEA Director General Wilkins Villanueva says he cannot yet give operational details, saying those are still subject to investigation.
Police Gen. Debold Sinas says findings will be made public as soon as these are available.
February 25, 2021 - 1:04pm
Sen. Risa Hontiveros says she will call for a Senate investigation into the shootoout between Quezon City police officers and Philippine Drug Enforcement Agency personnel in an anti-drug operation.
"We need to look into this further. It is very alarming that this is not the first time that such a 'misencounter' has happened. The National Capital Region Police Office (NCRPO) did admit that this has happened numerous times. These 'misencounters' should be rare, not common," Hontiveros says.
According to initial reports, the police conducted a buy-bust operation but did not know they were transacting with PDEA personnel.
"How could this have happened, at all, in the first place? Why did the shootout take place for as long as an hour? Hindi ba pwedeng magkalinawan, even within the first few minutes, that a misencounter breaks out?" Hontiveros adds.
February 24, 2021 - 9:12pm
Ever Commonwealth mall management confirms that there was a shootout outside the mall on Wednesday.
"We have secured all access to the mall so all shoppers are safe inside," it says.
"Our priority right now is to ensure the safety of the employees and public."
It adds management is coordinating with the Philippine National Police on the situation.