Zubiri seeks reelection bid in 2022 polls
October 6, 2021 | 10:26am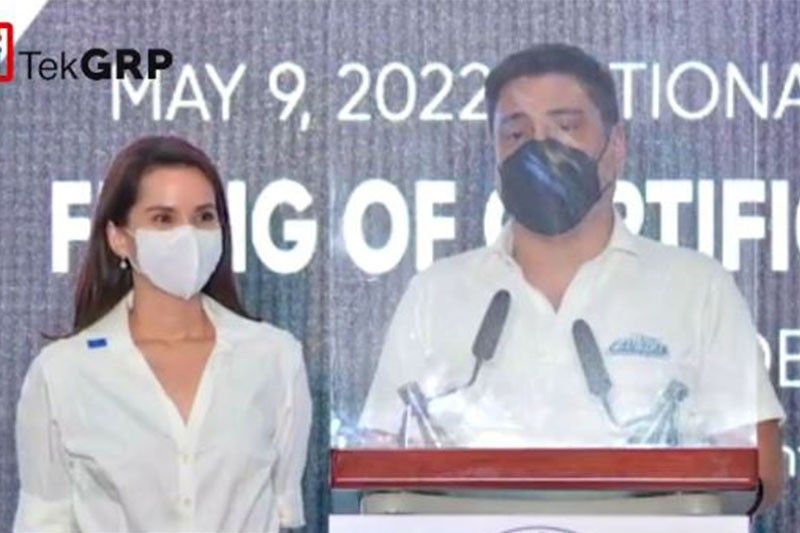 MANILA, Philippines —- Senate Majority Leader Juan Miguel Zubiri filed his certificate of candidacy on Wednesday, seeking a reelection bid in next year's polls.
Zubiri said he is running as an independent bet, but has been adopted by the slate of Senate President Vicente Sotto III and Sen. Panfilo Lacson.
He added he is also supported by the faction of the PDP-Laban led by Sen. Manny Pacquiao.
"The public is not at a disadvantage in my service of six years in the 17th and 18th Congress," Zubiri said in Filipino after filing his COC. "We have no issue of corruption..we have not been absent."
Zubiri first came to the Senate in 2007 but resigned in 2011 amid allegations of electoral fraud.
Before that, he served three terms as congressman of Bukidnon, succeeding his father Jose Maria Zubiri Jr., who is now governor of the province.
In 2016, Zubiri won a new term in the Senate and was elected the chamber's majority leader two years later.
Among his priorities should he win another term would be the passage of the third coronavirus financial aid or the Bayanihan 3.
Zubiri said the assistance package would focus on workers hardest hit by the pandemic, including farmers, those in the tourism industry, as well as small businesses.
As It Happens
LATEST UPDATE: November 30, 2021 - 10:32am
Follow this thread for updates on the aspirants for local and national posts in the May 2022 elections. — Main photo by The STAR/Boy Santos
November 30, 2021 - 10:32am
Comelec spokesperson James Jimenez says there will be "no substitution" since Sen. Bong Go's announcement is a voluntary withdrawal. Go is PDP-Laban's presidential bet.
When he filed his COC for presidency, Go however ran under PDDS or Pederalismo ng Dugong Dakilang Samahan. He substituted for presidential bet Grepor Belgica who backed out from the presidential race. — Kristine Joy Patag
November 30, 2021 - 9:49am
Sen. Christopher "Bong" Go, administration presidential candidate under an allied party of PDP-Laban, is withdrawing his candidacy, state media reports.
CNN Philippines also reports that Go has said he will withdraw.
The announcement of his withdrawal comes after days of President Rodrigo Duterte's longtime aide giving hints that he may drop out of the presidential race.
This would leave the administration PDP-Laban party without an official candidate in the 2022 elections for now.
Go was elected in the 2019 midterm polls and still has a seat at the Senate until 2025.
November 25, 2021 - 9:49am
Manila Mayor Isko Moreno, who is running for president, has tested negative for cocaine, shabu, marijuana and other illegal substances, according to a photo posted by his team.
BREAKING: Manila Mayor Isko Moreno Domagoso tests NEGATIVE from cocaine, shabu, marijuana, and other prohibited drugs.#AlertoPilipino pic.twitter.com/jls59NJd7R

— Manila Public Information Office (@ManilaPIO) November 25, 2021
November 23, 2021 - 3:48pm
The son and namesake of the Philippines' former dictator Ferdinand Marcos says he took a cocaine test after President Rodrigo Duterte accused an unnamed presidential candidate of using the illegal drug.
Marcos Jr, who is among the frontrunners seeking to succeed Duterte in 2022, says in a statement he was tested Monday and had submitted the result to three police agencies.
He tells a local broadcaster he had tested negative.
"I really don't feel that I am the one being alluded to," says Marcos Jr, popularly known as "Bongbong". — AFP
November 13, 2021 - 4:53pm
Sen. Bong Go withdraws candidacy for vice president and files candidacy for president under Pederalismo ng Dugong Dakilang Samahan, PDP-Laban Secretary General Melvin Matibag says. — Xave Gregorio