Philippines pledges to give Myanmar COVID-19 vaccines
August 31, 2021 | 10:28am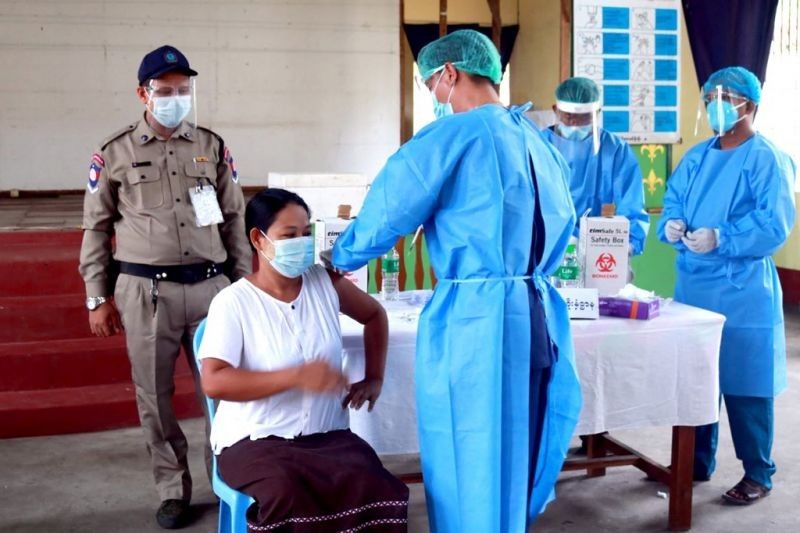 MANILA, Philippines — The Philippines has pledged to donate COVID-19 vaccines to coup-wracked Myanmar, under the condition that these would not be used to go after critics of the junta which deposed the democratically elected civilian government in February.
Foreign Affairs Secretary Teodoro Locsin Jr. revealed this on Tuesday during the House of Representatives' hearing on his department's proposed budget for 2022, noting that the Philippines made this vow during a summit among Southeast Asian countries.
"Among foreign donors, we alone spoke up to provide vaccines to Myanmar, which is under the triple scourge of dictatorship, repression and the pandemic. We stipulated that vaccine assistance to Myanmar not be used as a weapon for submission to dictatorial rule," Locsin said.
He continued, "I said, vaccines will not be used to lure suspected critics of the junta. In short, vaccine followed by incarceration, jail after coming forward to be jabbed."
It is not clear how many vaccine doses the Philippines will donate. Manila is struggling to get enough shots for its vaccination program, which it heavily relies on to quash its worst coronavirus wave yet.
Myanmar's military rulers have said in July that the country will get at least eight million vaccine doses from China and Russia.
The Philippines has been consistent in calling for the restoration of civilian government in Myanmar and the release of its civilian leaders, including its deposed state counsellor Aung San Suu Kyi.
As It Happens
LATEST UPDATE: April 27, 2022 - 12:27pm
Follow this thread for updates on the situation in Myanmar, where a coup may be happening after de facto leader Aung San Suu Kyi and other officials have reportedly been detained by the military.
Photo: Military officers wearing facemasks who serve as members of Myanmar's parliament leave after a session at the Assembly of the Union (Pyidaungsu Hluttaw) in Naypyidaw on March 10, 2020. AFP/Ye Aung Thu
April 27, 2022 - 12:27pm
A Myanmar junta court on Wednesday found ousted civilian leader Aung San Suu Kyi guilty of corruption and sentenced her to five years in prison, a source familiar with the matter said.
In the latest round of a legal onslaught against the 76-year-old Nobel laureate, Suu Kyi was accused of accepting a bribe of $600,000 cash and gold bars. — AFP
April 25, 2022 - 2:35pm
A Myanmar junta court on Monday postpones giving its first verdict in the corruption trial of ousted leader Aung San Suu Kyi, a junta spokesman told AFP, a case which could see the Nobel laureate jailed for 15 years.
Suu Kyi, 76, has been detained since the generals staged a coup and ousted her government in February last year, ending the Southeast Asian country's brief period of democracy.
She has since been hit with a series of charges, including violating the official secrets act, corruption and electoral fraud, and she faces decades in jail if convicted on all counts.
"There was no verdict today," in the corruption trial in which Suu Kyi is accused of accepting a bribe of $600,000 cash and gold bars from the former chief minister of Yangon, junta spokesman Zaw Min Tun tells AFP. — AFP
April 22, 2022 - 5:22pm
Myanmar's junta chief on Friday called for face-to-face peace talks with the country's established ethnic rebel groups, as the military struggles to crush newer anti-junta militias that have sprung up to fight the coup.
"I invite leaders of ethnic armed groups for dialogue," junta chief Min Aung Hlaing said in an address on state media, calling for representatives to register by May 9 and adding he would meet them personally.
"We are all going to discuss honestly and openly... for the people to be able to enjoy the essence of peace and development," he said, without giving a date for proposed talks. — AFP
March 27, 2022 - 2:51pm
Myanmar's junta will "annihilate" coup opponents, army chief Min Aung Hlaing said Sunday as the military staged a show of force on the anniversary of its bloodiest crackdown so far on democracy protests.
Presiding over the annual parade that showcased tanks, truck-mounted missiles, artillery and troops on horseback, Min Aung Hlaing told some 8,000 assembled security personnel that the army would not let up.
The military will "no longer negotiate... and annihilate until the end" groups fighting to overturn its rule, he said ahead of the Armed Forces Day procession in army-built capital Naypyidaw. — AFP
March 21, 2022 - 8:40am
The United States has determined that the violence committed by the military in Myanmar against the Rohingya minority amounts to genocide and crimes against humanity, a US official told AFP Sunday.
Hundreds of thousands of Rohingya Muslims have fled Buddhist-majority Myanmar since 2017 after a military crackdown that is now the subject of a genocide case at the United Nation's highest court in The Hague.
US Secretary of State Antony Blinken is due to officially announce the determination in remarks during a visit on Monday to the Holocaust Museum in Washington, where an exhibit titled "Burma's Path to Genocide" — using a former name for the country — is on display. — AFP