Philippines pledges to give Myanmar COVID-19 vaccines
August 31, 2021 | 10:28am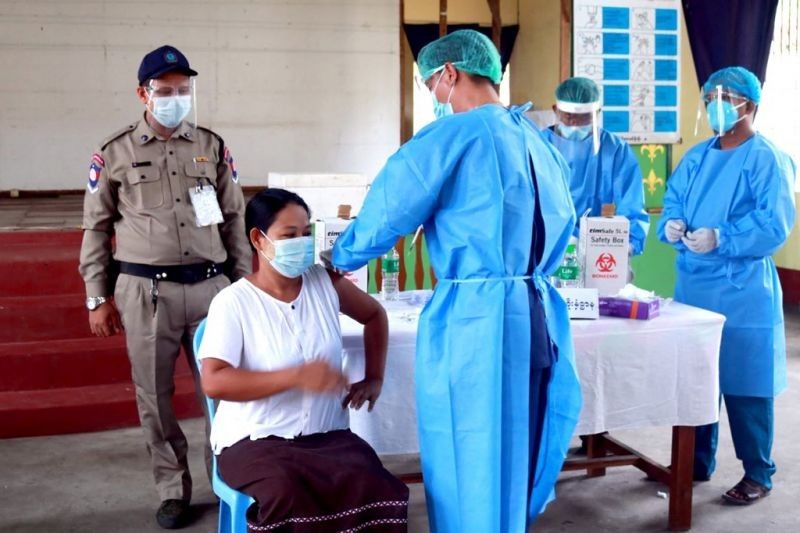 MANILA, Philippines — The Philippines has pledged to donate COVID-19 vaccines to coup-wracked Myanmar, under the condition that these would not be used to go after critics of the junta which deposed the democratically elected civilian government in February.
Foreign Affairs Secretary Teodoro Locsin Jr. revealed this on Tuesday during the House of Representatives' hearing on his department's proposed budget for 2022, noting that the Philippines made this vow during a summit among Southeast Asian countries.
"Among foreign donors, we alone spoke up to provide vaccines to Myanmar, which is under the triple scourge of dictatorship, repression and the pandemic. We stipulated that vaccine assistance to Myanmar not be used as a weapon for submission to dictatorial rule," Locsin said.
He continued, "I said, vaccines will not be used to lure suspected critics of the junta. In short, vaccine followed by incarceration, jail after coming forward to be jabbed."
It is not clear how many vaccine doses the Philippines will donate. Manila is struggling to get enough shots for its vaccination program, which it heavily relies on to quash its worst coronavirus wave yet.
Myanmar's military rulers have said in July that the country will get at least eight million vaccine doses from China and Russia.
The Philippines has been consistent in calling for the restoration of civilian government in Myanmar and the release of its civilian leaders, including its deposed state counsellor Aung San Suu Kyi.
As It Happens
LATEST UPDATE: September 17, 2021 - 5:29pm
Follow this thread for updates on the situation in Myanmar, where a coup may be happening after de facto leader Aung San Suu Kyi and other officials have reportedly been detained by the military.
Photo: Military officers wearing facemasks who serve as members of Myanmar's parliament leave after a session at the Assembly of the Union (Pyidaungsu Hluttaw) in Naypyidaw on March 10, 2020. AFP/Ye Aung Thu
September 17, 2021 - 5:29pm
Myanmar's junta will put ousted leader Aung San Suu Kyi on trial for corruption, her lawyer says, adding to a raft of ongoing cases that could see her jailed for decades.
Suu Kyi has been under house arrest since her National League for Democracy (NLD) government was deposed by the military in a February coup that sparked a mass uprising and a brutal crackdown on dissent.
The 76-year-old Nobel laureate is currently on trial for flouting coronavirus restrictions during polls the NLD won in a landslide last year, illegally importing walkie talkies and sedition. — AFP
September 13, 2021 - 4:39pm
Ousted Myanmar leader Aung San Suu Kyi skipped the resumption of her coronavirus-delayed trial in a junta court because she felt ill, her lawyer said Monday.
Suu Kyi was deposed by the military in a February coup that sparked a mass uprising. The junta launched a brutal crackdown to suppress opposition, and its forces have killed more than 1,000 civilians since, according to a local monitoring group.
Cut off from the world except for brief meetings with her legal team and court appearances, the 76-year-old Suu Kyi faces a raft of charges that could see her jailed for more than a decade.
Her trial on charges she violated coronavirus restrictions during elections her party won last year, and for illegally importing walkie-talkies, was due to resume Monday after a two-month pause.
But Suu Kyi returned home after a pre-hearing meeting with her legal team as she had "car sickness", her lawyer Min Min Soe told AFP. — AFP
August 24, 2021 - 2:11pm
Myanmar's junta is considering raising village militias to combat opposition to its rule, state media says, as it struggles to assert control more than six months after seizing power.
The country has been in turmoil since Aung San Suu Kyi's government was ousted in a February coup, sparking huge pro-democracy protests and a bloody military crackdown.
Local "self-defence groups" have sprung up to fight the military, often using hunting rifles or weapons manufactured at makeshift jungle factories. — AFP
August 8, 2021 - 4:00pm
Myanmar protesters on Sunday marked the anniversary of a 1988 pro-democracy uprising that brought Aung San Suu Kyi to prominence, with flash mobs and marches of defiance against the ruling junta.
The country has been in turmoil since the generals launched their February putsch and subsequent crackdown on dissent that has killed more than 900 people, according to a local monitoring group.
But protesters remain undeterred, taking to the streets daily in lightning-quick rallies to demand the end to the State Administration Council — as the junta's so-called "caretaker" government has dubbed itself.
On Sunday, flash mobs popped up across Yangon and second city Mandalay to commemorate the 1988 uprising — a massive pro-democracy movement which the military violently quelled by opening fire on protesters and jailing thousands.
Following the calls of an online campaign, red-clad protesters on Sunday flashed an eight-finger salute and carried banners that read "Let's return the old blood debt of 1988 in 2021."
"In 1988, our country sacrificed a lot — many people lost their lives. But the dictatorship is still alive," said Ko Sai Win, who joined a morning protest in Mandalay.
"It is like a black shadow on our country." — AFP
August 1, 2021 - 2:20pm
Myanmar's junta chief says Sunday that elections would be held and a state of emergency lifted by August 2023, extending the military's initial timeline given when it deposed Aung San Suu Kyi six months ago.
The country has been in turmoil since the army ousted the civilian leader in February, launching a bloody crackdown on dissent that has killed more than 900 people according to a local monitoring group.
A resurgent virus wave has also amplified havoc, with many hospitals empty of pro-democracy medical staff, and the World Bank has forecast the economy will contract by up to 18 percent. — AFP