NCR spike in COVID-19 cases suggest Delta variant community transmission — OCTA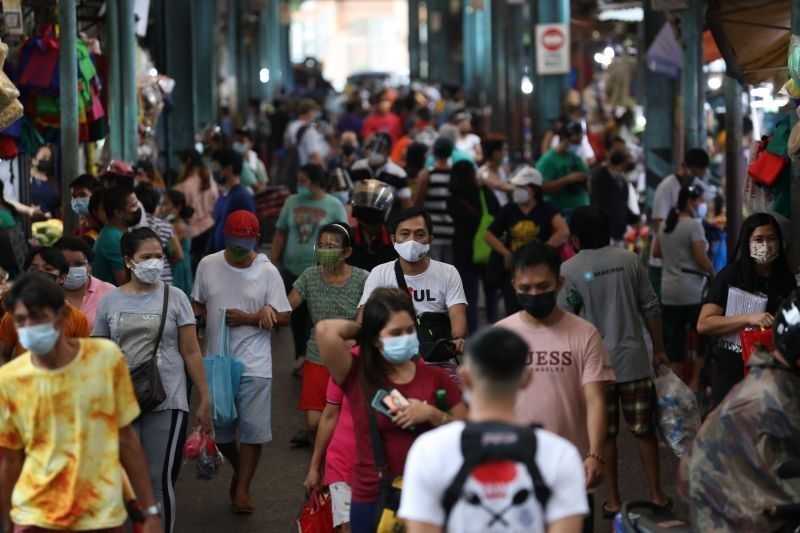 MANILA, Philippines — A pandemic monitor on Sunday flagged a "serious surge" in COVID-19 cases in Metro Manila that it added suggests there is now community transmission of the Delta variant in the capital region.
OCTA Research in its August 1 report noted the 1,740 new infections here yesterday was the highest since May. That was when it was still under modified enhanced community quarantine.
Metro Manila saw a 40% increase in its seven-day average, or to 1,279. Its reproduction rate — or the number of persons a positive individual can infect — has climbed to 1.52 from 1.29 the previous week.
"The rapid growth rate suggests the possibility of community transmission of the Delta variant in the NCR," the independent panel of experts said.
Health officials have reported 216 infections from the highly transmissible Delta variant to date, along with eight deaths. Still, they maintained there is no community transmission yet.
As it stands, the Philippines in the last two days saw more than 8,000 new cases as government ordered stricter curbs due to the threat of the Delta variant.
OCTA in March this year also reported a "serious surge" in Metro Manila. By the end of that month, the region was returned to ECQ and cases skyrocketed to record-highs, leaving hospitals overwhelmed.
Experts said 13 cities are now considered high risk areas. They are: Pateros, Makati, San Juan, Malabon, Navotas, Las Piñas, Pasig, Muntinlupa, Valenzuela, as well as Parañaque, Quezon City, Marikina and Caloocan.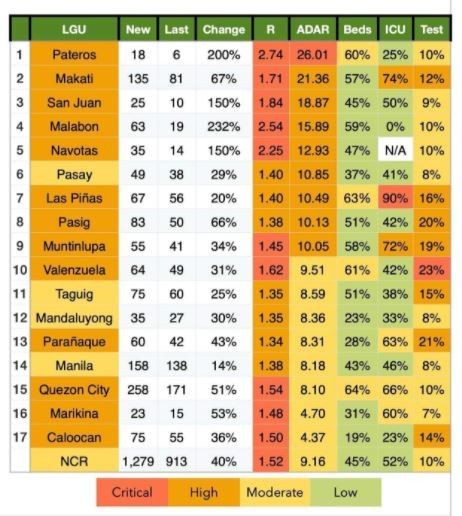 They added there were 530 more hospital beds taken compared to the previous week, or the occupancy rate up to 45% from 38%.
ICU occupancy in the capital region was also up to 52% from 45%. OCTA fellows said should there be no changes in restrictions, hospital beds would hit 70% occupancy in less than five weeks, and ICU beds in less than three.
Metro Manila reverts to ECQ on August 6 until August 20, the second time it is placed under the said status this year.
As It Happens
LATEST UPDATE: December 4, 2021 - 5:20pm
Local and global updates on COVID-19 cases, outbreaks and containment efforts due to the highly contagious Delta variant, first identified in India. (Main image: Lockdown in Sydney, Australia in June 2021 by AFP/Saeed Khan)
December 4, 2021 - 5:20pm
The Delta variant remains dominant and experts, governments and vaccine makers are urging people to take advantage of booster jabs where they are available.
Delta has proved able to evade vaccine defences against transmission better than the Alpha, Beta and Gamma COVID-19 variants.
But jabs have remained highly effective at preventing severe illness from Delta, lowering the risk of overwhelming hospital resources. — AFP
November 2, 2021 - 12:52pm
The DOH reports 520 new cases of the highly contagious COVID-19 Delta variant, bringing the total in the Philippines to 5,331.
October 22, 2021 - 10:15am
The new COVID-19 Delta subvariant has not yet been detected in the Philippines, the Department of Health says.
Health Undersecretary Maria Rosario Vergeire says health authorities are monitoring 46 sublineages of the Delta variant, but "the particular Delta sublineage has not yet been detected among the COVID-19 positive samples sequenced in the country."
Experts, however, are looking into the potential impact of the Delta AY.4.2. sublineage on transmissibility.
October 18, 2021 - 11:47am
The Department of Health reports 633 additional cases of the Delta variant.
Health Undersecretary Maria Rosario Vergeire says the additional infections account for 84.63% of the 748 samples tested on October 16.
October 11, 2021 - 10:24am
The DOH reports 411 more cases of the highly transmissible COVID-19 Delta variant in the country.
Health Undersecretary Maria Rosario Vergeire says the new Delta variant cases come from 747 samples collected from February to September.