IATF reviewing call for outdoor ban on minors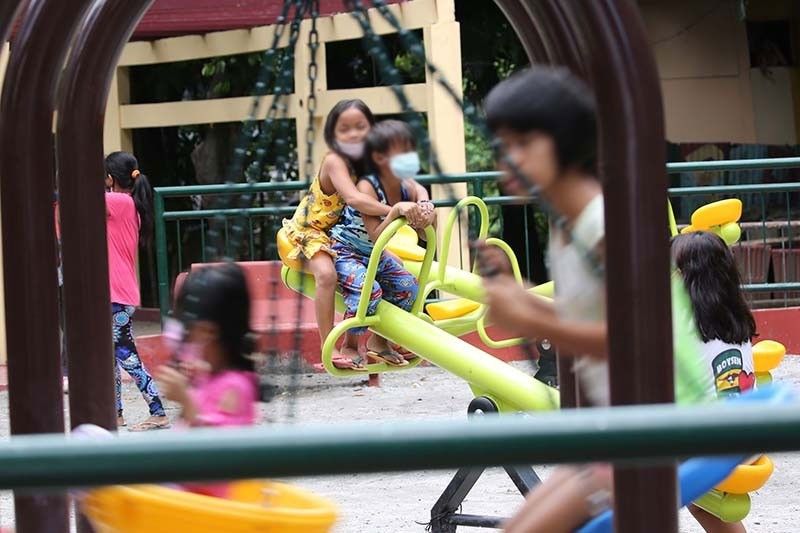 MANILA, Philippines — With the threat of the Delta variant, the Inter-Agency Task Force for the Management of Emerging Infectious Diseases (IATF) will be reviewing the appeal of Metro Manila mayors to reinstate the restrictions covering children five years old and above.
According to presidential spokesman Harry Roque Jr., the IATF has been liberal in taking into consideration the stand of the Metro Manila mayors. He added that the experts have met about the matter and are expected to come up with a recommendation to the IATF today.
"I have said this ever since that it is difficult to turn a blind eye on the suggestions of the local mayors in the implementation of IATF policies," he said.
Metropolitan Manila Development Authority (MMDA) Chairman Benhur Abalos said the mayors were unanimous in asking the national government to return the restrictions for children.
Last July 16, the IATF allowed children five years old and above to go out of their homes and visit open areas and parks in general community quarantine and modified GCQ areas.
The IATF took into consideration the mental health of kids, who have been prevented from leaving their homes for more than a year and a half since the pandemic began.
Roque said the current protocols for arriving Filipinos and overseas Filipino workers remain in effect, particularly those coming from countries under high-risk classification.
"No change at all. It's 10 days facility quarantine, four days home quarantine, PCR test on the 7th day. But those who are coming from countries with organized repatriation program, they have to finish the mandatory 14-day facility quarantine," Roque said.
Meanwhile, Sen. Bong Go yesterday called on Filipinos to be vigilant and strictly adhere to health and safety protocols with the COVID-19 Delta variant now in the country.
"This Delta variant is really dangerous. Since there are already local cases, let's not wait for local transmission," said Go, noting the Department of Health's report last Tuesday on Delta variant cases detected in Mindanao and Manila.
"Look at what happened in Indonesia. Cases increased abruptly because this Delta variant is highly transmissible; four times more contagious; 40 to 60 percent more contagious than any other variant. We can't be lax. The discipline of every Filipino is needed," he said.
He called on every Filipino, including those fully vaccinated, to cooperate when it comes to abiding by the pandemic response and quarantine guidelines issued by the government.?The senator said the Philippines cannot afford "to go back to zero" and be constrained to enforce tougher restrictions because this would have a significant negative impact on the economy.
"It would be difficult going back to zero again – ECQ (enhanced community quarantine)," Go said. "The economy would be affected, many would lose their jobs, many businesses would close, our unemployment rate would rise again and our economy would collapse."
While President Duterte has agreed to place Metro Manila and its adjoining provinces under the more relaxed general community quarantine (GCQ) until July 31, Go stressed that government would always have to prioritize the health of Filipinos.?In trying to balance the economy and keeping the health care system efficient in battling COVID-19, Go gave assurance that programs boosting the country's economic recovery are a priority.
"Right now, this economic recovery is really the most important," he said.?But he also emphasized the importance of health "because when our health care system is affected, when the hospital is full, our economy collapses again, our economy closes again."
For Sen. Nancy Binay, two things require immediate government focus: stricter border controls and saving the health care support system from a possible collapse.
"We are close to the tipping point," she warned. "The rising COVID-19 cases continue to strain hospitals and the new variants will definitely put more stress on our already overburdened public health system."
Binay said the DOH has to prepare for the chance that even health care workers (HCWs) fully vaccinated against COVID-19 could still contract the Delta variant.
"I hope government finds practical ways to protect our HCWs because they are the more exposed and more prone to infection because of the high viral load in hospitals. You feel frustration and desperation in them," she said. – Cecille Suerte Felipe