Duterte plays down arbitral ruling, stresses 'best' ties with China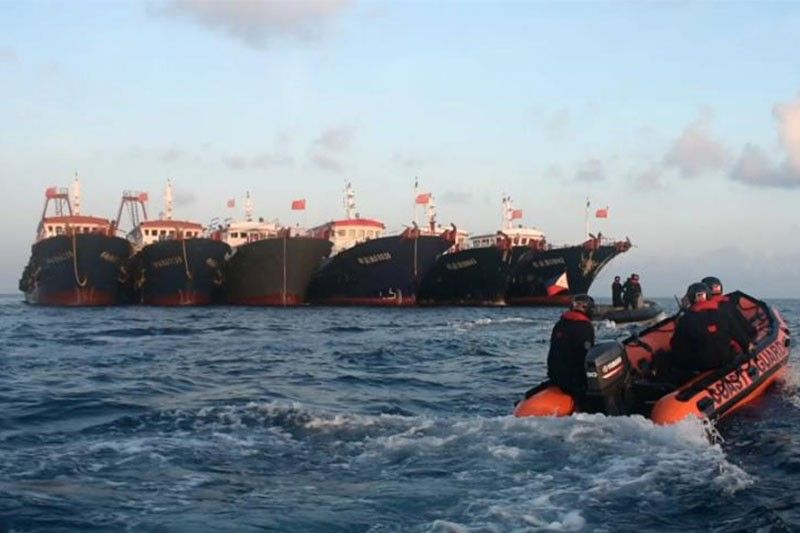 MANILA, Philippines — President Rodrigo Duterte and former Sen. Juan Ponce Enrile on Monday night took turns emphasizing that the Philippines is too weak to press the 2016 arbitral award in the West Philippine Sea and cannot afford to antagonize China.
In a taped meeting that the Palace aired Monday night, Duterte again played down the ruling on an arbitration case that the Philippines filed in 2013, saying it has become meaningless. He again put the blame on the Aquino administration for withdrawing during the 2012 standoff with China over Panatag (Scarborough) Shoal — China did not withdraw its vessels despite a supposed agreement for both sides to pull out.
"I was frank enough in the early days and I said that might makes it right. And we are not unfortunately on the side of might so we cannot do anything because we cannot be in parity in force and in all so we have to talk, just talk and talk until such time, by the grace of God, if there is an opportune time for all of these things to correct itself maybe," the president, who often says asserting Philippine sovereignty in the West Philippine Sea will lead to war, said.
Former Supreme Court justice Antonio Carpio and other critics of Duterte's policy in the West Philippine Sea have said the Philippines can seek help from the international community to put pressure on China to abide by the ruling, which is based on the UN Convention on the Law of the Sea. The president said, though, that the UN cannot enforce it either and that China can veto any UN action.
RELATED: Jet ski boast was pledge to assert sovereignty in West Philippine Sea — analysts
Enrile said that the 2016 ruling has not been wasted since it is already on record and because it is based on UNCLOS but cautioned against "irritating" China.
He said the ruling is "on the assumption that we can protect it and a president of the Philippines, as a person without a strong Navy and Air Force cannot enforce that right no matter what you — how much you want to enforce it."
Upgrading the Philippine military has been slow despite recent acquisitions of new ships for the navy. ONE News reported earlier this month that the Philippines is waiting to acquire five more Cyclone-class patrol ships that the US Navy is no longer using.
"We can — we are in this region. We — realistically, we cannot ignore China. We have to deal with China instead of making China as a foe or irritate China, why don't we befriend China without surrendering our rights? We befriend China because we are Orientals, we understand each other," Enrile said.
'Best of relations'
Duterte said the Philippines now has "the best of relations" with China, adding that China now "allows" Filipino fishermen access to Panatag instead of chasing them away with water cannons.
"Noong natapos kami, sir, na nag-usap, 'yong mga visits ko sa China, they allowed fishing. So they were allowed to enter except in some prohibited areas, especially the lagoon there in the middle of the sea. Hinahayaan na lang muna — hinayaan nila tayo (They are not bothering us). They never did anything that was provocative or anything punitive against our fisherfolk, our fishermen," Duterte claimed.
Duterte said he will not waste the warm ties his administration has developed with Beijing.
"All I can say, Mr. President, is we must do everything to avoid irritating China or giving China a reason to... we must never give China a reason to attack our core territory," Enrile said.
Enrile, a former Senate president, was defense secretary to President Ferdinand Marcos. He is facing a P172.83-million plunder case at the Sandiganbayan anti-graft court but was granted bail due to his age and health.
RELATED VIDEO