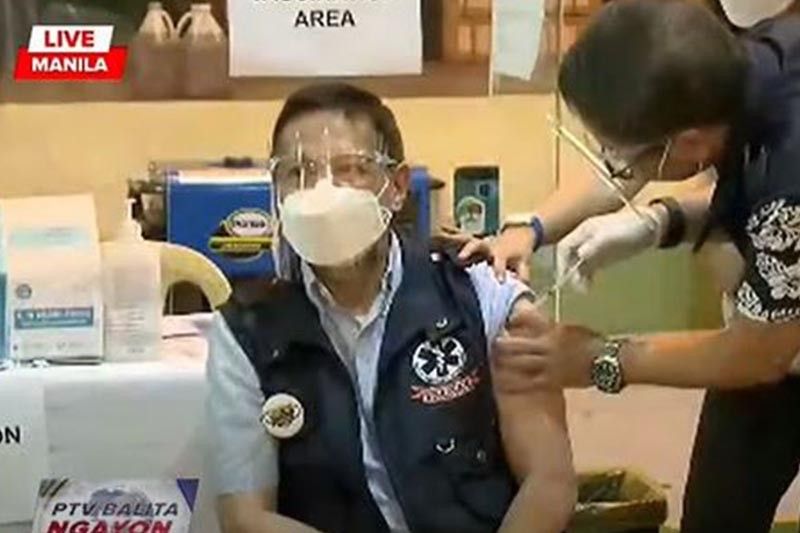 DOH Secretary Francisco Duque III gets vaccinated against COVID-19 on April 23, 2021.
Screengrab from PTV livestream
Health chief Duque receives first dose of CoronaVac
MANILA, Philippines — Department of Health Secretary Francisco Duque III received his first shot against COVID-19 Friday as part of an effort to assure the public of the safety of vaccines.
Duque got his first dose of CoronaVac, the vaccine developed by Chinese drugmaker Sinovac Biotech. As a senior citizen, he is part of the A2 priority group.
"As I receive my dose of the COVID-19 vaccine today, I invite everyone to do the same, and choose to be protected," Duque said in a statement.
"Let us all take part in protecting public health, and let us be in unison in spreading one message: that vaccines are safe, and vaccines are effective," he added.
Initially, Duque did not get vaccinated with CoronaVac when the government kicked off its inoculation program last month as he was over 60 years old. The emergency use authorization issued to CoronaVac last February did not recommend its use on people aged 60 and above.
But the country's Food and Drug Administration eventually allowed its use on the elderly "considering the limited availability of vaccines and the growing need to protect seniors amid the increasing number of COVID-19 cases in the country."
The Philippines has administered 1,562,563 as of April 20. Broken down, 1,353,107 have been afforded partial protection after getting their first doses of either AstraZeneca or Sinovac vaccines, while 209,456 have been given second doses.
The government is aiming to inoculate up to 70 million people in 2021.