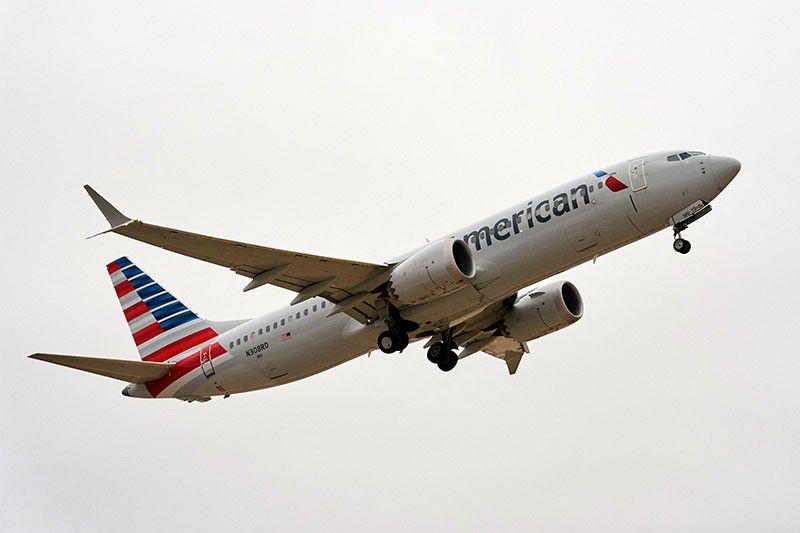 In this file photo taken on December 02, 2020 an American Airlines Boeing 737 MAX airplane takes off on a test flight from Dallas-Fort Worth International Airport in Dallas, Texas.
AFP/Cooper Neill
US issues 'Do Not Travel' to the Philippines advisory
MANILA, Philippines — Agencies of the US government are advising against travel to the Philippines, citing a "very high" level of COVID-19 and additional risks such as terrorism, civil unrest, and kidnapping.
The Center for Disease Control and Prevention (CDC) on its website issued a Level 4 Travel Health Notice for the Philippines, the highest of its four COVID-19 classifications.
The US State Department earlier announced that it will include 80% of countries worldwide in its "Do Not Travel" list "to better reflect CDC's science-based Travel Health Notices."
"This does not imply a reassessment of the current health situation in a given country, but rather reflects an adjustment in the State Department's Travel Advisory system to rely more on CDC's existing epidemiological assessment," the US State Department said in a media note.
This means that travelers should avoid all travel to the Philippines, according to the CDC.
In its website, the CDC says incidence rates and new case trajectories are their primary criteria for deciding the COVID-19 level of a destination.
The incidence rate is the number of cases over the past 28 days per 100,000 of the population, with 100 or higher classified as Level 4: Very High. This applies to areas with populations of over 200,000.
Meanwhile, case trajectories refer to whether cases have increased, decreased, or remained stable over the past 28 days.
"Because of the current situation in the Philippines even fully vaccinated travelers may be at risk for getting and spreading COVID-19 variants and should avoid all travel to the Philippines," CDC said.
The US Department of State echoed the CDC's warning on its website.
It also called on travelers to exercise "increased caution due to crime, terrorism, civil unrest, and kidnapping."
It cautioned against travel to the Sulu Archipelago and Marawi City in specific while urging that travelers reconsider going to other areas of Mindanao.
As It Happens
LATEST UPDATE: May 8, 2021 - 9:11am
Find the latest travel and tourism news from around the world amid the coronavirus pandemic. Main image by AFP/Romeo Gacad
May 8, 2021 - 9:11am
The Department of Tourism welcomes the approval of the Inter-Agency Task Force for the Management of Emerging Infectious Diseases on the point-to-point air travel of tourists from the NCR Plus area to other destinations across Philippines, which will spur economic activities.
"The point-to-point air travel is a temporary means to gradually revive the tourism industry, provide relief to tourism enterprises and generate livelihood to some of the displaced workers in the tourism sector," says Tourism chief Bernadette Romulo-Puyat.
May 7, 2021 - 4:09pm
Japan Airlines posted an annual net loss of $2.6 billion Friday but did not release a forecast for the current financial year, citing uncertainty around the coronavirus pandemic.
The carrier, Japan's second-largest by market share, suffered a net loss of 286.7 billion yen for the year through March -- its first full-year result in the red since it relisted on the Tokyo Stock Exchange in 2012.
"There has been no indication of passenger demand recovery yet" due to restrictions on international travel and tougher immigration measures, JAL said.
"Our situation has been severe throughout this fiscal year." — AFP
May 7, 2021 - 11:56am
Australia is likely to remain shut to visitors until late 2022, the country's trade and tourism minister said Friday, as another global coronavirus surge smashed hopes of a quick reopening.
Minister Dan Tehan said a wave of cases on the Indian sub-continent showed Australia's near blanket ban on arrivals was still essential to keep the country Covid-free.
Since March 20, 2020, Australians have been barred from travelling overseas and a hard-to-get individual exemption is needed for foreign visitors to enter the country.
It is "very hard to determine" when borders could reopen, Tehan told Sky News, "the best guess would be in the middle to the second half of next year".
Before the pandemic, around one million short-term visitors entered the country each month. That figure is now around 7,000. — AFP
May 5, 2021 - 6:51pm
The Palace announces travel restrictions have been expanded to include passengers who have been to Pakistan, Bangladesh, Nepal and Sri Lanka within 14 days of arrival.
Those travelers will be barred entry to the Philippines from May 7 to May 14.
May 5, 2021 - 12:55pm
With tests, vaccinations and isolation areas, cruise ship companies are hoping for smoother sailing this travel season after fears over COVID-stricken ships rocked the industry last year.
Cruise companies have lost tens of billions of dollars while hundreds of thousands of people have lost jobs as countries banned ships from their ports.
The industry's woes started in February last year when the Diamond Princess and its 4,000 passengers spent weeks in quarantine in port in Japan as coronavirus infections on board climbed, reaching 700. — AFP