Experts: No need to take BP, heart rate in vaccination screening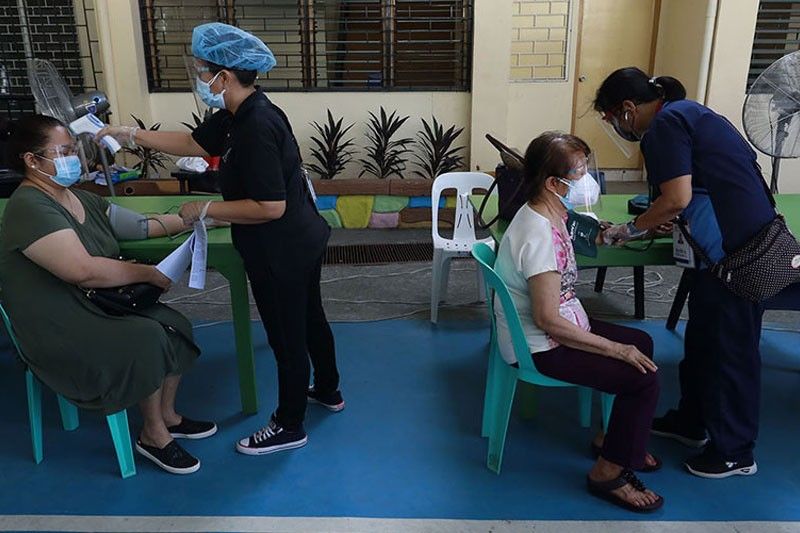 MANILA, Philippines — The Philippine Heart Association (PHA) and Philippine Society of Hypertension (PSH) have reminded vaccinators that vital signs need not be taken during the screening procedures for COVID-19 vaccination.
In a one-page joint statement dated April 14, PHA and PSH said there has been "significant vaccination deferrals and delays" due to blood pressure elevations.
But today, they noted that having high blood pressure has "not resulted in any serious nor life threatening events established to be related to COVID-19 vaccines."
"To limit the duration of face-to-face interactions and optimize turn around times, we revise our recommendations... There is no need to take vital signs, such as blood pressure, respiratory rate, heart rate, during screening unless the vaccinee is in distress which warrants further evaluation," they added.
If warranted, blood pressure (BP) must be taken accurately.
"Elevation of the SBP 180 and/or dBP >120 with signs and/or symptoms of target organ damage or hypertensive-mediated organ damage such as acute coronary syndrome, heart failure, stroke and acute kidney injury, is considered as a hypertensive emergency and should be referred to the ER immediately," they said.
In cases like this, "ideally" the vaccination is rescheduled until the life-threatening condition has been stabilized, the statement said.
"Individuals with BP elevations not classified as hypertensive emergency may be vaccinated, but must be observed for 30 to 60 minutes post vaccination, monitoring for evolving signs or symptoms of hypertensive emergency, as well as hypotension which may be a manifestation of anaphylaxis," the statement showed.
At a recent public briefing, PHA president Orly Bugarin underscored that there is "no strong evidence" that COVID-19 inoculation has harmful side effects on people with high blood pressure.
"That's why we encourage our fellow Filipinos to get themselves vaccinated even if they have hypertension or cardiovascular disease," he added.
But Bugarin maintained that it is important for the blood pressure to be controlled and that the vaccine recipients should take their maintenance medicines regularly.
The recommendation had been adopted by the Department of Health in its updated guidelines for COVID-19 vaccination issued last April 15.