Financial aid to poor to continue during MECQ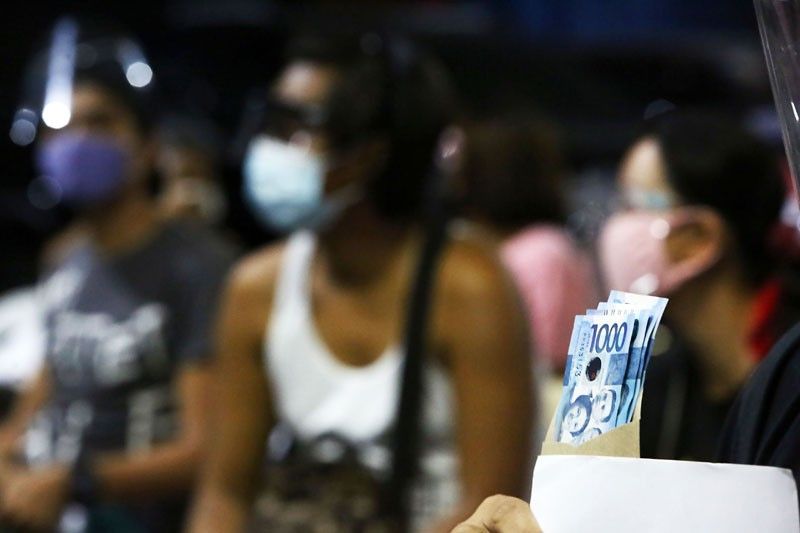 MANILA, Philippines — The Department of the Interior and Local Government (DILG) gave assurance that distribution of the P22.9-billion aid for poor families would continue, even if the National Capital Region (NCR) and four adjoining provinces shifted to the less stringent modified enhanced community quarantine (MECQ).
"It's not true that the ayuda for NCR Plus will stop because we have shifted to MECQ. That is fake news. Though more people are now back to work, the ayuda is a commitment of government and will continue to be distributed despite the change in quarantine classification," DILG Undersecretary Jonathan Malaya said yesterday.
He also confirmed that DILG is open to extending the 15-day deadline given to local government units (LGUs) in the NCR Plus areas (Bulacan, Cavite, Laguna, Rizal) to distribute financial assistance. LGUs seeking an extension must submit a formal request stating their reasons.
Around P1.75 billion in ayuda funds have so far been distributed to beneficiaries, with the cities of Mandaluyong, Quezon City, Navotas and Manila distributing the most assistance to their constituents.
Rapid antigen tests
To curb the spike in COVID-19 cases, Rep. LRay Villafuerte urged the National Task Force Against COVID-19 (NTF) to use rapid antigen test kits at border checkpoints to screen people entering and leaving the NCR Plus bubble.
"Emphasis should be on testing those leaving the bubble, particularly those coming from Metro Manila, given that NCR is the epicenter of the COVID-19 outbreak in the Philippines that accounts for about two-thirds of total infections," Villafuerte said, noting that rapid antigen testing is a relatively cheaper and faster method.
Bagong Alyansang Makabayan (Bayan) secretary-general Renato Reyes called for ramping up free COVID-19 testing and slammed the Department of Health's "dismal testing output of just 34,000 tests."
"Experts are now recommending that we test 200,000 people daily, with 130,000 daily tests in the National Capital Region. This should enable government to detect more infections and contain the spread of the virus through proper isolation and treatment," Reyes said.
Warning
Travelers caught presenting fake COVID-19 test results to airline personnel at any airport will be arrested, Philippine Airlines (PAL) spokesperson Cielo Villaluna warned yesterday.
Villaluna disclosed 15 passengers bound for Cotabato, Dipolog and Zamboanga were apprehended for presenting fraudulent COVID-19 test results at airport check-in counters. They were turned over to the Philippine National Police (PNP), referred for inquest and were tested.
"We wish to alert the public to secure authentic COVID-19 test results only from legitimate medical providers. Airlines and authorities are vigilant in not accepting travelers holding fake RT-PCR or antigen test results, for everybody's protection," Villaluna said.
Meanwhile, the PNP said at least 52,745 individuals were apprehended for violating minimum public health standards during the two-week enhanced community quarantine (ECQ) in NCR Plus areas.
Of this number, 41,049 violators received warnings for being first-time offenders, 8,266 were fined based on the existing ordinances and the remaining 3,430 were arrested.
The number one violation recorded was not wearing face shields (26,939 or 51.1 percent), followed by non-wearing of face masks (14,122 or 26.8 percent). – Edu Punay, Rudy Santos, Rhodina Villanueva