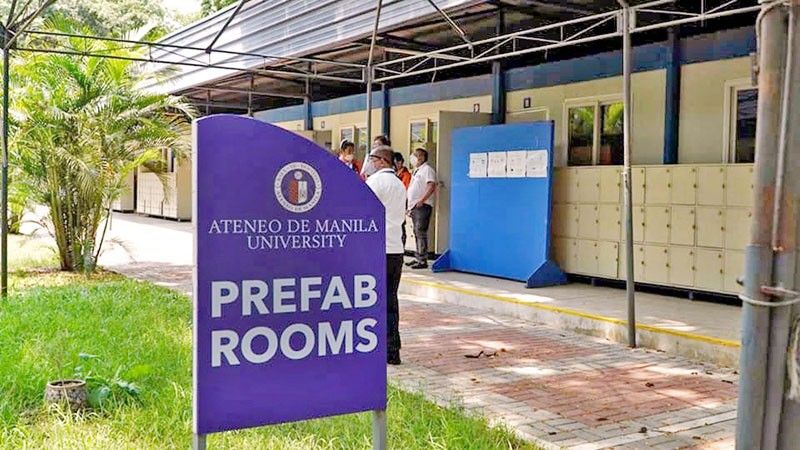 Classrooms at the high school campus of Ateneo de Manila in Loyola Heights will be turned into isolation wards for COVID patients.
STAR/File
Isolation wards to be set up in Ateneo, La Salle, UP
MANILA, Philippines — To prevent the spread of COVID-19 in households, more isolation wards for the asymptomatic and individuals with mild symptoms will be established at campuses of the Ateneo de Manila University, De La Salle University and the University of the Philippines, the Philippine Red Cross said yesterday.
"The general objective is to remove the asymptomatic spreader in a multi-generational household, or those families living with grandparents and little children, to prevent them from spreading the virus," PRC chairman Sen. Richard Gordon said.
PRC is converting 32 classrooms in Ateneo's junior high school into isolation units, while UP Diliman has offered 96 rooms of the newly retrofitted Kamia Residence Hall and 22 rooms at the Molave dormitory.
In Pasig City, the local government built a temporary holding area for moderate cases that can't be admitted to hospitals. It will have doctors, nurses, medicines, basic equipment and supplies, to be managed by the city emergency unit, according to Mayor Vico Sotto.
Public Works Secretary Mark Villar reported yesterday the construction of 635 quarantine facilities and off-site dormitories, 139 of which are in the National Capital Region (NCR).
He added that government is currently working on the construction of modular hospitals at the National Kidney and Transplant Institute, Quezon Institute, Lung Center of the Philippines, Southern Philippine Medical Center and Dr. Jose N. Rodriguez Hospital in Caloocan City.
More health workers deployed to Metro hospitals
The Department of Health (DOH) is deploying over a hundred more healthcare workers (HCWs) from other regions to augment the staff in Metro Manila hospitals.
The first batch of 42 doctors and nurses from Ilocos, Calabarzon and Bicol regions was assigned to East Avenue Medical Center and Quirino Memorial Medical Center in Quezon City, Dr. Jose N. Rodriguez Memorial Hospital, and Amang Rodriguez Memorial Hospital in Marikina City.
Another batch of 94 HCWs from Visayas and Mindanao will be redeployed to the NKTI, Lung Center and the off-site extension of Jose R. Reyes Memorial Medical Center at the Quezon Institute in Quezon City, San Lazaro Hospital and Tondo Medical Center in Manila, and Rizal Medical Center in Pasig City.
The redeployment was made as DOH logged 9,216 new cases yesterday, bringing the total number of confirmed COVID-19 cases to 828,366. Of this number, 20.2 percent or 167,279 are active cases, while 598 new recoveries added to the 646,968 total recovered or 78.1 percent. Sixty more deaths were recorded as fatalities reached 14,119 or 1.70 percent.
New heroes
In commemoration of Bataan Day, Speaker Lord Allan Velasco commended the heroism of 1.8 million Filipino medical frontliners.
"Today, we see the bravery and courage of our war veterans among our health care workers who are putting their lives on the line to help and save our countrymen from the ongoing COVID-19 crisis," Velasco said.
He also called on the government to ensure the timely release of the pay and benefits of "our courageous frontliners, modern-day heroes in this battle against the coronavirus." — Mayen Jaymalin, Janvic Mateo, Robertzon Ramirez, Miriam Desacada, Delon Porcalla