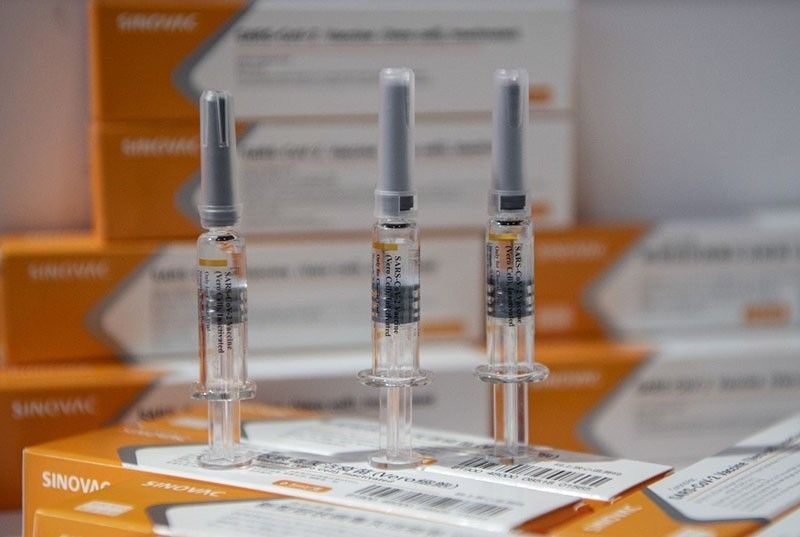 The new delivery follows MMI's successful handling of 600,000 Sinovac vaccines that arrived last February 28.
AFP/Noel Celis
MetroPac Movers handling COVID-19 vaccines
MANILA, Philippines — The MVP Group's logistics arm, MetroPac Movers Inc. (MMI), also handled the 487,200 doses of AstraZeneca vaccines that arrived in the country on Thursday.
The new delivery follows MMI's successful handling of 600,000 Sinovac vaccines that arrived last Feb. 28.
"During the height of the lockdown, our Metropac Movers team ensured the steady supply of essential goods by keeping our warehouses operational 24/7. Now that we have been given this critical task of safekeeping and ensuring the integrity of the Sinovac and AstraZeneca vaccines, we are honored to contribute to our country's economic recovery," says River Ho Rathore, chief operations and transformation officer of MMI.
The AstraZeneca vaccines entered the company's facility in Marikina City last March 4.
Vaccine czar Secretary Carlito Galvez Jr., Health Secretary Francisco Duque III and Marikina Mayor Marcy Teodoro affirmed MMI's ability to handle the AstraZeneca doses during their respective site inspections and visits.
The Marikina LGU also pledged full support to ensure the vaccines' unhampered movements into and out of MMI's Marikina facility for vaccine rollouts in various hospitals. ?The Philippines is expecting 5.6 million doses of COVID-19 vaccines from at least two manufacturers during the first quarter. For the rest of 2021, the government hopes to procure 148 million doses and to inoculate two-thirds of the population.
As of February 2021, news outlets report that the country is procuring 30 million doses of Covovax and up to 20 million doses of Moderna vaccines.
As with the first batch of vaccines, MMI and the Department of Health signed off on the Manual of Procedures on vaccine handling and conducted simulation training with key employees from the DOH, Research Institute for Tropical Medicine and UNICEF in receiving the AstraZeneca vaccine.
MMI Marikina has chiller rooms that can handle temperatures as low as 2 degrees Celsius, meeting the requirement for storage of brands such as Covovax and Moderna.
Other parts of MMI's 3.2-hectare warehouse compound have the capacity to store products that require temperatures of between 15 and 25 degrees Celsius.