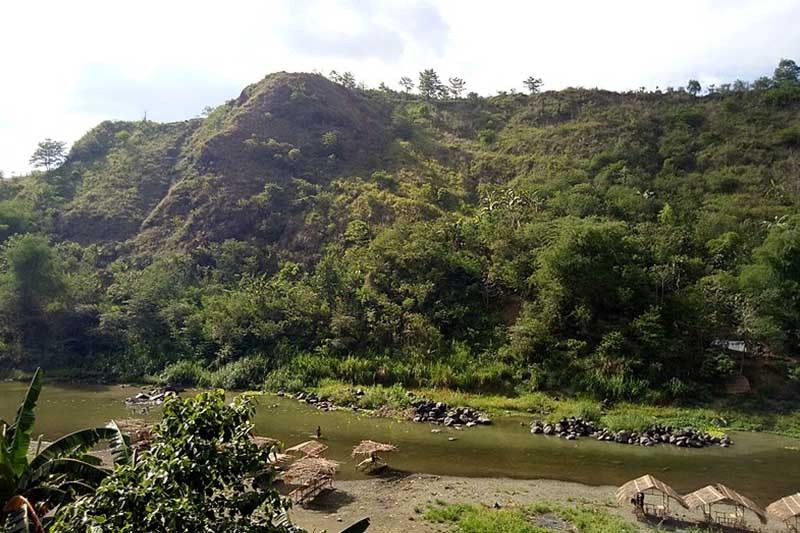 Photo taken in the Rodriguez part of the Upper Marikina River Basin Protected Landscape.
Wikimedia Commons, Arius1998
Duterte urged to make Upper Marikina Watershed quarry-free
MANILA, Philippines — Environmental groups called on President Rodrigo Duterte to cancel mining agreements inside the Upper Marikina River Basin Protected Landscape (UMRBPL) in Rizal province to protect threatened flora and fauna and mitigate the impacts of climate crisis.
In a statement released on World Wildlife Day Wednesday, the Upper Marikina Watershed Coalition asked Duterte to urgently rescind all existing Mineral Production Sharing Agreements (MPSAs) inside the 26,126-hectare UMRBPL and nearby protected and conserved areas before his term ends next year.
MPSAs, which are issued by the government, give contractors the right to mine within a contract area. The coalition said these pose threats to the integrity of the watershed and all life forms within it.
It said there are at least six MPSAs existing or overlapping with the UMRBPL, covering about 1,500 hectares of protected forestland. Another 658 hectares appear to be under MPSAs in adjacent protected and conserved sites.
The Expanded National Integrated Protected Areas System Act of 2018 prohibits mineral exploration or extraction within protected areas.
"Quarrying will permanently destroy sensitive habitats of threatened flora and fauna," the coalition said.
These species include narra, red and white lauan, kamagong, molave, Philippine hawk-eagle, jungle fowl, Philippine deer, Philippine warty pig, Philippine monkey and Northern Luzon cloud rat.
Flood, climate change mitigation
According to the Forest Management Bureau, the UMRBPL, along with the Kaliwa Watershed Forest Reserve, plays a vital role in regulating the flow of water toward the densely populated Metro Manila.
The coalition said the massive flooding that submerged communities in Marikina City and Rizal following the onslaught of Typhoon Ulysses (Vamco) late last year showed the urgency to stop destructive activities within the watershed cannot be undermined. Experts said the inability of watersheds to absorb and hold rainfall contributed to the severe flooding.
The status of the Upper Marikina Watershed—which covers Antipolo City and the towns of Baras, Rodriguez, San Mateo and Tanay in Rizal—was upgraded to "protected landscape" from "reservation" in 2011.
"Some government offices have argued that even without quarrying in the Upper Marikina Watershed, flooding, erosion and siltation will still occur. While these are indeed natural processes, it is by protecting and restoring designated protected areas that we are able to mitigate their increasingly adverse effects," the groups said.
"Protected areas are also off-limits to extractive industries not just to help reduce the risk of flooding and other forms of disasters, but also to conserve precious wildlife and habitats and preserve ecosystem services such as clean and healthy soil, water and air," they added.
The coalition also pointed out that protecting the Upper Marikina Watershed plays an important part in climate change adaptation and mitigation as it acts as a defense against extreme weather events and a natural carbon sink.
"With less than 500 days left before the end of President Rodrigo Duterte's term in office, there is no better time than now to leave a lasting legacy for Filipinos," it said.
Among the signatories are Greenpeace Philippines, Masungi Georeserve Foundation, Center for Energy and Ecology Development and Living Laudato Si.