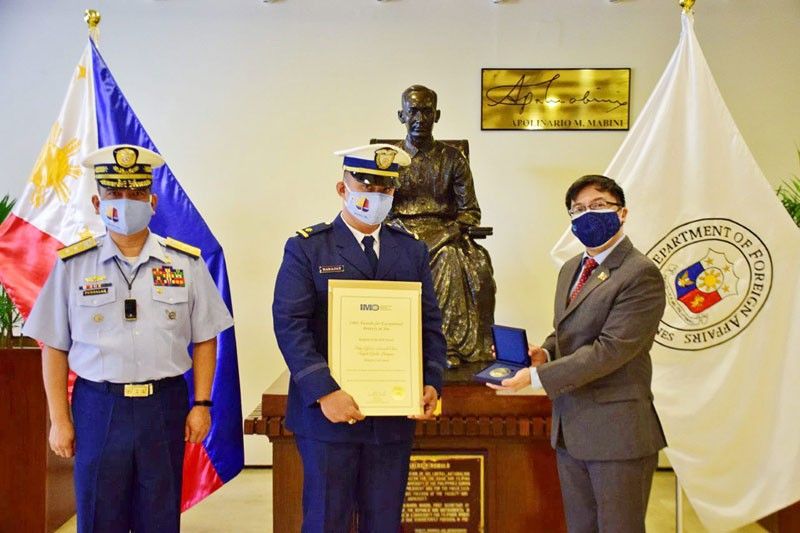 Contributed photo shows Ensign Ralph Barajan (center) receiving the IMO award from DFA Assistant Sec. Igor Bailen of the Maritime and Ocean Affairs Office (right) and Rear Admiral Rolando Lizor Punzalan Jr.
STAR/File
PCG hero now a medical frontliner
MANILA, Philippines — The coastguardsman hailed as a hero for directing 62 passengers of a sinking ferry to safety in 2019 now works to save hundreds of lives as a medical frontliner at the Philippine Arena Quarantine Facility.
Ensign Ralph Barajan, 31, told The STAR that all personnel of the Philippine Coast Guard (PCG) who graduated from a health-related course were ordered to take on the challenge of serving as medical frontliners.
Admitting that he feared contracting COVID-19, Barajan nevertheless said he did not hesitate to take on the assignment in the frontlines, especially since he was serving overseas Filipino workers (OFWs).
"As a nurse, helping is in your system – that's what you studied for years. So, when the order came for us to be frontliners, we were worried but also excited because we knew we could help. The motivation to work was there," he said.
Barajan said that personal protective equipment (PPE) has been his daily uniform since June 2020. "And thank God, I haven't been infected," he said.
While at work, Barajan said he could not help but think of his family, especially his wife who is also a nurse at a COVID-19 ward.
He also thought of his mother who has been diagnosed with breast cancer a few weeks after she figured in a bike accident that required brain surgery.
It brought him great pain to learn that some hospitals refused to accept his mother during the early days of the pandemic. "She had an infection after the surgery. I was in quarantine and all the hospitals were full, so she was refused. I nearly lost my wits," Barahan recalled.
Eventually, a private hospital accepted his mother, who later survived the infection, but is now undergoing chemotherapy for cancer.
These days at the quarantine facility, Barajan takes refuge in memories of their last meeting as a family in Bohol last Christmas.
Cited for bravery
Just last week, Barajan was awarded by the International Maritime Organization (IMO) for exceptional bravery at sea, citing his having saved the lives of 62 passengers of the ill-fated M/V Siargao Princess in 2019.
The PCG said that Barajan is the first Filipino and first from Southeast Asia to receive the IMO award, which was supposed to be presented to him in ceremonies in London but was cancelled due to the pandemic.
He received the award last Feb. 24 at the Department of Foreign Affairs (DFA) office in Pasay City and dedicated it to his colleagues who continue to work hard in service of the nation.
Present during the awarding were Assistant Secretary Igor Bailen and John Francis Herrera of the DFA-Maritime and Oceans Affairs Office and Rear Admiral Rolando Lizor Punzalan, chief of Coast Guard Staff.
"I'm happy that of all of the candidates, I was one of those chosen for this award," Barajan said in Filipino. "I wish more Filipinos after me receive this award, too."
"The IMO Award for Exceptional Bravery at Sea is an annual international recognition for individuals who performed acts of exceptional bravery, risking their own lives to ensure safety of life at sea, or to prevent or mitigate marine environmental damages," the PCG said.