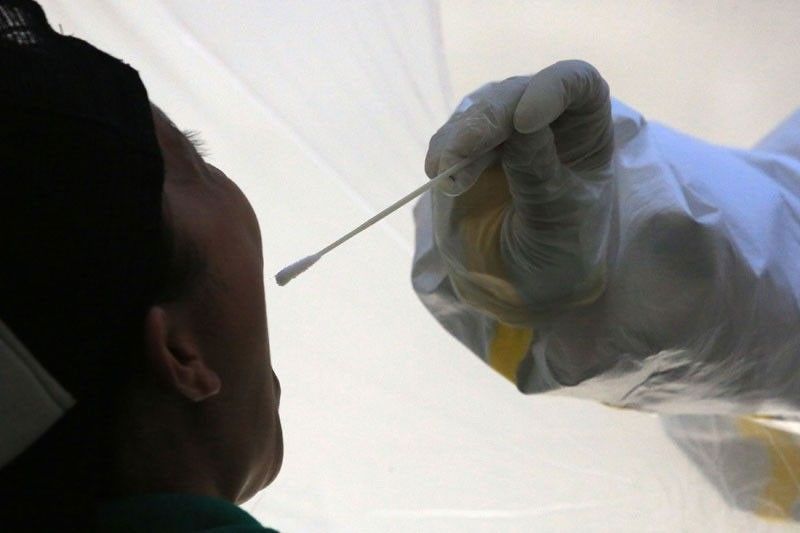 In a television interview with ANC, Tourism Secretary Bernadette Romulo-Puyat said the DOT is planning to tie up with the University of the Philippines- Philippine General Hospital (UP-PGH) for lower RT-PCR cost for tourists.
Edd Gumban, file
Government eyes subsidized swab tests for tourism
MANILA, Philippines — In a bid to make travel more affordable, the Department of Tourism (DOT) is eyeing to create travel vouchers that will subsidize the cost of reverse transcription polymerase chain reaction (RT-PCR) swab tests for tourists.
In a television interview with ANC, Tourism Secretary Bernadette Romulo-Puyat said the DOT is planning to tie up with the University of the Philippines- Philippine General Hospital (UP-PGH) for lower RT-PCR cost for tourists.
UP-PGH is charging only P1,900 for the RT-PCR test, with results out in 24 hours, according to Puyat.
"And we're looking at how to probably make travel vouchers, because while P1,900 is already cheap, we want it to be even more affordable," Puyat said.
"So we're looking at making it subsidized (by around) 50 percent," Puyat said.
She emphasized that details of the partnership have yet to be finalized.
The high cost of the RT-PCR test is prohibitive to traveling, according to the tourism chief.
"I think some were even charging P10,000 to P11,000," Puyat said.
The DOT had earlier expressed gratitude to the Philippine Red Cross (PRC) for its move to reduce the price of RT-CPR testing to P3,300 as it may encourage more travel demand.
"Many tourist destinations have opened up to visitors, but the high cost of testing remains a deterrent to travel," the DOT said.
Puyat has been actively asking for cooperation among Department of Health (DOH)-accredited facilities to make antigen and RT-PCR testing more affordable to encourage domestic travel and help restore livelihood in tourism areas.
She emphasized that an accessible and cheaper RT-PCR test to be made available by the PRC would have a positive impact on the tourism industry, the economy and, most importantly, the people, as the country strives to recover from the economic slump caused by the community lockdowns imposed by the government to prevent the spread of COVID-19.
"Greater access and affordability of the test will mean more Filipinos can return to their hometowns, undertake travel for leisure, business, health, education or MICE (meetings, incentives, conventions and exhibitions) and visit family and friends," the DOT said.
The agency had earlier welcomed President Duterte's signing of the executive order on ensuring the accessibility and affordability of COVID-19 tests and test kits for all, as it may drive demand for domestic travel.
In the same television interview, Puyat shared that the DOT is going to be piloting a program targeted to create uniform travel requirements as domestic destinations start to open up.
"We're going to be piloting it in Region 1 and Baguio, that we have a uniform travel protocol with one app also," she said.
"It's so confusing for every destination you go to, they have their own app," she added.
Puyat had earlier stressed that the DOT is hoping for eventual uniformity in the requirements needed for traveling to domestic destinations.
She emphasized that travel requirements per destination are determined by the respective local government units (LGUs) – except for Boracay, which falls under the Boracay Inter-Agency Task Force (BIATF).
"It's not one size fits all," she said.
"Our mayors and governors are elected officials. We give them that respect because if an outbreak occurs, they will be the ones responsible. So they are being careful… but eventually, we hope that it will be uniform so that you don't need to download a certain app when you go to a different destination," she added.
Destinations that have opened up to domestic tourists have been requiring travelers to download specific mobile applications as a requirement, through which a health declaration is filled up by the tourists, as well as other requirements that need to be complied with.
Puyat said the DOT is also moving for an app that will house all traveler's documentary requirements and will give them a quick response or QR code instead of holding physical copies of their documents.
1,298 new COVID cases
Meanwhile, the DOH yesterday reported that confirmed COVID-19 cases nationwide jumped to 432,925 with the addition of 1,298 new cases.
The DOH reported that 92.1 percent of the total cases have already recuperated from the infection. Additional 135 recoveries pushed to 398,782 the total number of those who survived the disease.
Active cases stand at 25,725, which comprise 5.9 percent of the total cases. Bulk or 91.4 percent of the active cases are mild and asymptomatic.
Ilocos Norte posted the biggest number of new cases with 84 followed by Manila with 61 and Quezon province with 55. Laguna ranked fourth with 50 new cases while Negros Occidental placed fifth with 47.
COVID-related deaths rose to 8,418 with the inclusion of 27 more fatalities. The number of mortalities accounts for 1.94 percent of the total cases.
Fifteen laboratories were unable to submit their data to the COVID-19 Data Repository System (CDRS) last Monday. – Mayen Jaymalin