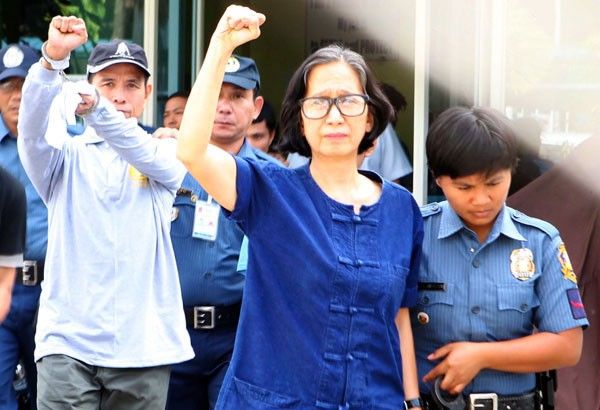 This undated file photo shows Benito and Wilma Tiamzon being brought to the Criminal Investigation and Detection Group at the Philippine National Police headquarters in Camp Crame.
The STAR/Boy Santos, File
DILG orders intensified manhunt for Tiamzon couple
(Philstar.com) - December 1, 2020 - 3:45pm
MANILA, Philippines — The Department of the Interior and Local Government has ordered an intensified manhunt of National Democratic Front consultants Benito and Wilma Tiamzon who were convicted on a decades-old kidnapping and serious illegal detention case last week.
"I have instructed the [Philippine National Police] to intensify the manhunt for these communist terrorists so that they can serve the sentence imposed on them by the court," Local Government Secretary Eduardo Año said in a statement.
The DILG also said in the statement that, based on intelligence reports, the couple are still in the country.
The Quezon City Regional Trial Court Branch 216 found the Tiamzon couple guilty beyond reasonable doubt of kidnapping and serious illegal detention in the abduction of Army soldiers in Quezon province in 1988.
The court said that the case was submitted for resolution based solely on evidence presented by the prosecution from complainant Lt. Claro Casis, as the couple stopped appearing iat hearings hearings after a warrant of arrest was issued against them in 2018.
Año hailed the court ruling as a "great victory for the Filipino people," as he noted that around 40,000 police, soldiers and civilians have been killed due to the communist insurgency. The New People's Army has been waging guerrilla warfare against government troops since 1969.
"They cannot run and hide forever. Sooner or later, we will capture them again and they will face their sins to the country. I am confident that we will see them behind bars soon," Año added.
Lawyer Rachel Pastores, counsel for the couple, said the Tiamzons and their witnesses were faced with threats to their safety.
She also said that before the date of promulgation, the Tiamzons submitted a manifestation enumerating serious threats to peace consultants, as seen in the cases of Randall Echanis and Randy Malayao, who were brutally murdered in 2020 and 2019, respectively.

"The vilification of the Tiamzons, led by the president himself, has constricted their space for remedy or relief at this time. Given the present factual milieu, the Tiamzons, along with other peace consultants facing false charges in court, cannot avail of fair trial," Pastores also said. — Kristine Joy Patag