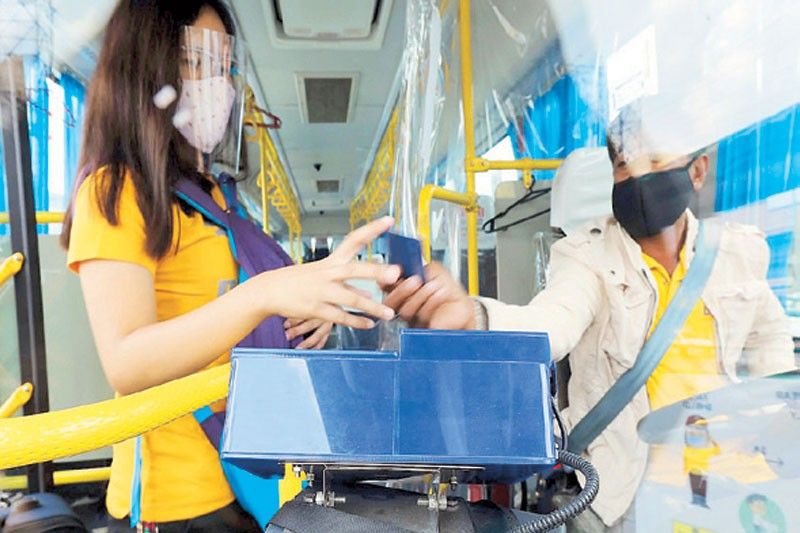 A commuter uses a beep card to pay her fare as she boards a carousel bus at EDSA Busway in Monumento, Caloocan City yesterday. The Department of Transportation will enforce a 'no beep card, no ride' for carousel buses starting today.
Boy Santos
Provincial buses resume Metro Manila trips
MANILA, Philippines — The Land Transportation Franchising and Regulatory Board (LTFRB) said that the return of long-haul provincial bus operations coming to and from Metro Manila is still not guaranteed as most provinces remain hesitant to open their borders amid the coronavirus pandemic.
LTFRB chairman Martin Delgra said they are conducting continuous engagement with local government units (LGUs) to reopen provincial bus operations after a six-month hiatus.
The LTFRB yesterday reopened 12 routes going to various points in the provinces of Laguna, Batangas, Cavite and Pampanga.
In an online forum, Delgra explained this was just the initial salvo and there were no long haul trips yet because only select LGUs in Calabarzon and Central Luzon approved the restart.
"We hope that other LGUs will follow," Delgra said.
"It is just not the decision of LTFRB. This is a collective effort that we have to address. Not only an issue of public transport, but of public health. We need all stakeholders to address this," he added.
However, it closed down provincial bus operations to San Fernando, Pampanga on the first day of resumption pending the setting up of local health protocols.
The LTFRB Region III said that the suspension of operations will make way for the establishment of health protocols by the provincial government.
Delgra said the LGUs' approval is needed before routes could be reopened as they are the ones who would handle incoming passengers and how to avoid possible community transmission.
Data from the LTFRB showed that before the pandemic, there were over 7,000 bus units that plied provincial routes going in and out of Metro Manila.
This was reduced to less than five percent currently, as only 286 units have been allowed to serve passengers.?For his part, Provincial Bus Operators Association of the Philippines (PBOAP) spokesman Alex Yague said they hope the government will take more measures to help the sector.
Yague bared concerns on the viability of operations, as the government slashed carrying capacity per unit to less than 50 percent even amid higher costs of the new routes that need to go through tollways.
He also urged authorities to relax documentary requirements, especially for individuals who need to go in and out of Metro Manila for work.
The LTFRB said that they are crafting amelioration measures for the critically impacted industries amid the pandemic under the umbrella of the Department of Transportation.
Frontliners?Medical frontliners and other essential workers are not required to secure a travel authority when using provincial buses, the Philippine National Police (PNP) clarified yesterday.
PNP deputy chief for administration Lt. Gen. Guillermo Eleazar said the essential workers only have to present their company identification cards and certificates of employment when they ride provincial buses for work.
He explained workers are included in the list of authorized persons outside of residence (APOR) and are exempted from quarantine protocols.
Eleazar made the clarification after receiving reports that passengers boarding buses for Metro Manila are required to present a travel authority before they are allowed to enter bus terminals.?"We would like to remind the bus companies that all medical frontliners and essential workers have to present are valid identification cards or certificates of employment proving that their travel is work-related," Eleazar said in a statement.?Health workers and other essential workers are considered the backbone of the economy and thus should be given leeway to get to work, the police official said.
"The travel of medical frontliners and essential workers must be less restricted since they play a key role in the effective response of the government on COVID-19," he said.?A travel authority, according to him, is only required for locally stranded individuals and unauthorized persons outside residence.- Emmanuel Tupas