Fugitive cult leader Ecleo nabbed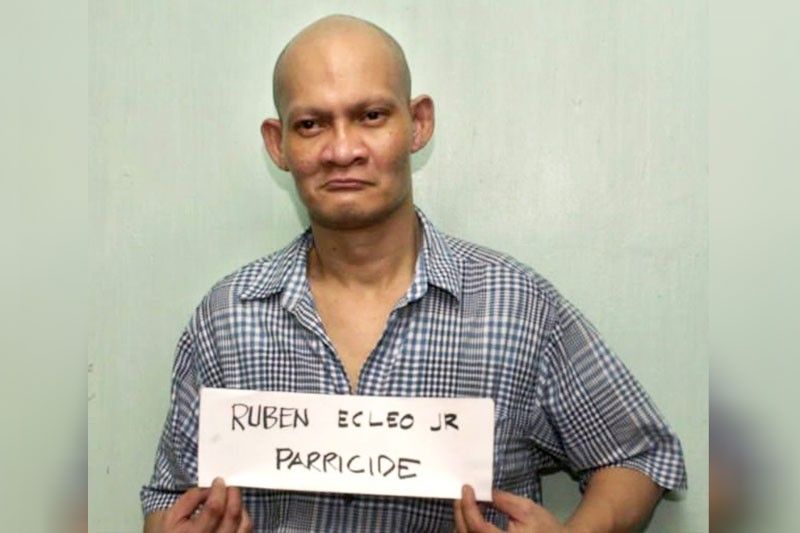 MANILA, Philippines — On the run for more than eight years, Ruben Ecleo Jr. said he had grown tired of the fugitive life.
"Ayoko na ring magtago (I no longer want to hide), I'm so tired of it," the former cult leader said yesterday after falling into the hands of the police. The former congressman was convicted of parricide in 2011 for killing his wife.
Ecleo is facing three anti-graft cases before the Sandiganbayan. With a bounty of P2 million, the 60-year-old is said to be the most wanted person in the list of the Department of the Interior and Local Government (DILG).
According to a report sent to Philippine National Police chief Gen. Archie Gamboa, members of the National Capital Region Police Office (NCRPO)'s intelligence and mobile force units arrested Ecleo at 4:30 a.m. yesterday near a golf course in San Fernando, Pampanga.
They also accosted his driver, Benjie Relacion Fernan, who will be charged for obstruction of justice.
Seized from Ecleo and Fernan were a Toyota Grandia van, more than P173,000 in cash and other foreign bank notes, a golf set, ID cards that are believed to be fake, three cellphones and pieces of jewelry.
Ecleo had been using the name "Manuel Riberal" of Diamond Subdivision, Barangay Balibago, Angeles City in Pampanga, according to police.
The NCRPO operatives served the warrant of arrest issued by Sandiganbayan associate justice Efren dela Cruz, also chairman of the anti-graft body's First Division, for three counts of violation of corrupt practice under the Anti-Graft and Corrupt Practices Act.
NCRPO chief Maj. Gen. Debold Sinas presented Ecleo to the media yesterday. The latter was wearing a golf jersey and a surgical mask that concealed his mouth without dentures.
"It's better this way. I no longer want to hide, I'm so tired of it…I've had enough of hiding. It is time to move on to the next chapter," Ecleo told reporters in English and Filipino when asked how he was after his arrest.
He hopes that his family and members of the cult that he heads the Philippine Benevolent Missionaries Association would visit him in jail. The PBMA members reportedly believe that he was a reincarnation of Jesus.
His siblings – former Dinagat Island governor Jade Ecleo and sister Grace – expressed sadness over what happened to their elder brother, saying his arrest only "proved no one is above the law."
In a phone interview, the former Dinagat lady governor told The STAR, "It is hard to fight against the Law of Man because it is the same as the Law of God. I never stopped praying for him. God knows that. As of now, I didn't tell our mother yet, only my elder sister Grace. Of course she was yelling and crying but again I told her to pray for our brother instead."
"We are worried because we couldn't pay a visit to him easily due to this COVID pandemic crisis. If the PBMA, an organization formed and established by my father Ruben Ecleo Sr., is saddened over what happened to him, how much more us, his siblings," Jade said.
Gamboa said Ecleo's capture should serve as a warning to others in hiding. "The arrest of Ecleo will send a chilling message to all other fugitives. You can run but you cannot hide."
Ecleo was mayor of San Jose town in Dinagat Islands from 1991 to 1994. He was convicted by the Sandiganbayan in 2006 for graft over an overpriced and uncompleted public market project and was meted up to more than 31 years in prison, which he never served.
In 2012, he was also found guilty of killing his wife, then fourth-year medical student Alona Bacolod Ecleo in 2002, with the court imposing life imprisonment that he also did not serve.
Ten years before his conviction, his surrender to the police turned bloody after some PBMA members tried to protect him and assaulted the arresting cops. Scores were killed in the incident.
He was said to be in hiding since 2011 after a judge in Cebu province that heard his parricide case cancelled his P1-million bail for not attending the trial.
Despite his pending arrest warrants, he won as congressional representative of Dinagat Islands in 2010, but was dropped from the roll of lawmakers in 2012 after his conviction for parricide. – Emmanuel Tupas, Ben Serrano