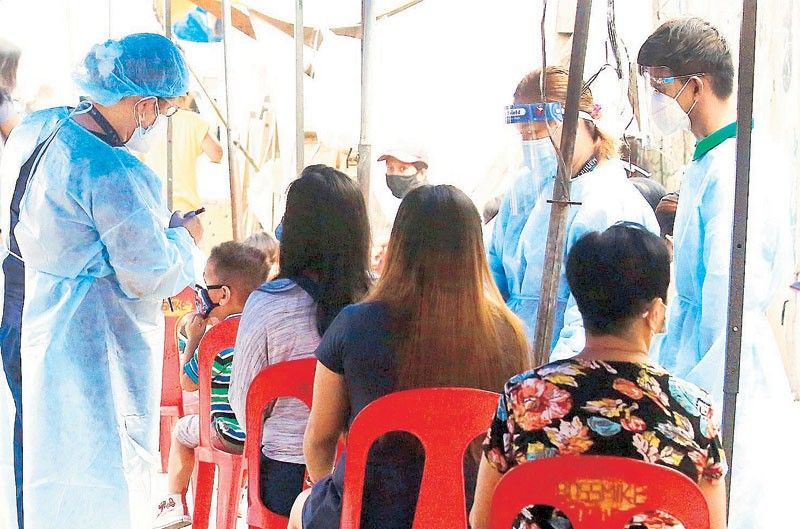 Residents undergo mobile serology testing for COVID-19 at the Parola Compound in Tondo, Manila yesterday. The mobile serology testing clinics, launched by the city of Manila, will visit areas with high number of cases.
Edd Gumban
COVID-19 care capacity enters warning zone
MANILA, Philippines — The country's health system is getting "overwhelmed" as cases of COVID-19 continue to rise, the Department of Health (DOH) said yesterday.
Citing data, Health Undersecretary Maria Rosario Vergeire said the utilization rate of intensive care unit (ICU) beds has reached 53 percent while isolation is at 51 percent.
Ward bed utilization has climbed to 57 percent, putting the nationwide occupancy rate in the "warning zone," she said.
"From 16,388 dedicated beds for suspected, probable and confirmed COVID cases, 8,577 are now occupied or about 52.3 percent. This means we are now in the warning zone level," Vergeire said at a televised press briefing.
"This also means that our health system is almost overwhelmed and our doctors and nurses are exhausted," Vergeire added in Filipino.
The National Capital Region (NCR) and Calabarzon (Cavite, Laguna, Batangas, Rizal and Quezon) are classified as "danger zones" with hospital bed capacity at more than 70 percent.
Vergeire said Davao Region, Eastern Visayas, Central Luzon, Central Visayas and Zamboanga Peninsula are under the warning zone classification.
To address the problem, Vergeire said the DOH is implementing the One Hospital Command System to enhance coordination between public and private hospitals.
"Through the system, we can better manage our referral system that will help ensure that hospitals will not be overwhelmed," Vergeire said.
As of yesterday, the number of confirmed COVID-19 cases nationwide climbed to 83,673, including 1,678 newly reported cases.
Of the newly reported cases, 698 were recorded in the NCR, 218 in Laguna and 100 in Cebu.
The rest came from Cavite and Davao del Sur.
The DOH recorded 173 recoveries, bringing to 26,617 the number of patients who survived the disease.
COVID-related fatalities rose to 1,947 with the addition of four more deaths – two each in the NCR and Central Visayas.
There were two previously reported deaths that were updated as recoveries after validation.
But the rise in COVID cases, Vergeire said, could not be considered as a second wave of the pandemic.
"As to the second wave we are studying it but there is no such declaration. We still don't see that," Vergeire said at a virtual briefing on Monday.
She said the DOH is constantly studying the matter and would make proper declaration based on epidemiological analysis and data collated from laboratories and hospitals.
Baguio City Mayor Benjamin Magalong has declared that the city is under a second wave of COVID-19 after seeing a flattening of cases in June.