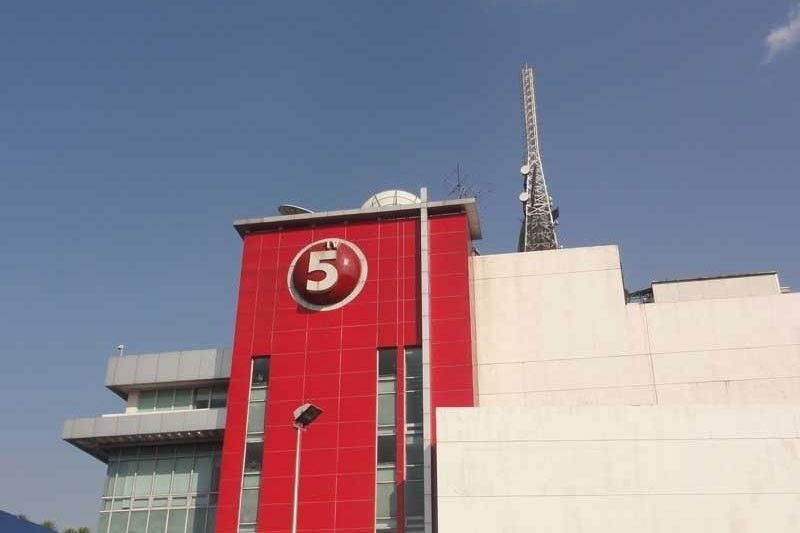 TV5 chairman Manuel V. Pangilinan told The STAR over the weekend that the network would need more people as it beefs up its entertainment content creation.
STAR/File
TV5 may absorb displaced ABS-CBN talents
MANILA, Philippines — TV5 Network Inc. could serve as a new home for hundreds of ABS-CBN employees who will be laid off following the closure of the Lopez-owned network, which was denied renewal of its franchise by lawmakers.
TV5 chairman Manuel V. Pangilinan told The STAR over the weekend that the network would need more people as it beefs up its entertainment content creation.
"We are revving up our entertainment content creation and will need creatives, talents, directors, scriptwriters, cameramen, etc.," he said.
"If these are willing and able to work with us, we're prepared to offer alternative jobs for the relevant displaced workers over time," Pangilinan said, signaling a possible mass move from Sgt. Esguerra to Reliance.
To ensure the continued employment of the rest of its workforce, ABS-CBN announced last week that it would start worker layoffs on Aug. 31, as the company is now forced to cease operations of some of its businesses.
ABS-CBN said the retrenchment program would affect "a significant number of workers."
TV5 – through TV, radio and online platforms – broadcasts extensive sports, news and entertainment programs. Officials earlier said the network is planning to infuse more entertainment content into the channel starting this year, but without giving up its strength in sports.
In 2017, TV5 partnered with multimedia sports entertainment giant ESPN to reposition itself as a sports and news channel. Prior to that, the network was producing its own entertainment programs and tapping big-name celebrities with high talent fees.
TV5 sister channel AksyonTV was rebranded early last year as 5 Plus to provide non-mainstream sport and sport-related content.
Pangilinan said at present, there are no conversations directly between ABS-CBN and TV5.
ABS-CBN has reported P30 million to P35 million in losses every day that it is off the air, and that its closure would result in the loss of livelihood of more than 11,000 employees.
'Transfer ownership to employees'
The 11,000 displaced employees of ABS-CBN can take over the former TV giant if its owners will give or transfer to them its ownership through common shares, an administration lawmaker who voted for its shutdown suggested yesterday.
"Considering their great wealth, the Lopezes can easily opt to convey their common shares in ABS-CBN to its employees, who can then report a change of control and seek a new broadcasting franchise from Congress," Rep. Mike Defensor proposed.
In a statement, the congressman from party-list Anakalusugan noted that as it is, ABS-CBN's "current market value of P12.7 billion implies that only some P6.4 billion worth of common shares would have to be assigned to effect a change of control."
Defensor – chairman of the House public accounts committee – also said the Lopezes and their employees "should consider engaging the services of investment bankers who might be willing to arrange the share transfer."
As far as he is concerned, Defensor said the Lopezes "are fine and still in good shape."
"Assuming the Lopezes divested from ABS-CBN, they still effectively control at least four other publicly traded corporations with a combined market value of roughly P136 billion as of July 17," he said.
Defensor was referring to First Gen Corp., First Philippine Holdings Corp., Lopez Holdings Corp. and Rockwell Land Corp., all of which are listed on the Philippine Stock Exchange.
"We're actually talking here of severely depressed stock market prices due to the economic fallout from the pandemic. A year ago, the four listed firms, without counting ABS-CBN, were worth over P800 billion," Defensor said.
"Let's say the Lopezes beneficially owned just a little over 50 percent of the common shares of the four listed firms since they are in control, they still have leftover assets valued at more than P400 billion a year ago and currently worth P68 billion," Defensor said.
"We also understand they still have a residual four percent equity stake in Manila Electric Co. that is easily worth another P11.5 billion at market prices," Defensor said.
Network frequencies eyed for distance learning
The government can temporarily tap the former radio and television frequencies of ABS-CBN as a means to provide alternative distance learning proposed by the Department of Education.
"The unused frequencies may also be used for information on coronavirus disease 2019 (COVID-19) prevention and control, risk reduction and preparedness," Deputy Speaker LRay Villafuerte said as he filed House Resolution 1044.
The Camarines Sur congressman said, "exhausting all possible delivery modes such as the use of untapped television and radio frequencies as those vacated by ABS-CBN is important in keeping students engaged," for purposes of mitigating the impact of the global pandemic.
Villafuerte cited a recent World Bank report where the global emergency health crisis is "causing more than 1.6 billion children and youth to be out of school in 161 countries or around 80 percent of the world's students."
The Philippines is among the countries experiencing a "learning crisis" due to the pandemic.
"Inequality and inaccessibility of opportunities, such as those pertaining to internet connectivity and possession of a laptop, pose a variety of challenges for teachers and learners," he noted.
It is in this context, according to Villafuerte, that "the reduction in losses in learning require creativity in remote learning strategies," such as tapping radio and TV as alternative media for teaching purposes.
Villafuerte said the former frequencies used by ABS-CBN will be especially useful in areas not yet reached by the government's digital infrastructure, such as some communities in the Bangsamoro Autonomous Region in Muslim Mindanao. — Delon Porcalla