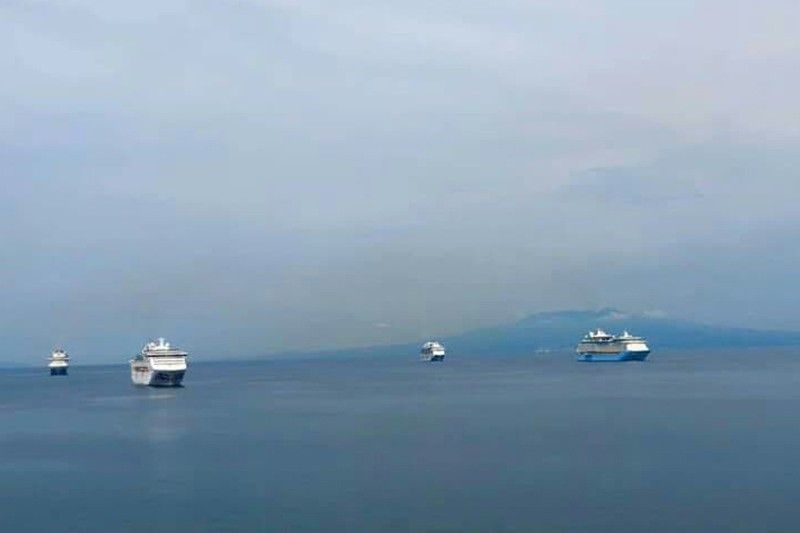 Foreign cruise ships with Filipino crew started arriving at the Manila Bay April 20.
Contributed photo
Coast Guard to conduct mass testing for seafarers on cruise ships in Manila Bay
MANILA, Philippines — Returning Filipino seafarers aboard cruise ships at the Manila Bay anchorage area will undergo a swab test and will need to be cleared of COVID-19 before they are allowed to disembark, the Philippine Coast Guard said.
Admiral Joel Garcia, PCG commandant, in a streamed press conference said that there are some 4,100 Filipino seafarers on board the 12 cruise ships docked at the Manila Bay.
Those thousands have been waiting for word on when they can disembark and return to their families.
At least one of these cruise ships have been floating on Philippine waters for weeks has practically been in isolation as they have not had guests since March. They were only allowed to lay anchor on the third week of April as the government continues changing quarantine guidelines.
Garcia said the government will conduct mass testing on all repatriated OFWs aboard these cruise ships.
"We were ordered by the National Task Force to coordinate with the Philippine Red Cross on the use of their RT-PCR machines. These are accurate," he said in Filipino.
RT-PCR testing is Reverse Transcription-Polymerase Chain Reaction that is considered the "gold standard" for COVID-19 testing.
"Once they get swabbed, the results [will be released] in two days or after 48 hours. And if it yields negative, they will immediately be helped by the Department of Transportation so they can board ships and come home to their provinces," Garcia added.
Sen. Richard Gordon, chairman of the Philippine Red Cross, earlier said the third molecular laboratory at its former national headquarters in Port Area Manila is set to "open soon."
"When operations begin, we will be able to conduct 12,000 tests per day in the NCR. We aim to put up 20 more laboratories throughout the entire country," the Red Cross chairman added.
Garcia, meanwhile, stressed that the OFWs must remain in isolation while waiting for the results and clearance.
He added that the Bureau of Quarantine applies and upholds stringent measures before it issues a clean bill of health for those whose cruise ships were used for quarantine.
Swabbing may start this weekend
Garcia said they are looking to start swabbing the repatriated OFWs on Saturday or Sunday.
The PCG has recently employed 52 new medical technologists to augment their medical workforce as they assist repatriated OFWs.
"They will assist in the conduct of rapid antibody testing for COVID-19 to returning OFWs and seafarers as part of the 'Bayanihan Repatriation Program' of the national government," it said.
Garcia also explained that the PCG coordinated with the Philippine Red Cross and BOQ in planning measures on going on board the cruise ships for the use of PCR facilities.
"We have more than 50 collectors for swabbing activities," he added.
The mass testing for repatriated seafarers will also assure local government units that they are not infected with the coronavirus when they return to their families, the PCG commandant also said.
Garcia said that the PCG is expecting more or less 10 more cruise ships arriving in the month of May.
The Philippines on Friday reported 284 new infections, bringing the total number of COVID-19 cases in the country to 8,772.
As It Happens
LATEST UPDATE: June 4, 2020 - 4:10pm
June 4, 2020 - 4:10pm
The National Bureau of Investigation's Death Investigation Division has filed murder and perjury complaints at the Department of Justice against Police M/Sgt. Daniel Florendo and four others over the killing of former soldier Winston Ragos.
Complaints of planting of evidence have also been filed against Florendo and Police S/Sgt. Hector Besas.
Ragos was killed, allegedly in self-defense, in Quezon City on April 21 after a confrontation over quarantine protocols. Florendo shot him, saying the former soldier was reaching for a gun.
A video of the incident showed Ragos had already turned his back to Florendo when he was shot a second time.
May 19, 2020 - 7:59pm
The Department of Foreign Affairs announces that the Philippine Embassy in Yangon repatriated 91 stranded and distressed Filipinos to Manila on Monday through a special chartered Air Asia flight.
"Some of the repatriates were stranded in Yangon due to flight cancellations. Others lost their jobs as a result of COVID-19- related restrictions thus leaving them economically vulnerable to continue living in Myanmar," says the DFA in a statement.
May 19, 2020 - 6:21pm
Government Service Insurance System announces that the pension fund is again extending the deadline for the Annual Pensioners' Information Revalidation (APIR) to 30 June 2020.
"Old-age and survivorship pensioners born in March, April and May need not go to GSIS branches to renew their active status for the time being. We advise them to postpone visiting our branches. They can do their APIR at a later date through our GWAPS kiosks located in large government offices, provincial capitols, city and municipal offices, selected SM and Robinsons malls and GSIS offices. Anyway, they have until 30 June 2020 to do their APIR," says GSIS President and General Manager Rolando Ledesma Macasaet.
May 19, 2020 - 4:29pm
Government should help small public transportation operators adjust to quarantine guidelines, saying workers need to be able get to their workplaces as the government eases restrictions to restart the economy, Senate President Pro Tempore Ralph Recto says.
"[T]he new normal in the pandemic world calls for public transport with reduced capacity and higher operating expense, and yet financially viable to operate. The adjustments will cost money—small by Ramon Ang standards, but a fortune for a jeepney driver or an independent taxi operator who hasn't seen a fare for more than two months," he says.
Aside from the installation of dividers to reduce passengers' exposure, operators will also have to spend to regularly disinfect their vehicles.
"Government should assist their transition to the new normal. Their crucial role entitles them a place in front of the line for the stimulus fund. After all, what they get from the government will not be for their personal consumption, but to retool the vehicles for the riding public's safety," Recto says.
May 19, 2020 - 4:04pm
Alleged government inaction on Police Maj. Gen. Debold Sinas' birthday gathering despite quarantine guidelines last week is in stark contrast with how citizens accused of violating the quarantine are treated, rights group Karapatan says.
Although criminal and administrative proceedings have been initiated against the chief of the National Capital Region Police Office, he has remained at his post.
"Why was he not arrested immediately and jailed along with other officials and personnel of the national police?" Karapatan said in a statement in Filipino.
"How come when it's a regular citizen who breaks quarantine regulations, they are quicker than lightning in imposing a penalty that sometimes strays into inhumane treatment and violations of human rights?"
Karapatan points out that, in some cases, citizens have been made to stay in dog cages, do squats, made to dance, or stay in the heat of the sun as punishment. Some have also been beaten up, arrested, or killed, the group also says.