Philippines stops deployment abroad of health workers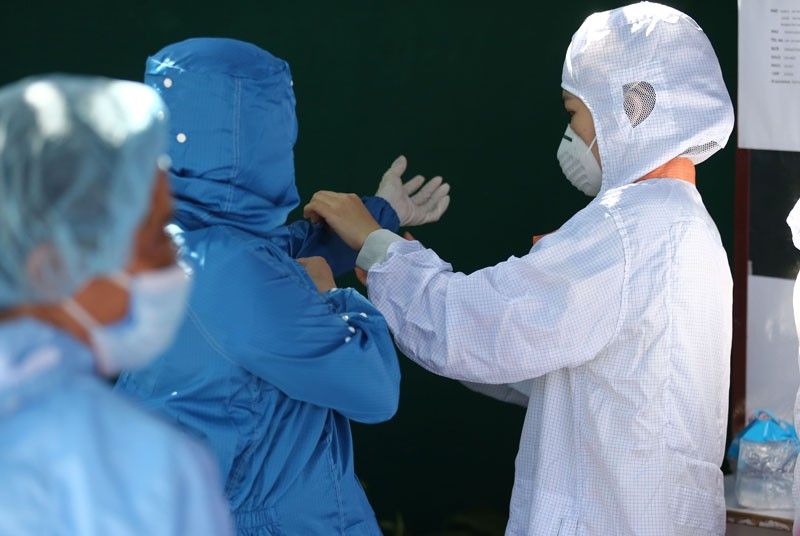 MANILA, Philippines — The government has stopped the deployment of 14 categories of healthcare professionals abroad to prevent a looming domestic shortage amid the continuing spread of coronavirus disease (COVID-19) in the country.
Philippine Overseas Employment Administration (POEA) chief Bernard Olalia said the agency has issued a governing board resolution suspending deployment of health workers overseas.
"The deployment of healthcare workers is temporarily suspended until the national state of emergency is lifted and travel restrictions are lifted at the destination countries," Olalia said.
Among the professions covered under the temporary deployment ban, Olalia said, are doctors, nurses, microbiologists, molecular biologists, medical technologists, clinical analysts and respiratory therapists.
Also included in the list are pharmacists, laboratory technicians, radiologic technicians, nursing assistants, operator of medical equipment, supervisor of health services and personal care and repairmen of medical hospital equipment.
"Even the negotiations of bilateral labor agreements for government-to-government deployment of healthcare workers are temporarily suspended for the duration of the national state emergency," he added.
Olalia said the POEA resolution is meant to sustain the supply and meet any future contingencies.
He said that in pursuit of national interest, the government opted to impose a temporary deployment ban among healthcare workers, whose skills are now considered critical.
Those affected by the suspension in deployment, Olalia said, will be mobilized if necessary to substitute or reinforce the existing healthcare workforce in different medical facilities nationwide.
POEA initially ordered regulated deployment of healthcare workers in consideration of the rising number of medical workers placed under quarantine following exposure to COVID positive patients.
Some 300 Filipino seafarers of five Carnival cruise ships arrived in the country yesterday, the Department of Foreign Affairs (DFA) said.
The DFA facilitated the return from New Orleans, USA of the 300 Filipino seafarers aboard Carnival cruise ships Dream, Fantasy, Glory, Panorama and Vista.
Aside from the latest arrivals, close to 5,000 seafarers were repatriated as of Sunday.
Sixteen crewmembers of cruise ship Amadea from Frankfurt, Germany also arrived at the Ninoy Aquino International Airport (NAIA) Terminal 1 on Sunday afternoon. They were among the more than 4,300 seafarers repatriated by the Philippine government since the COVID-19 outbreak.
The DFA said 322 seafarers from Italy – 114 from the cruise ship Costa Diadema and 208 from Costa Victoria arrived last Sunday evening.
Most seafarers started arriving since April 1 and the repatriation process has been going on continuously.
Meanwhile, flag carrier Philippine Airlines (PAL) is mounting two special flights to London today to transport stranded British passengers in Manila.
PAL said the two flights from Manila to London's Heathrow Airport were organized by the British embassy in Manila and are only available to British travelers and residents in the UK, who wish to return home.
"Despite the ongoing pause in operations until April 14, PAL is operating these special one-off services to assist in flying stranded travelers home," PAL said.
"We shall coordinate closely with government authorities and adhere to strict global health protocols in the interest of the health and safety of all our passengers and crewmembers," the flag carrier said.
PAL said they will depart from the Ninoy Aquino International Airport Terminal 2.
PAL has suspended all its commercial passenger flights since March 26, and is eyeing to resume some flights on selected routes by April 15, depending on the status of travel and quarantine restrictions.
The airline, however, continues to mount cargo-only flights as well as sweeper flights in coordination with the government. – With Richmond Mercurio, Rudy Santos, Pia Lee-Brago
Related video: