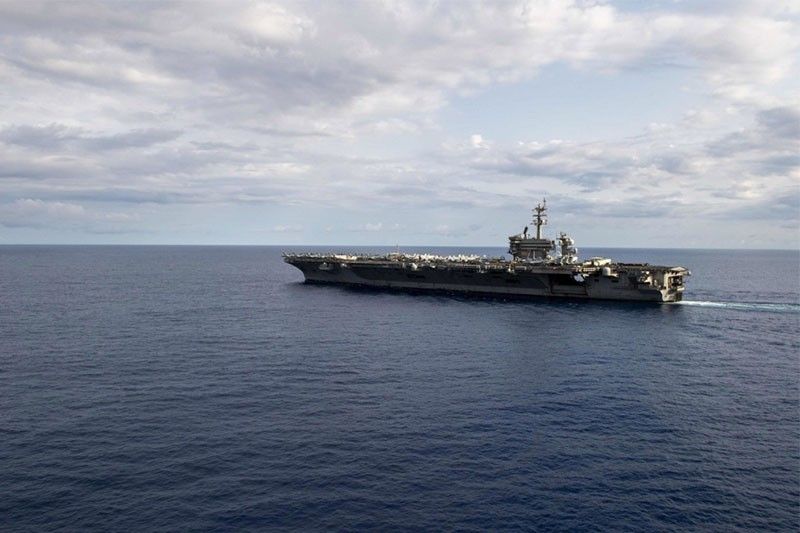 3 US sailors aboard warship in Philippine Sea test positive for COVID-19
(Philstar.com) - March 25, 2020 - 11:51am
MANILA, Philipines — Three US Navy sailors aboard an aircraft carrier sailing in the Philippine Sea tested positive for the novel coronavirus disease (COVID-19), the US Department of Defense or Pentagon confirmed.
Acting US Navy Secretary Thomas Modly said the three sailors have been evacuated from aircraft carrier USS Theodore Roosevelt after being diagnosed with the disease.
"We've identified all the folks they've had contact with, and we're quarantining them as well," Modly said at a Pentagon press conference on Tuesday.
"This is an example of how we are able to keep our ships deployed at seas and underway, even with active COVID-19 cases," he added.
The three sailors have been flown off the aircraft carrier to a US Defense Department hospital in the Pacific, USNI News reported.
According to a report from ABC News, about 5,000 crew members are aboard the warship currently in the Philippine Sea.
"Our force remains on watch throughout the world [during] this crisis, and they're continuing to execute their primary mission under the National Defense Strategy," Modly said.
In the same press briefing, US Navy Adm. Michael Gilday, chief of naval operations, said it was still unclear where the virus came from.
The aircraft carrier's last port call was in Da Nang, Vietnam, 15 days before the US Navy sailors were diagnosed.
"I think it would be difficult to tie down these active cases to that particular port visit. We've had aircraft flying to and from the ship, and so we just don't want to say it was that particular port visit. We took great precautions when that crew came back from that shore period to do enhanced medical screening of the crew," Gilday said.
Gilday noted that the three sailors who tested positive for the virus are "running a temperature" and have some body aches but wouldn't necessarily be characterized as needing hospitalization.
"But they're positive, those three cases. So we are rapidly removing them from the ship, and we are understanding who they came in contact with over the recent days and weeks so we can begin to take a look inside the ship, how we can isolate and contain as best we can," the admiral said.
The number of deaths around the world from the novel coronavirus now stands at 18,259, according to a tally compiled by AFP on Tuesday from official sources.
More than 404,020 declared cases have been registered in 175 countries and territories since the epidemic first emerged in China in December.
The tallies, using data collected by AFP offices from national authorities and information from the World Health Organization (WHO), likely reflect only a fraction of the actual number of infections. — Patricia Lourdes Viray with AFP
As It Happens
LATEST UPDATE: May 15, 2021 - 6:49pm
Follow this page for updates on a mysterious pneumonia outbreak that has struck dozens of people in China.
May 15, 2021 - 6:49pm
The novel coronavirus has killed at least 3,359,726 people since the outbreak emerged in China in December 2019, according to a tally from official sources compiled by AFP.
At least 161,795,290 cases of coronavirus have been registered. The vast majority have recovered, though some have continued to experience symptoms weeks or even months later.
These figures are based on daily tolls provided by health authorities in each country and exclude later re-evaluations by statistical organizations, as has happened in Russia, Spain and Britain.
May 15, 2021 - 3:27pm
Taiwan orders stricter social distancing measures for its capital and surrounding areas on Saturday after a sudden spike in coronavirus cases in a place that has so far weathered the pandemic comparatively unscathed.
Authorities raised the alert level for Taipei and New Taipei City after 180 new domestic coronavirus infections were confirmed, up from 29 cases the previous day.
The new restrictions mean no more than five people can gather indoors and 10 outdoors -- but authorities stopped short of ordering a total lockdown. — AFP
May 14, 2021 - 9:00am
The top US health agency on Thursday said it was lifting mask-wearing guidance for people who are fully vaccinated against COVID-19, a watershed moment that President Joe Biden called "a great day" in the long pandemic fight.
The announcement by the Centers for Disease Control and Prevention (CDC) marked an abrupt turnaround after more than a year of urging people to cover their faces to stem the spread.
"Anyone who is fully vaccinated can participate in indoor and outdoor activities, large or small, without wearing a mask or physical distancing," CDC director Rochelle Walensky said during a briefing.
"If you are fully vaccinated, you can start doing the things that you had stopped doing because of the pandemic." — AFP
May 13, 2021 - 3:30pm
At the peak of Kenya's third wave of COVID-19 in March, hospitals — buckling under the strain of the virus — saw their oxygen reserves fizzle out.
Since then, they have been scrambling to increase capacity of the lifesaving element, fearing the nightmare scenario currently unfolding in India due to oxygen shortages.
On the roof of the Metropolitan Hospital, a 150-bed private institution that targets the middle class, a brand-new oxygen production unit has just been installed that is capable of producing up to 600 liters of the gas per minute.
Metropolitan CEO Kanyenje Gakombe said the hospital accelerated plans to produce its own oxygen after supplies were squeezed to the limit during the height of the third wave, fanned by the variants of the coronavirus first detected in Britain and South Africa.
In April Kenya registered a record 571 deaths, and the health ministry warned hospitals were overrun with fewer than 300 patients in the Intensive Care Unit and fewer than 2,000 hospitalised countrywide. — AFP
May 12, 2021 - 6:19pm
The catastrophic scale of the Covid-19 pandemic could have been prevented had the warning signs been heeded, the global panel investigating the world's coronavirus response concluded Wednesday.
The Independent Panel for Pandemic Preparedness and Response blamed a "toxic cocktail" of dithering and poor coordination, said the World Health Organization could have sounded the alarm sooner, and urged rich countries to donate one billion vaccine doses by September, in its long-awaited final report. — AFP