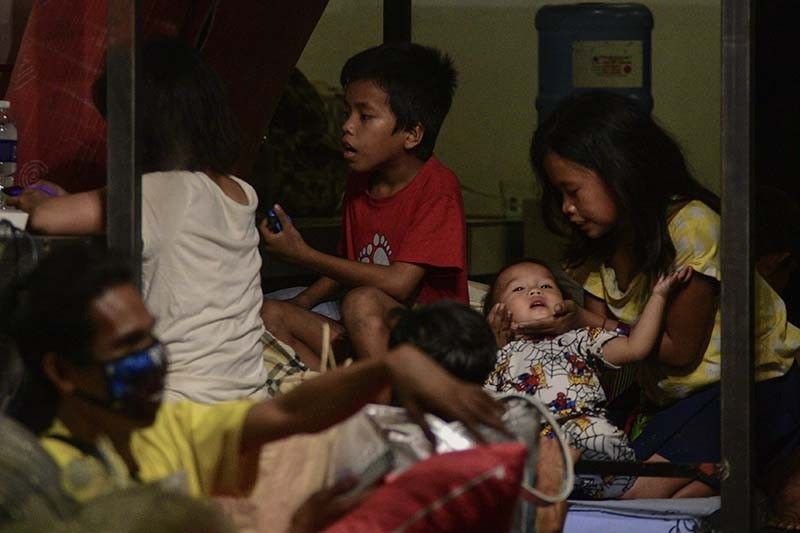 Homeless children sit inside a restaurant in Quezon City in Manila after the shop converted parts of its premises into a shelter for the homeless amid the island-wide lockdown aimed at curbing the spread of the COVID-19 coronavirus outbreak on March 21, 2020.
AFP/Maria Tan
DOH: No VIP treatment on testing but courtesy given to important officials
MANILA, Philippines (Update 2, 6:06 p.m.) — The Department of Health on Monday insisted that some government officials were tested due to an older decision tool allowing those with exposure to confirmed cases or had traveled abroad.
DOH issued this statement after government officials were criticized for using their position to get tested even they were asymptomatic, a strict qualification the agency has implemented on other COVID-19 patients.
"The DOH assures the public that there is no policy for VIP treatment and that all specimens are being processed on a first-in, first-out basis. With courtesy accorded to officials holding positions of national security and public health," the agency said.
"Criteria for testing all patients follows published screening protocols," it also said.
Under the revised protocol, only persons under investigations with mild symptoms who are elderly, with underlying conditions, immunocompromised and admitted PUIs in severe and critical condition are eligible for testing.
The department drew flak for the testing given to President Rodrigo Duterte and his family members, Cabinet secretaries and a number of senators despite most of them not exhibiting symptoms of the disease and the lack of test kits in the country.
Only 1,516 tests have been conducted since late January, suggesting that only 12 in every one million Filipinos were tested. The rate makes the Philippines a laggard among its Southeast Asian peers, with the exception of Indonesia which has tested just seven per million people so far.
DOH expressed hope that "more cases will be detected and appropriately managed" with the arrival of some 100,000 test kits and the accreditation of additional for testing centers across the archipelago.
Nograles: Don't seek special treatment
In a briefin on Monday, Cabinet Secretary Karlo Nograles said no one should be given special treatment in the conduct of tests for COVID-19.

Nograles initially evaded questions about the alleged "VIP testing," saying the Research Institute for Tropical Medicine (RITM) is more familiar with the test protocols.

"Well, the testing is with the RITM. Right now, RITM has the protocols on testing as well as those in the sub-national laboratories that were accredited or were given clearance by RITM," he said.

Nograles, who is also spokesman of the Inter-Agency Task Force for the Management of Emerging Infectious Diseases, went on to explain the swabbing process, which involves the taking of samples from the nose and throat.

When asked to respond to claims that only government officials have access to test kits, Nograles reiterated that he does not have details on the matter.

"I do not know the answer to that. I don't handle the protocols. I do not know how that protocol came about if it's true. I don't have details. I cannot answer," Nograles said.

Pressed if the IATF would appeal to politicians who do not have COVID-19 symptoms not to use their position to be tested, Nograles said there are "general rules" that have to be followed.

"Walang lamangan, walang gulangan. Yun naman po yung ating mensahe (There should be no undue advantage, no seeking of special treatment. That's our message)," Nograles said.

"This is for everyone, for all Filipinos. We have general guidelines that should be implemented so everyone gets a fair treatment," he added.

Officials had admitted that the limited number of testing kits may have resulted in the unintentional underreporting of COVID-19 cases.

Last Thursday, Nograles said the IATF may update its COVID-19 testing protocols once it receives a "considerable" number of test kits from various sources.
PGH readies for role as referral hospital
The UP-Philippine General Hospital on Monday accepted the request of the DOH to make it one of the COVID-19 referral centers in Metro Manila along with the Lung Center of the Philippines and the Jose N. Rodriguez Memorial Hospital.
"All the hospitals in the group, both private and government, have committed financial, manpower, technical and technological assistance to the COVID-19 referral center. The DOH and the UP have pledged to extend full support as well," Dr. Gerardo Legaspi, UP-PGH director, said.
Legaspi said admission to referral centers will initially be limited to mild PUIs who are at high risk for deterioration and moderate to critical PUIs. Eventually, when testing for the disease has been made readily available, only confirmed COVID-19 patients will be sent to referral facilities.
Preparations by UP-PGH and other referral centers need a week "to complete the formulation of an efficient and effective flow of management to ensure the safety of both patients and healthcare workers."
The Philippine's latest tally of COVID-19 infections surged to 462 on Monday in the largest single-day increase in confirmed cases.
The country also logged 33 deaths related to the disease and 18 recoveries. — with a report from The STAR/Alexis Romero