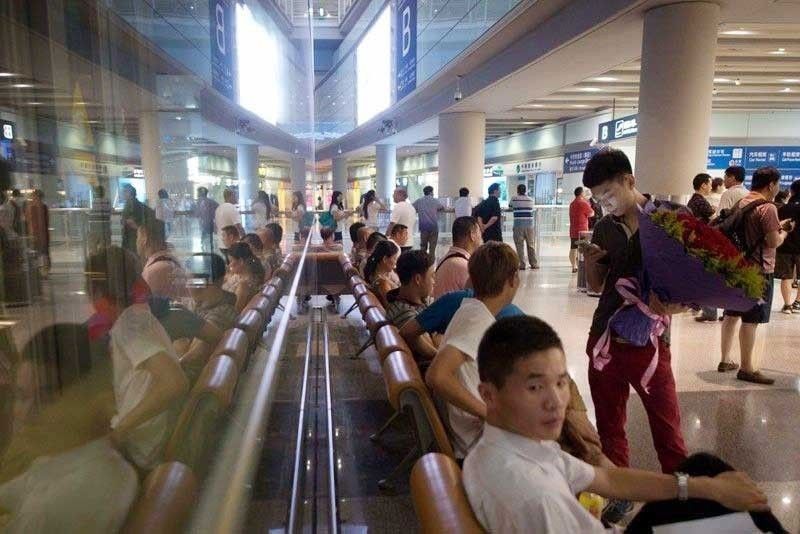 Labor Assistant Secretary Dominique Tutay said DOLE has recorded a continuing growth in the number of foreign nationals working in the country.
AFP/File
Number of POGO workers continues to rise
MANILA, Philippines — More Chinese and other foreign nationals are opting to work in Philippine offshore gaming operator (POGO) companies despite stricter regulations imposed by the government, the Department of Labor and Employment (DOLE) reported.
Labor Assistant Secretary Dominique Tutay said DOLE has recorded a continuing growth in the number of foreign nationals working in the country.
"From January to mid-February this year, we have issued about 20,000 alien employment permits (AEPs). So the number of foreign workers is still increasing, considering that it's just the first two months of the year," Tutay said in an interview.
Of the figure, Tutay said a majority – or 15,000 – of the AEPs were issued to POGO-related workers.
"I just don't know if that's new arrivals, or just renewals of AEPs," Tutay said. Foreign nationals are allowed to renew AEPs.
Tutay said Chinese nationals account for 75 percent of the foreign workers who were able to secure AEPs from DOLE.
In 2019, DOLE had issued more than 143,000 AEPs to POGO-related workers. Of the number, almost 80 percent are Chinese nationals.
Tutay said the number of AEPs issued to foreign nationals last year had tripled compared to previous years, as the government imposed new rules governing employment of foreign workers.
Under the new rules, foreign workers who will work in the country for more than six months are required to secure AEPs.
Prior to the imposition of the new regulation, foreign nationals were only applying for a special working permit which is given to foreigners who will stay and work in the country for less than six months.
Foreign nationals are also required to obtain a Tax Identification Number prior to issuance of an AEP to ensure that they will pay taxes to the government.
Tutay said foreign workers who will be found working without the necessary permit shall be deported, while those not paying their taxes will face charges.
'GMRC' for foreigners
Rep. Ronnie Ong of party-list Ang Probinsiyano said foreign nationals should learn the "dos and don'ts" while in the country, and holding good manners and right conduct (GMRC) "seminars" for visiting POGO workers may be one effective way of teaching sensitivity to local Filipino culture.
"They must be reminded that although Filipinos are hospitable, they should abide by our laws and respect our cultures and traditions," he said.
"What I'm proposing is that we lay down our house rules before we let them inside our house," Ong added, as he appealed to his fellow lawmakers and other government agencies to support the Philippine Amusement and Gaming Corp. (Pagcor)'s GMRC initiative.
'Close them down'
Due to the rising number of crimes involving POGOs, Vice President Leni Robredo joined yesterday mounting calls to stop them from operating in the country.
"These have done so many negative things to us, we have all the reasons to close them down," Robredo said over dzXL.
The Vice President reiterated the statement of Bangko Sentral ng Pilipinas Governor Benjamin Diokno that ceasing online gambling operations in the country would have minimal impact on the economy.
The Senate has investigated the alleged bribery scheme involving Chinese nationals in airport terminals as well as prostitution dens catering to workers of POGOs.
It also began last week its investigation on the huge amounts of money brought into the country by Chinese nationals amid speculation these could be used for criminal activities.
Anti-Money Laundering Council executive director Mel Georgie Racela told a Senate hearing last Thursday that P14 billion worth of transactions by POGOs from 2017 to 2019 were related to suspicious activities.
Sen. Richard Gordon, chair of the Blue Ribbon committee, estimated that $633 million – or P32 billion – in suspected dirty money were brought into the country from September last year up to this month.
Pagcor, however, prefers POGOs to remain open for now, and said its revenues grew to P18 billion since it started regulating POGOs in 2017. The agency added that POGOs also provide employment to 19,000 Filipinos.
However, this is a small number compared to the 90,000 foreign nationals they employ, a majority of whom are Chinese nationals.
President Duterte still believes that the Philippines needs the revenues raised from the operations of the gambling entities.
"He will not suspend it nor will he stop it," Palace spokesman Salvador Panelo said in a radio interview. "He told me the report of the Pagcor head was good so, OK. We need the funds coming from them."
Panelo said several government projects and expenditures require funding, including the higher salaries of nurses and teachers. He said revenues from POGOs may also be used to combat the spread of COVID-19.
Panelo said problems related to POGO operations can be addressed through the enforcement of laws.
"All you have to do is to implement established law and regulations," the Palace spokesman said.