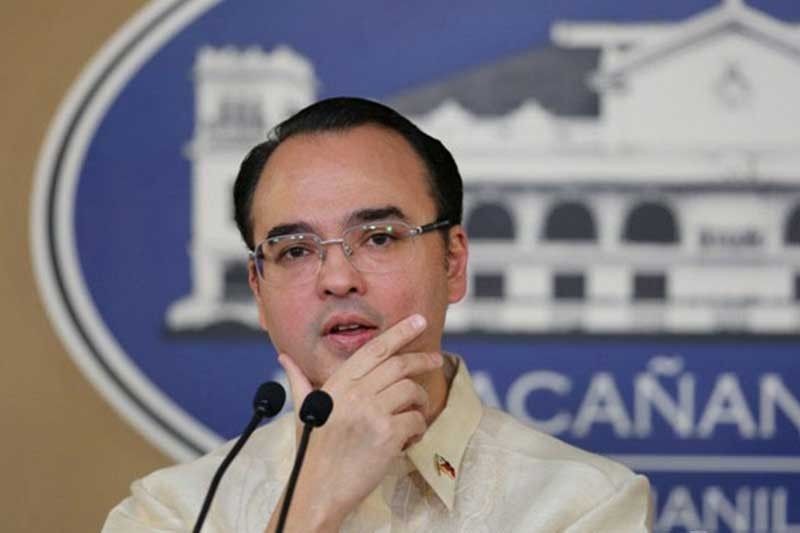 Puwersa ng Bayaning Atleta (PBA) party-list Rep. Jericho Nograles called on Cayetano and Velasco to settle the issue immediately for the sake of the House and the entire country.
STAR/ File
Cayetano, Velasco told: End conflict
Edu Punay
(The Philippine Star) - February 29, 2020 - 12:00am
MANILA, Philippines — Speaker Alan Peter Cayetano and speaker-in-waiting Marinduque Rep. Lord Allan Velasco were urged by their colleagues in the House yesterday to set aside their conflict over coup rumors, with just seven months left before their term-sharing agreement is to be fulfilled.
The two were told it is not the best time to reignite any dispute over the speakership issue for it will take the House's attention away from pressing concerns, particularly the threat posed by the coronavirus disease 2019 (COVID-19).
Puwersa ng Bayaning Atleta (PBA) party-list Rep. Jericho Nograles called on Cayetano and Velasco to settle the issue immediately for the sake of the House and the entire country.
"It would be very statesmanlike for both members of Congress if they talk or show to the public through a handshake or photo together that they are solid for the Republic of the Philippines," Nograles said in a radio interview.
He said Cayetano and Velasco need to reassure the public that Congress remains focused on passing legislation and not playing politics.
Nograles said he has not heard any attempt to unseat Cayetano ahead of the change in leadership this October, an agreement arranged by President Duterte at the start of this 18th Congress.
Congress has a lot of better things to do to unburden the nation of challenges, ranging from the series of earthquakes that jolted Mindanao to the Taal Volcano eruption and now the looming COVID-19 pandemic.
It makes no sense
A coup plot against Cayetano does not make any sense, said Nograles, since Velasco is only a few months away from taking over the leadership of the House.
It would not even be easy to get the numbers to unseat a speaker of the House with its 300 members, he said.
Nograles emphasized that any attempt to unseat a speaker will not fly unless it has the support of the President.
"As far as I know there is no coup d'etat that's happening. I also don't think House members will support any move to break the term-sharing agreement between Speaker Cayetano and Velasco because this would be in defiance of President Duterte's position," he said.
His belief is shared by former representative Alfredo Benitez, lead convenor of the 48-member Visayan bloc in the House.
Visayan bloc's stand
Yesterday, the Visayan bloc signified it will stand behind the term-sharing agreement and assured that none from its political group was supporting any coup.
Speaking in Bacolod City, Benitez said: "That's what had been discussed. I think the Visayan bloc will stand with that agreement."
He said there was no such thing as a coup for the speakership. "Who are those 20 solons (quoted by Cayetano)? Definitely, none of them are from the Visayan bloc," Benitez said.
However, Deputy Speaker and Camarines Sur Rep. LRay Villafuerte slammed Velasco over what he believes was an aborted coup against Cayetano.
"More than 20 House members have separately told us that they had been offered by Rep. Velasco himself with committee chairmanships and extra budgetary allocations in our chamber in exchange for supporting his assumption as Speaker ahead of the 15-21 term-sharing leadership change later this year," Villafuerte said in a statement.
"It puts into question the commitment of Rep. Velasco to the pro-poor, pro-growth legislative agenda of President Duterte, if and when he does become Speaker, considering that he has no qualms now to subvert the 15-21 term-sharing arrangement," he added.
Villafuerte took a swipe at Velasco as "not man enough to take responsibility for his pathetic action" and questioned his character, track record and experience in public office to replace Cayetano.
ABS-CBN issue
Meanwhile, Benitez said the Visayan bloc and other lawmakers agree that Congress should "act quickly" in tackling ABS-CBN Corp.'s application for franchise renewal.
Whether Congress decides to grant the franchise or not, he said, "they should have held a committee hearing, discuss it and move on."
Cayetano had earlier put off the issue, saying the franchise application of the country's biggest broadcast network was not a priority agenda of the House.
Benitez's younger brother, Negros Occidental 3rd District Rep. Jose Francisco Benitez, had said he is not in favor of the closure of ABS-CBN.
"It's in the national interest to have as many media outlets as possible to provide greater democratic forces," the congressman said.
Cayetano had pointed an accusing finger at Velasco after learning from 20 congressmen that the Marinduque lawmaker had allegedly been promising perks and committee chairmanships to the Speaker's allies.
Velasco denied the insinuation that he was plotting to oust the Taguig congressman by taking advantage of the ABS-CBN franchise issue.
He said the reports reaching Cayetano "are far from the truth" and that he continues to honor the term-sharing agreement brokered by Duterte when the 18th Congress convened in July 2019.
"From the beginning, I never had any intention of reneging on this agreement. I am a man of my word," Velasco said.
"The reports were meant to create deep division within the House and its members, destroy camaraderie, distract lawmakers from fulfilling their mandate and, more importantly, derail the key legislative agenda of the Duterte administration," he added.
But Cayetano seemed unconvinced, noting that Velasco had allegedly been uttering remarks like: "Next year (2021) is my budget, and I will be the one to dictate who will I give it to."
"So, my unsolicited advice to those in the House leadership like the committee chairmen who couldn't wait: if you cannot cooperate with the present leadership, you might as well leave your committees and come back when Congressman Velasco becomes the Speaker," he told reporters in an interview.
Under the term-sharing plan, Cayetano will be the Speaker for the first 15 months or until October 2020, then Velasco will take over for the final 21 months of the 18th Congress or until June 2022.
But earlier reports quoted House members saying Cayetano should just continue as speaker and that the term-sharing deal should no longer push through, considering his high public approval ratings late last year. – With Gilbert Bayoran