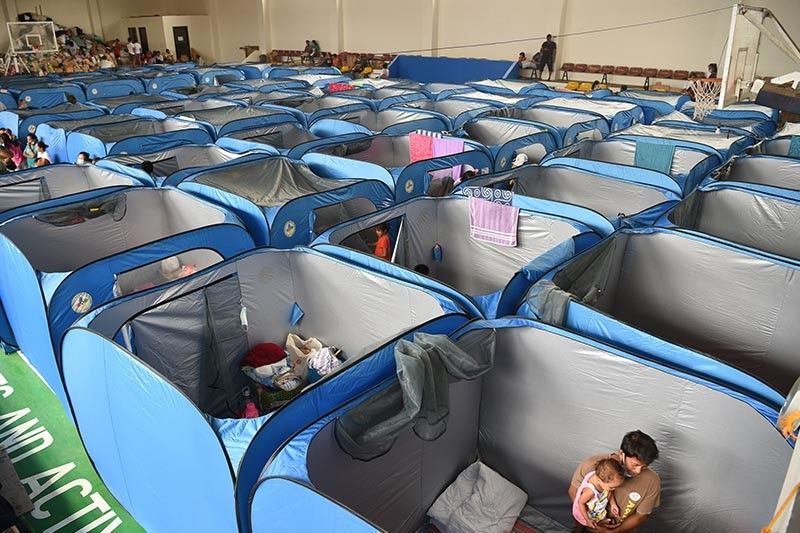 Residents affected by the eruption of Taal volcano gather at an evacuation centre in Tagaytay City, Philippines' Cavite province on Jan. 17, 2020. The threat of the Philippines' Taal volcano unleashing a potentially catastrophic eruption remains high, authorities warned on January 16, saying it was showing dangerous signs despite a "lull" in spewing ash.
Ted Aljibe/AFP
Batangas evacuees who fled Taal eruption reach 1 million mark
Batangas — Batangas Gov. Hermilando Mandanas announced that the number of evacuees from the province displaced by Taal Volcano's eruption reached the one million mark on Tuesday.
Around 800,000 residents are staying with their relatives while about 200,000 people are seeking refuge in evacuation centers in Batangas, Cavite, Laguna and Quezon, the governor said during a press briefing of the Batangas Provincial Disaster and Risk Reduction Management Council.
Asked how local disaster response officials came up with the number, Mandanas said, "simple lang, we got the total population of the lockdown municipalities and subtract all the evacuees staying in the evacuation area."
As of Tuesday, January 21, the Batangas towns of Talisay, Laurel, Agoncillo, San Nicolas, Taal, Lemery, Sta. Teresita, Cuenca, Balete and Mataas na Kahoy are under total lockdown while two cities are on partial lockdown.
Mandanas said the provincial government is allocating a daily budget of P150 per evacuee or a total of P150 million per day to cover all those affected by the eruption. The funding covers food and sanitary kits.
The governor also showed optimism as the province received overflowing help which continues to pour in.
"Kakayanin natin ito dahil meron naman tayong sapat na calamity fund bukod pa sa assistance from the national government, from companies and private individuals, foreign group and other neighboring local government units," Mandanas said
He said around P200 million would be coming from their calamity fund.
As It Happens
LATEST UPDATE: February 27, 2020 - 9:35am
Get updates as Phivolcs issues warnings over Taal Volcano's unrest. (Main photo by Philstar.com/Rosette Adel)
February 27, 2020 - 9:35am
Philvolcs says in its 8 a.m. bulletin that Taal Volcano's main crater emitted steam-laden plumes that are 300 meters high between 9pm February 26 to 3am of February 27.
Taal Volcano remains at Alert Level 2.
TAAL VOLCANO BULLETIN
27 February 2020
8:00 A.M.#TaalVolcanohttps://t.co/Sf9pQ3NXMj pic.twitter.com/5kh5tMkjaJ

— PHIVOLCS-DOST (@phivolcs_dost) February 27, 2020
February 15, 2020 - 4:32pm
Police say they are still waiting for the Scene of the Crime Operatives for confirmation of the victim's identity, whose body was found dead underneath mud on Taal volcano Island.
February 14, 2020 - 9:29am
Phivolcs downgrades the alert status of Taal Volcano from Alert Level 3 to Alert Level 2.
The state seismic network characterized the activity of the volcano in the last three weeks by "less frequent volcanic earthquake activity, stabilizing ground deformation of the Taal Caldera and Taal Volcano Island edifices and weak steam/gas emissions" at the main crater.
Under Alert Level 2, Phivolcs warned that sudden steam-driven or phreatic explosions, volcanic earthquakes, ashfall and lethal accumulations or expulsions of volcanic gas can occur and threaten areas within the volcano island.
"People are also advised to observe precautions due to ground displacement across fissures, frequent ashfall, and minor earthquakes," Phivolcs said.
February 8, 2020 - 10:15am
Alert Level 3 is still up over Taal Volcano, state volcanologists say.
According to the 8 a.m. bulletin Saturday, the volcano emitted white to dirty white steam-laden plumes rising 200 to 300m high before drifting southwest in the past 24 hours.
"Weak steaming from fissure vents along the Daang Kastila trail is currently ongoing. Sulfur dioxide (SO2) emission was measured at an average of 54 tonnes/day on February 7, 2020," Phivolcs says.
"The Taal Volcano Network recorded one hundred fifteen (115) volcanic earthquakes including three (3) low-frequency events. These earthquakes signify magmatic activity beneath the Taal edifice that could lead to eruptive activity at the Main Crater," it adds.
February 7, 2020 - 8:36am
Alert Level 3 is still raised over Taal Volcano as its latest activity signify possible eruptive activity at the main crater.
In the last 24 hours, Phivolcs observed moderate emission of white to dirty white steam-laden plumes rising 200 to 300 meters high before drifting southwest.
The state seismic network also observed weak steamong from fissure vents along the Daang Kastila trail.
At least 118 volcanic earthquakes, including five low-frequency events and one harmonic tremor that lasted three minutes were recorded.
"DOST-PHIVOLCS reminds the public that sudden steam-driven and even weak phreatomagmatic explosions, volcanic earthquakes, ashfall, and lethal volcanic gas expulsions can still occur and threaten areas within Taal Volcano Island and nearby lakeshores," Phivolcs said in its 8 a.m. bulletin for February 7.