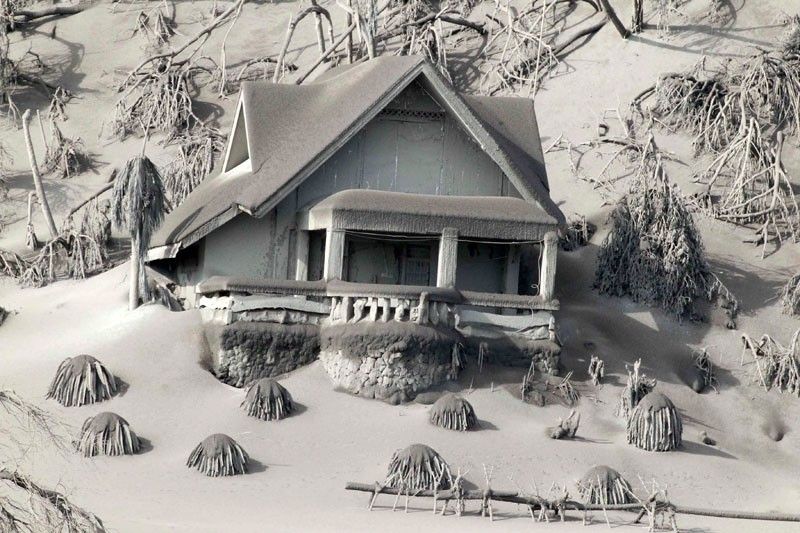 A cottage is coated in ash on Taal Volcano island yesterday. Taal is spewing lava half a mile high and trembling with earthquakes as thousands of people flee villages darkened and blanketed by heavy ash.
Ernie Peñaredondo
Over 200 quakes rattle Batangas
Helen Flores
(The Philippine Star) - January 15, 2020 - 12:00am
'Worst is yet to come'
MANILA, Philippines — More than 200 earthquakes have rocked Batangas since Monday when Taal Volcano began spewing lava in what could be a prelude to a "dangerous explosive eruption," the chief of the Philippine Institute of Volcanology and Seismology (Phivolcs) warned yesterday.
Science Undersecretary and Phivolcs director Renato Solidum Jr. said the 311-meter-high volcano continued to spew lava and ash accompanied by strong temblors in the past 24 hours.
In several towns, fissures or cracks have appeared on the ground, from which toxic fumes emitted. Solidum warned it was still dangerous for displaced residents to return to their homes.
"The worst is not yet over and residents near the volcano should remain vigilant," Solidum told The STAR, as he noted the creeping cracks on the ground in surrounding areas since the country's second most activity volcano started spewing ash and rocks on Sunday.
He said the occurrences of strong volcanic quakes and fissuring or cracks in Taal Volcano area indicate continuous magma ascent to the crater that could lead to a more violent eruption.
"We advise people not to go into the 14-km danger zone because of the possible pyroclastic density current. They cannot return yet because of the danger of ashfall," Solidum said, noting that Taal's abnormal activity could last weeks or even months.
"The continued ashfall may damage the roofs of houses while the tremors may destroy houses on hilly areas or steep slopes due to threat of landslides," Solidum said.
Between 8 p.m. on Monday and 2 a.m. yesterday, a total of 212 volcanic quakes were recorded, 61 of which were felt with intensities ranging from 1 to 5.
"Intensity 5 is strong. Probably the strong-intensity tremors indicate that there is a continuous magma intrusion beneath the volcano and this intrusion may lead to further eruptive activity," Solidum said.
Taal's alert level remained at 4 as of yesterday afternoon, meaning a hazardous explosive eruption is still possible within hours to days.
As of 1 p.m., Phivolcs recorded lava fountaining on Taal which generated an 800-meter tall, dark gray steam-laden plume that drifted to the general southwest side of the volcano.
New fissures or cracks were also observed in Barangays Sinisian, Mahabang, Dahilig, Dayapan, Palanas, Sangalang and Poblacion in Lemery, Batangas; Brgy. Pansipit, in the town of Agoncillo; and Poblacion 1, Poblacion 2, Poblacion 3 and Poblacion 5 in Talisay; and Poblacion in the municipality of San Nicolas.
The road connecting Agoncillo to Laurel, Batangas also had cracks, Phivolcs said.
"The strong quakes and fissuring in Batangas indicate that there's a huge volume of magma intruding from the edifice which could lead to a violent eruption," Phivolcs' Volcano Monitoring and Eruption Prediction Division chief Mariton Bornas said.
According to Bornas, these fissures sometimes become degassing vents, which may emit steam or other chemical compounds.
"Now, the cracks are not that wide, but in the 1911 (eruption), fissures happened after the strong eruption then the ground sank," she said.
Deceptive Taal
While the ash plume, or the cylinder-shaped ash column produced by Taal's eruption, was smaller the other day compared to Sunday's phreatic eruption, it does not mean that the volcano is slowing down.
The phreatic or steam-drive eruption produced about 10- to 15-kilometer high ash plumes, reaching Metro Manila and as far as some provinces in Central Luzon.
"There's no more ashfall in Metro Manila since yesterday (Monday). The ashfall is dependent on the wind direction on the height of the eruption column, last Monday it was only two-kilometers compared to the 10- to 15-km last Sunday which reached farther areas," Solidum said.
"Let's detach what we see visually, the strong tremors continue, which is an indication, obviously, that magma is moving upward, and it's coming out," he said.
He also noted an increase in the amount of sulfur dioxide (SO2) emitted by Taal, which is also an indication of a magmatic eruption.
As of yesterday, the SO2 emission was measured at an average of 5,299 tons per day – way above the normal 500 tons a day.
Solidum, meanwhile, welcomed the proposal to conduct cloud seeding after the eruption, saying it could wash down the ash blanketing the plants and houses, but warned it could trigger flooding and lahar if done without planning.
"In general, cloud seeding is a good idea, but how to operationalize it, you really have to study it," he said.
"They should have an idea on the amount of rain it would produce and where it would fall," he said,
"This has to be studied. If you look at it closely, obviously, if there is too much water, it will wash down the ash on the side, and there is a threat of a flood or lahar because it is washing down the ash," he said.
Senate President Vicente Sotto III earlier said the Air Force and other concerned agencies may consider conducting cloud seeding operations in the vicinity of Taal Volcano to help clear the air and affected areas of ash and other debris. His Senate colleague Panfilo Lacson voiced support for his proposal. Sotto said the Air Force's weather group has found his proposal "very acceptable" and is now studying the best time and area to conduct the procedure.
"Rains wash away mud from roads right? Water is the answer, there is no other. Do they want the mud, the ash to harden? Do they want that to happen in the entire Batangas? The entire Metro Manila? The whole region?" Sotto told reporters in response to critics who blasted his suggestion.
"That's a good proposal, not only because it came from the Senate President but it makes a lot of sense. It's a very sensible suggestion that the government can implement," Lacson said.
Cloud seeding dangers
But a scientist from the University of the Philippines said cloud seeding may bring more problems to affected residents.
Gerry Bagtasa, director of the UP Institute of Environmental Science and Meteorology, said rainfall in affected areas – especially those near the volcano – would result in acid rain that could impact infrastructure and the livelihood of people.
He also warned of the possibility of lahar flows, or destructive mudflows composed of volcanic material and water.
"First of all, scientifically speaking, the efficacy of cloud seeding is arguable. Most people think that it is an exact science… but there is a question on efficacy," he told The STAR in a mix of English and Filipino.
"But let's say we can seed the cloud, what's next would be acid rain. One of the main components of the material coming from a volcano is sulfur. This would dissolve in rainwater and make the raindrop acidic," he added.
While a single incident may not have a major impact on people, Bagtasa said continuous exposure to acid rain would have long-term effects, especially on infrastructure that may be weakened by the acidity in the water.
He said that acid rain may also turn the soil acidic, affecting the agriculture sector in the area.
Bagtasa said rain would not clear the air in areas near the volcano, noting the continuous ejection of volcanic materials from Taal since Sunday.
While rain may be able to wash away ash already on the ground, it could trigger destructive lahar flow just like in the aftermath of the eruption of Mt. Pinatubo in 1991.
"If the source of the emission is still there, the rain won't really (clear the air) and you will have lahar as a consequence and that's another (problem)," he added.
Bigger deployment
As threat of a destructive eruption looms, more policemen have been deployed to Batangas to aid in maintaining peace and order and in relief efforts, Interior Secretary Eduardo Año said yesterday.
"Where there's not enough, we will add more personnel," he said in a Viber message.
Año issued the directive in response to appeals from some local chief executives for help in preventing some residents from returning to their homes to retrieve belongings or livestock.
In Agoncillo town for instance, Mayor Daniel Reyes said some residents were attempting to breach security to reach their homes situated within the 14-kilometer danger zone.
Talisay Mayor Gerry Natanauan, for his part, has requested for a total lockdown of his town.
Members of the Regional Incident Management Team (RIMT) in Fernando Airbase in Lipa City received the request through phone from Natanauan while they were having a briefing.
"Some Talisay residents were returning to their homes to check on their belongings or farm animals. It's very dangerous," William Lipit, operation section chief of the Quezon Provincial Risk Reduction and Management Office said.
Balete Mayor Wilson Maralit said at least 1,000 families from Barangays Calawit, Makina and Paligawan are still awaiting evacuation, even if the towns are outside the danger zone. He said his constituents were receiving relief aid from other Batangas LGUs and non-government organizations.
Pampanga Gov. Dennis Pineda pledged support for the beleaguered Batangas province, noting that his province was no stranger to natural calamity. The Pinatubo eruption in 1991 had severely devastated Pampanga for years.
Meanwhile, the National Capital Region Police Office (NCRPO) has sent four nurses and three doctors to Malvar town to assist evacuees.
NCRPO acting director Brig. Gen. Debold Sinas also said at least 2,500 police officers from Metro Manila are on standby and ready for deployment.
"We have five buses on standby at the headquarters and we are waiting for instructions," he said at a press briefing in Quezon City. – Emmanuel Tupas, Michael Punongbayan, Arnell Ozaeta, Paolo Romero, Janvic Mateo