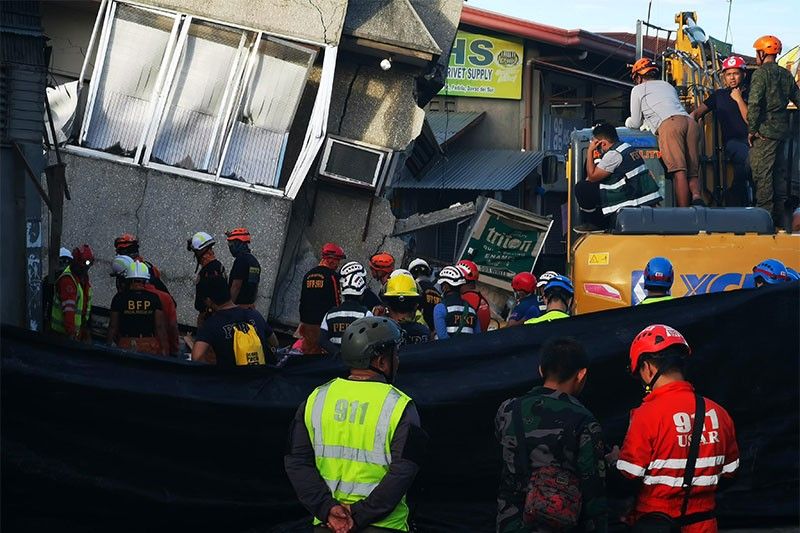 Rescuers search for survivors of a collapsed building after a 6.8-magnitude earthquake struck Padada town, Davao del Sur province in the southern island of Mindanao, Philippines on December 16, 2019. A powerful earthquake hit the southern Philippine island of Mindanao on December 15, killing a child and damaging buildings in an area still recovering from a string of deadly quakes in October.
AFP/Ferdinand Cabrera
National government on top of Davao del Sur quake situation
(Philstar.com) - December 16, 2019 - 10:16am
MANILA, Philippines — The national government, along with local disaster risk reduction management offices, are on top of the situation following a magnitude 6.9 earthquake in southern Mindanao.
Cabinet Secretary Karlo Nograles said all frontline disaster response and humanitarian units of the national government have been deployed to assist all the victims.
"President Duterte is closely monitoring the progress of ongoing operations to thoroughly evaluate the damage of the quake and all ground units are ordered to work round-the-clock to make sure that everyone is safe and are ready for possible aftershocks," Nograles said in a statement Monday.
The Cabinet official said the government would be providing all the assistance needed by the family of the lone casualty in the earthquake.
The government will also be providing medical assistance to the 37 people injured following the quake.
"Security forces have been deployed to ensure that all those who are in evacuation centers are safe and the properties that they have left behind are adequately protected," Nograles said.
Meanwhile, local disaster reduction and response units have created community-based frontline emergency responders following the incident.
According to Nograles, each sitio or barangay in the country should have well-trained emergency responders in times of emergencies.
All communities should be trained on how to respond to all types of disasters and emergencies, he said.
"Real or imagined, we should prepare for the worst that may happen in the future. It is always better to be safe than sorry," Nograles said.
Malacañang earlier assured the public that President Rodrigo Duterte is safe following the powerful quake that struck his home province.
Presidential spokesperson Salvador Panelo said the president and his daughter Kitty were at home when the earthquake struck.
"He (Duterte) is ok. He and his daughter Kitty were in their house when the quake struck. First Lady Honeylet was on her way home [when the] ground trembled," Panelo said. — Patricia Lourdes Viray
As It Happens
LATEST UPDATE: December 18, 2019 - 9:33am
A magnitude 6.9 rocks parts of the Davao and Soccsksargen regions on Sunday afternoon. The US Geographical Survey initially placed the epicenter of the quake near Polomolok, South Cotabato but the Philippine Institute of Volcanology and Seismology puts the epicenter near Padada, Davao del Sur.
Parts of Mindanao were rocked by powerful earthquakes in October and November.
December 18, 2019 - 9:33am
As of Wednesday morning, NDRRMC says a total of nine people were reported dead while the number of injured rose to 111 from 99 after the powerful quake that hit Davao del Sur.
The disaster response agency adds that one person remains missing.
December 16, 2019 - 10:03pm
The United Nations Office for the Coordination of Humanitarian Affairs, citing initial reports by local authorities, estimates around 50,000 people in Matanao and Digos, Davao del Sur have been displaced by the earthquake on Sunday.
"Sufficient number of evacuation centers is yet to be put in place and many people are staying out in the open, in front of their houses. The number of displaced is expected to increase once remote areas are reached and the cumulative impact of all four earthquakes better understood," it also says.
"According to the authorities, the latest tremor will possibly increase the number of mandatory evacuations, including among indigenous population. A 12-km road to barangay Holonsabak in Matanao, inhabited exclusively by IPs, was already declared non-passable as of [Sunday] and the authorities are exploring re-routing options," it also says.
December 16, 2019 - 5:54pm
Rescuers in the southern Philippines used heavy equipment and their bare hands on Monday in hopes of finding several people feared trapped beneath a building toppled by a powerful earthquake that claimed at least three lives.
Sunday's tremor cracked schools, toppled homes and injured dozens but largely spared big cities on the island of Mindanao, which is still recovering from a string of deadly quakes in October.
Searchers have pulled survivors from the collapsed market building in the town of Padada, but were still looking for a person who had texted authorities saying six people were trapped under the rubble.
"The person can no longer be reached," fire official Fred Trajeras told reporters, adding that rescuers' held out hope survivors could be found.
A young child was killed when a family home collapsed near the epicentre, and searchers pulled the bodies of two victims from the collapsed market building.
However applause erupted after Lesley Jane Gatos, 31, was pulled from the rubble on Sunday, shortly after the tremor.
Gatos used her phone to call for help and then began making noise to attract the attention of rescuers, who reached her after clearing a path in the debris.
"Finally I was able to get out. I saw people. They clapped because I was the first one rescued," she told AFP. — Agence France-Presse
December 16, 2019 - 3:15pm
Police Regional Office-12 has deployed personnel to help in rescue and relief operations in areas of Soccsksargen affected by the magnitude 6.9 earthquake on Sunday, police say.
Disaster Incident Management Task Groups have been reactivated and are working with local disaster risk reduction and management offices to extend medical assistance, PRO-12 says.
Medical teams have also been deployed "at the vicinity of SM and KCC Mall of General Santos" while mobile patrol and traffic management units have been sent to "KCC, Robinsons, Fitmart Mall GenSan to prevent looting, carry out crowd control and traffic management."
PRO-12 personnel are also ready to conduct search and rescue operations, with 110 personnel already deployed for search, rescue and recovery operations.
December 16, 2019 - 1:01pm
Davao del Sur PDRRMO's Christopher Tan clarifies to CNN Philippines that two are confirmed dead while four others are still trapped inside the Southern Trade Grocery Store in Padada town. This means the current death toll is at three and not seven as initially reported.