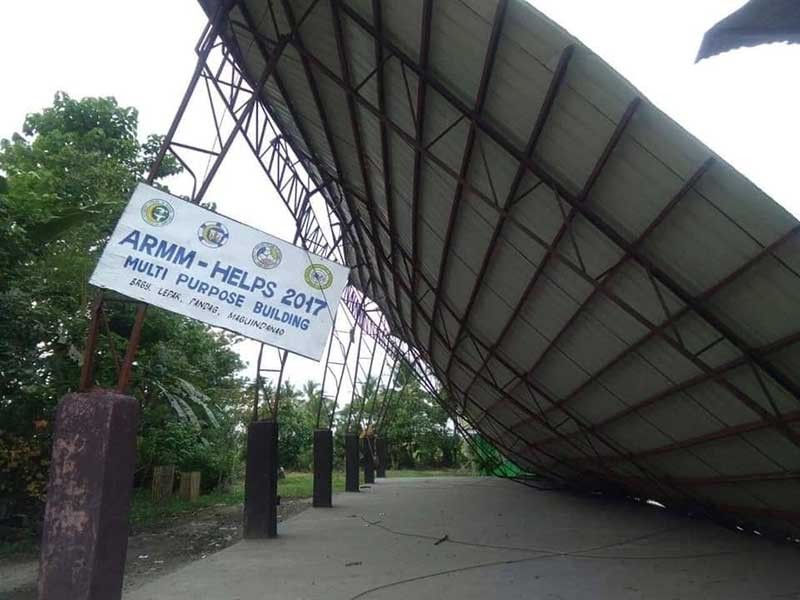 This photo tweeted by News5 AKSYON shows a covered court in Pandag, Maguindanao damaged by the earthquake on Sunday afternoon.
News5 AKSYON/Gem Avancena/Toy Mangudadatu
NDRRMC checks for damage after magnitude 6.9 Davao del Sur earthquake
Franco Luna
(Philstar.com) - December 15, 2019 - 4:42pm
MANILA, Philippines — The National Disaster Risk Reduction and Management Council said assessment operations in the wake of damage caused by the magnitude 6.9 earthquake that struck southern Mindanao have begun.
NDRRMC Executive Director Ricardo Jalad, who is also administrator of the Office of Civil Defense, told reporters that the Padada public market collapsed as a result of the earthquake and that Davao del Sur rescue teams have already been deployed.
Gumuho ang bubong at mga haligi ng isang covered court sa Barangay Lepak sa Maguindanao matapos yanigin ng magnitude 6.9 na lindol. | via Gem Avancena

????: Toy Mangudadatu pic.twitter.com/X3Hh35JGm8

— News5 AKSYON (@News5AKSYON) December 15, 2019
NDRRMC spokesperson Mark Timbal also told reporters in a text message that no casualties have been reported as of 3:49 pm according to officials on the ground.
Timbal disclosed that local governments of affected areas have already begun damage assessment measures.
The NDRRMC reported the following intensities that came with the quake:
Reported Intensities:
Intensity VII - Matanao and Magsaysay, Davao del Sur
Intensity VI - Kidapawan City; General Santos City; Bansalan, Davao del Sur; Alabel and Malapatan,
Sarangani; Koronadal City
Intensity V - Tulunan and Matalam, Cotabato; Cotabato City; Davao City; Glan, Sarangani
Intensity III - Kalilangan, Talakag and Dangcagan, Bukidnon
Intensity II - Impasugong, Bukidnon; Cagayan de Oro City; Dipolog City
Intensity I - Zamboanga del Sur
Instrumental Intensities:
Intensity VIII - Malungon, Sarangani
Intensity VI - Alabel, Sarangani; Kidapawan City
Intensity V - General Santos City; Koronadal City; Tupi, South Cotabato
Intensity III - Gingoog City
Intensity II - Zamboanga City; Kiamba, Sarangani
Meanwhile, the Department of Transportation in a press update on DOTr-affiliated agencies said that the Civil Aviation Authority of the Philippines reported "negative damage" in the General Santos Airport and in Zamboanga, Davao, Laguindingan, Cotabato, Butuan, Surigao and Pagadian.
LTFRB offices in Regions 11 and 12, the Davao International Airport's passenger terminal building and runway, Philippine Coast Guard structures all reported no damage to their structures. No bus terminals in the region have been damaged, they added.
This is a developing story.
As It Happens
LATEST UPDATE: December 18, 2019 - 9:33am
A magnitude 6.9 rocks parts of the Davao and Soccsksargen regions on Sunday afternoon. The US Geographical Survey initially placed the epicenter of the quake near Polomolok, South Cotabato but the Philippine Institute of Volcanology and Seismology puts the epicenter near Padada, Davao del Sur.
Parts of Mindanao were rocked by powerful earthquakes in October and November.
December 18, 2019 - 9:33am
As of Wednesday morning, NDRRMC says a total of nine people were reported dead while the number of injured rose to 111 from 99 after the powerful quake that hit Davao del Sur.
The disaster response agency adds that one person remains missing.
December 16, 2019 - 10:03pm
The United Nations Office for the Coordination of Humanitarian Affairs, citing initial reports by local authorities, estimates around 50,000 people in Matanao and Digos, Davao del Sur have been displaced by the earthquake on Sunday.
"Sufficient number of evacuation centers is yet to be put in place and many people are staying out in the open, in front of their houses. The number of displaced is expected to increase once remote areas are reached and the cumulative impact of all four earthquakes better understood," it also says.
"According to the authorities, the latest tremor will possibly increase the number of mandatory evacuations, including among indigenous population. A 12-km road to barangay Holonsabak in Matanao, inhabited exclusively by IPs, was already declared non-passable as of [Sunday] and the authorities are exploring re-routing options," it also says.
December 16, 2019 - 5:54pm
Rescuers in the southern Philippines used heavy equipment and their bare hands on Monday in hopes of finding several people feared trapped beneath a building toppled by a powerful earthquake that claimed at least three lives.
Sunday's tremor cracked schools, toppled homes and injured dozens but largely spared big cities on the island of Mindanao, which is still recovering from a string of deadly quakes in October.
Searchers have pulled survivors from the collapsed market building in the town of Padada, but were still looking for a person who had texted authorities saying six people were trapped under the rubble.
"The person can no longer be reached," fire official Fred Trajeras told reporters, adding that rescuers' held out hope survivors could be found.
A young child was killed when a family home collapsed near the epicentre, and searchers pulled the bodies of two victims from the collapsed market building.
However applause erupted after Lesley Jane Gatos, 31, was pulled from the rubble on Sunday, shortly after the tremor.
Gatos used her phone to call for help and then began making noise to attract the attention of rescuers, who reached her after clearing a path in the debris.
"Finally I was able to get out. I saw people. They clapped because I was the first one rescued," she told AFP. — Agence France-Presse
December 16, 2019 - 3:15pm
Police Regional Office-12 has deployed personnel to help in rescue and relief operations in areas of Soccsksargen affected by the magnitude 6.9 earthquake on Sunday, police say.
Disaster Incident Management Task Groups have been reactivated and are working with local disaster risk reduction and management offices to extend medical assistance, PRO-12 says.
Medical teams have also been deployed "at the vicinity of SM and KCC Mall of General Santos" while mobile patrol and traffic management units have been sent to "KCC, Robinsons, Fitmart Mall GenSan to prevent looting, carry out crowd control and traffic management."
PRO-12 personnel are also ready to conduct search and rescue operations, with 110 personnel already deployed for search, rescue and recovery operations.
December 16, 2019 - 1:01pm
Davao del Sur PDRRMO's Christopher Tan clarifies to CNN Philippines that two are confirmed dead while four others are still trapped inside the Southern Trade Grocery Store in Padada town. This means the current death toll is at three and not seven as initially reported.