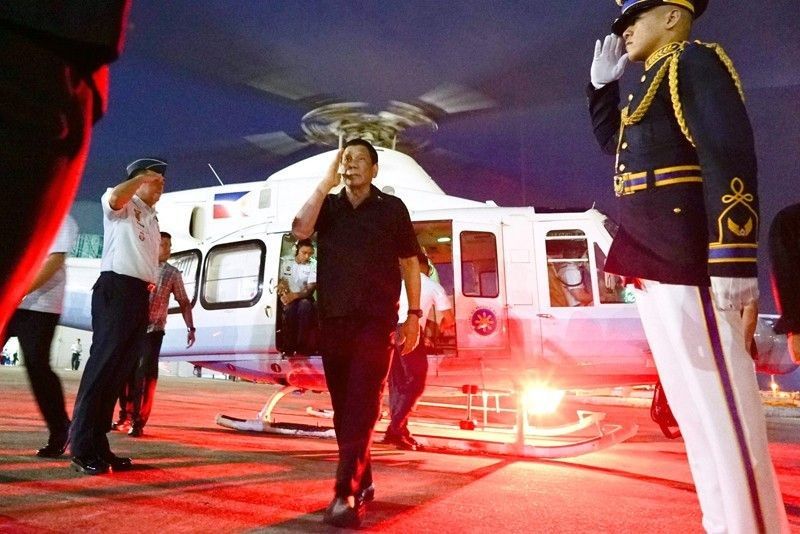 Duterte left yesterday on a private jet for Busan, where he will attend the 30th Commemorative Summit, the biggest international conference to be hosted by the South Korean government under President Moon Jae-in.
The STAR/File
Duterte leaves for ASEAN-SoKor summit
BUSAN ­– As the Korean peninsula conflict takes center stage at this year's ASEAN-Korea Commemorative Summit, President Duterte is expected to join other leaders in calling for a peaceful resolution to the issue to maintain stability in the region, with his eyes set on security talks with Seoul.
Duterte left yesterday on a private jet for Busan, where he will attend the 30th Commemorative Summit, the biggest international conference to be hosted by the South Korean government under President Moon Jae-in.
The President took off from Davao City International Airport without formal ceremonies that usually mark his departure and arrival from foreign trips.
Forgoing a formal departure statement and a press conference, Duterte only did foyer honors.
While the President took the private jet, his Cabinet and other delegation members and staff took commercial flights to Busan.
The President is joining nine other ASEAN leaders from Myanmar, Laos, Vietnam, Indonesia, Brunei, Malaysia, Singapore, Thailand and Cambodia whom he also met during the recent 35th ASEAN Leaders' Summit in Bangkok, Thailand.
Duterte earlier said he would be holding bilateral talks on the sidelines of the ASEAN-Korea summit, aside from his bilateral meeting with South Korean leader Moon while in Busan.
The President added that he would be taking up security matters with the South Korean president.
The event will be held a month after the collapse of nuclear talks between the United States and North Korea, following Washington's rejection of a demand to ease sanctions on Pyongyang in exchange for partial dismantling of its nuclear program. North Korean leader Kim Jung-un has given the US until yearend to propose a mutually acceptable agreement.
"President Rodrigo Roa Duterte has repeatedly said that he does not want to have a conflict in the Korean peninsula. Apart from Filipinos working in South Korea, we are very close. Definitely, not only the Philippines will be affected by this, but the entire world will be affected," Presidential Communications Secretary Martin Andanar said in a press briefing here yesterday.
"The interest of the Filipino people is what the President will bring here in South Korea, that includes regional security," he added.
Philippine Ambassador to South Korea Noe Wong said the peace and order situation in the Korean Peninsula is intertwined with Southeast Asia.
"Even if South Korea belongs to the Asia Pacific or East Asia, whatever is happening in the Korean Peninsula where – it may affect us of course," Wong said in a separate press conference.
"So as part of this United Nations also, we are for the denuclearization of the Korean Peninsula. And whatever inter-Korean peace thing that is going on, we support that," he added.
Duterte once called Kim a "crazy man" and "maniac" with "dangerous toys" and had expressed hope that the conflict in the Korean Peninsula would be resolved peacefully.
North Korea has developed its nuclear capability and has conducted a series of ballistic missile tests despite the economic sanctions imposed by the United Nations.
Last year, North and South Korea vowed to cooperate in getting rid of nuclear weapons in the Korean Peninsula.
Aside from regional security, leaders of South Korea and ASEAN will also discuss regional connectivity and economic cooperation.
Duterte is also scheduled to hold bilateral talks with Moon to discuss ways to further boost the ties between their countries.
The two countries are also expected to sign bilateral agreements in the fields of education, tourism, social security and fisheries.
"Because of the good chemistry between two leaders, we will increase our cooperation," South Korean Ambassador Han Dong-man said.
Free trade, visa-free deals
South Korea, meanwhile, is hopeful that a proposed free trade agreement with the Philippines will be completed next year.
Manila and Seoul started negotiations on the proposed trade deal this year. The agreement, which will cut tariffs for some Philippine agricultural and industrial products, is expected to be one of the topics to be discussed by President Duterte and South Korean President Moon during their bilateral meeting today.
"Even though we made some progress, there are lots of time to discuss further. But we reaffirm the importance of the FTA (free trade agreement) as a platform to expand our trade and investment relationship between our two countries," Ambassador Han said in a press briefing yesterday.
"Hopefully, maybe next year we conclude our FTA," he added.
Secretary Andanar noted that trade volume between Manila and Seoul reached $13.7 billion last year, with Philippine exports to South Korea hitting $2.5 billion. Philippine imports from South Korea, however, were way higher at $11.2 billion.
"There is an imbalance so we are working on that and we are discussing a free trade agreement," Andanar said.
"Hopefully, if there's a good agreement on that area, not only major products like bananas and pineapples, but hopefully more products may be imported from our country," he added.
The trade department previously said the proposed trade deal would be completed by September and may be signed in November. Officials had expressed hope that the signing would be done on the sidelines of the ASEAN-Republic of Korea summit in this port city.
The Philippine government is also seeking the visa-free entry of Filipinos to South Korea but the increasing number of illegal workers here is preventing that from happening.
Ambassador Wong said Filipinos have to secure a visa to enter this country, a requirement not imposed on Koreans who wish to stay in the Philippines for 30 days or less.
Wong said the Philippine tourism department might raise the issue to the South Korean government.
"It's just that I saw the, shall we say, the inequality. I don't know if the term is right... In fact, (there have been) so many complaints about the length of time now in getting visa in the... Korean embassy... From 15 days to 30 days to even 45 days now," Wong said in a press briefing with reporters in Busan.
But Han said the problem on illegal Filipino workers should be addressed first before the visa requirement can be waived.
"We hope in the near future we will have visa-free policy between Korea and the Philippines but so far, there are quite a number of illegal Filipinos in Korea," Han said, adding that the number of undocumented workers is increasing.
"If we decrease our illegal people naturally, we can have a free-visa policy," he added.
Han said there are about 15,000 illegal Filipino workers in South Korea. The number is increasing as some workers are tempted to stay even after expiration of their visas because of the high salary.
"Your Department of Justice and also our Korea Department of Justice will try to lower the number of illegal people, so eventually we can have a free visa policy one day," he added.